By The Message staff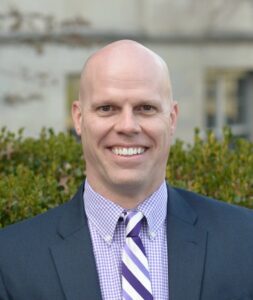 Bishop Joseph M. Siegel has announced the appointment of Newburgh native Brad Clark to serve as Vice-Chancellor for the Diocese of Evansville. He replaces Dominic Faraone, who left the staff to join a family business. Clark also will serve as the diocese's Safe Environment Coordinator.
He began his duties Sept. 13.
Bishop Siegel said, "I am happy to welcome Brad to the diocesan staff. He brings a wealth of skills and experience to the position, and I trust he will make a great contribution to the mission of the Church in our 12 counties."
Growing up in Newburgh as one of 10 children, Clark and his family were members of St. John the Baptist Parish. He holds a master's degree in Public Service Administration from the University of Evansville. He has more than 16 years of experience in academic administration and project management.  

Clark most recently served as Special Projects Manager for a local business, JCs Wildlife.
 
Clark said, "I am humbled to have the opportunity to work for the Diocese of Evansville. I'm looking forward to helping with the mission of the Church, building meaningful relationships and supporting the diocese in any way possible." 
His wife, Penny Boultinghouse Clark, is an Evansville native. She has worked in the retail/fashion industry for more than 30 years. They are members of St. Benedict Cathedral Parish, where Brad sings in the parish choir.