Special to The Message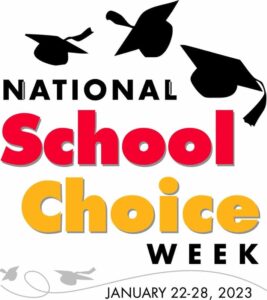 National School Choice Week 2023 begins Jan. 22 and ends Jan. 28. Traditionally, this observance occurs the week before National Catholic Schools Week, which will begin Jan. 29 in the Diocese of Evansville and across the country.
This is the 13 annual celebration of National School Choice Week, which dates to January 2011.
The goal of National School Choice Week is to raise awareness about the K-12 education options available to families in communities across the country. During the week, participants also shine a spotlight on the benefits of opportunity in education and providing parents with access to a variety of education environments for their children.
Schools of all types – including with homeschooling groups and families – use the week to spotlight their achievements and accomplishments. National School Choice Week is nonpartisan, nonpolitical and committed to including all school-choice perspectives – traditional public schools, public charter schools, public magnet schools, private schools, online academies, and homeschooling families – in the celebration.
The focus of the annual observance is empowering parents to choose schools for their children during the best time of year to start the process of selecting a school. Organizers also offer resources for parents that explain all the education options available in each type of school on a state-by-state basis. These are available by visiting schoolchoiceweek.com/mystate.
National School Choice Week has a new project fully dedicated to Hispanic families called Conoce tus Opciones Escolares. For Spanish-speaking parents, getting information about the K-12 system has always been challenging. Organizers created this project as a response to the needs of bilingual families who are making education decisions together. 
More than 23,000 schools are planning community events across the country to celebrate their staff, students and families, and welcome interested parents. It's expected that more than 1 million families will be exploring their school choice options using NSCW resources online.
In the Diocese of Evansville, Catholic schools will welcome families to Come and See events set for Feb. 2, during National Catholic Schools Week. The Message will cover them in a future issue.
NCSW organizers report that 2,413 counties, or 76.8 percent of all counties across the U.S., are home to a school that will participate in the 2023 week.
Activities include school fairs, movie nights, capitol rallies, field trips, parades, talent shows and more. Across the country, dozens of iconic state landmarks will light up in School Choice Week's official colors, red and yellow. More than 60 large-scale events with statewide impact are being planned for National School Choice Week 2023. A list of these events is available online by visiting schoolchoiceweek.com/flagship-events-2023.
About school choice
School choice means giving parents access to the best K-12 education options for their children. National School Choice Week is an annual effort that helps parents raise awareness of these options.
The week is the best time of the year for families to consider their education options for the next school year. Not only do great local schools in every community use the opportunity to connect with the community, but National School Choice Week provides parent-oriented resources that explain every type of school available in their state and provide next steps to pursue any of them. 
School choice is important because every child deserves an effective, challenging and motivating education that inspires them to be successful and achieve their dreams. But children learn in different ways, and have different talents, skills and challenges. What might be a good school for one student might not be a good fit for another child. School choice allows parents to identify the best learning environments for their individual children. 
About the organization
National School Choice Week is a charitable program of the National School Choice Awareness Foundation, a 501(c)(3) nonprofit organization. NSCAF's mission is to improve K-12 education in the United States, and to support the success of America's children by raising broad and equal awareness of the education options available for children and families. In addition to organizing NSCW, NSCAF researches, develops and disseminates that nation's largest online portfolio of school-navigation resources for families – in English and Spanish.