The Message assistant editor
Ascension St. Vincent outpatient physical therapy and St. Vincent Medical Group primary care providers are now easily accessible in Downtown Evansville through the new Ascension St. Vincent YMCA.
More than 500 community members and business leaders gathered Sept. 5 for a ribbon cutting ceremony and to go on a tour of the facility. Those present included Dan Parod, St. Vincent Southern Region President; Johnathan Pope, YMCA of Southwestern Indiana CEO; Mayor Lloyd Winnecke; and Indiana 8th District US Congressman Larry Bucshon.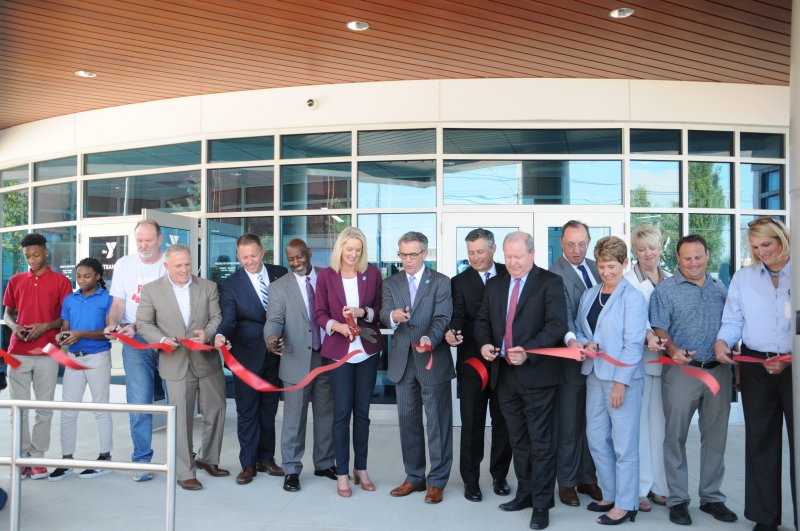 The new facility is located at 516 Court Street, across the street from the old location. It bears the name Ascension St. Vincent YMCA in recognition of St. Vincent Evansville's lead support of the YMCA's capital campaign.
St. Vincent is leasing about 10,000 square feet of the new building. On the first floor, St. Vincent will offer family medicine/primary care services, OB/GYN services and specialty care on a rotating basis. The specialty care includes pulmonology, nephrology, endocrinology, urology and cardiology.
On the second floor, St. Vincent will provide physical rehabilitative services, including outpatient therapy, plus specialty neurologic therapy services that address spinal cord injury, Parkinson's disease, stroke or traumatic brain injury.
The ongoing partnership between the two faith-based organizations is about more than the new YMCA location, Parod explained, it's about working together to create stronger communities.
"We believe having a healthcare and wellness facility under one roof will provide access to programs and services designed to help improve the overall health of our patients, YMCA members and the entire community. … How do we together create a synergy that's greater than the sum of the parts? How do we create something that's truly unique, that it's a destination for Y members, and our patients and this community," Parod said.
Other amenities include a 25-yard infinity pool, three gyms, wellness area, numerous group exercise rooms, STEM Lab, Community Teaching Kitchen, expanded Child Watch and Youth Activity areas and a dedicated Enrichment Center.
Construction on the two-story, 80,000-square-foot facility started in May 2018. Funding for the building had multiple sources, including a $5 million grant from the Indiana Regional Cities Initiative, a $5 million capital campaign and new market tax credits.
The YMCA resumed normal operating hours Sept. 6, and can be found at ymcaswin.org/about-us/locations/ascension-st-vincent-ymca/.