By Megan Erbacher
The Message assistant editor
John the Baptist School in Newburgh's gymnasium rang out with cheers and clapping May 17 during the House Cup competition. Huddled together and decked out in their house colors, middle schoolers anxiously waited for their house name to be called for their turn at tug-of-war.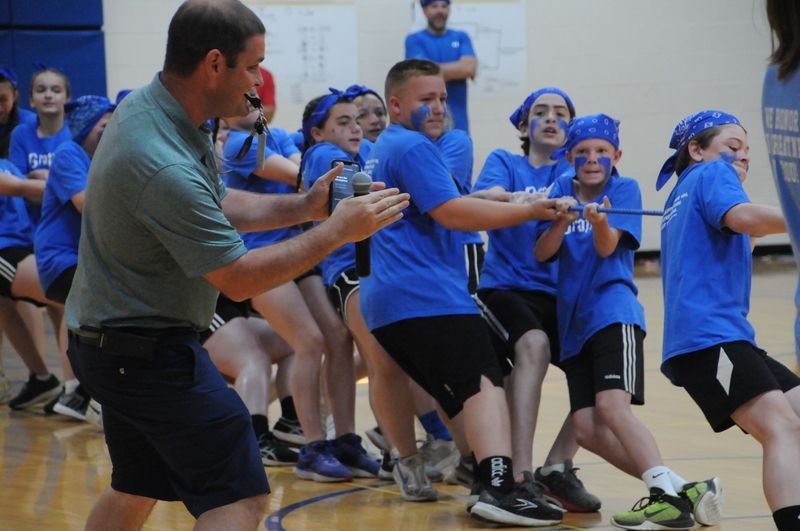 Amanda Cadden, middle school math teacher, said students work hard throughout the school year to earn points for their houses. Then, at the end of the year, students compete in the House Cup, which is a day filled with 34 challenges for students to compete in to earn points for their house to be added to the running totals.
Similar to what the fictional character Harry Potter experienced in J.K. Rowling's popular book series, students in grades 6-8 are sorted into one of six houses which become the students' living and learning community during middle school. Students are randomly selected from each grade level, so the houses consist of kids from all three grades.
The house names are in Greek or Latin, weaving in a faith component: Gratia is grace; Prex is prayer; Redimere or redeem; Salvare is to save; Sanctus is holy; and Substantia, meaning substance. Each house has its own color, quote or motto, and prayer. While each house has a middle school teacher as an advisor to offer support and guidance, houses are led by students.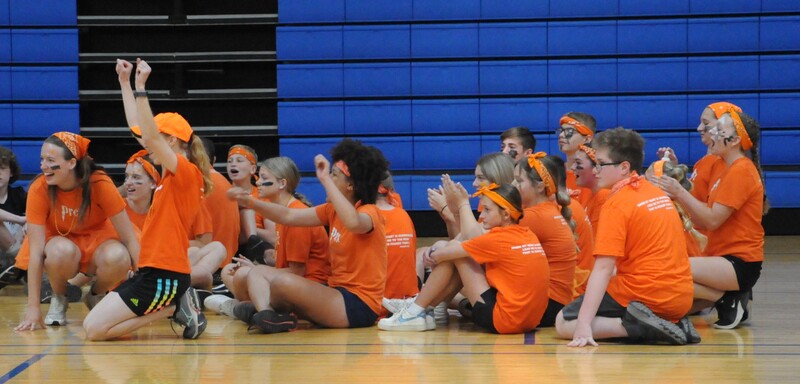 House Cup games were indoor and outdoor events and included a human-size version of Hungry, Hungry Hippos; chess; Lego wars; an escape room; and water games.
Cadden, who serves as house Prex teacher, said there is a list called Tiger 24, which consists of ways students can earn points throughout the school year. She said the list mainly focuses on character and includes opening the door for others, greeting people by name, making eye contact, showing good sportsmanship, picking up trash and good leadership.
"Middle school is a hard stage in their life, where academics are important, but more important is learning how to be a good person in the real world," Cadden said. "When we send you out, are we going to be proud that you're a St. John student, or are we going to cringe?"
Eighth-grader and house Substantia member Emery Borders, 14, said the house system is a close community between all grades.
Fellow eighth-grader and house Substantia member Kate Blessinger, 14, agreed and said the house "bonds you with people you might not be familiar with otherwise."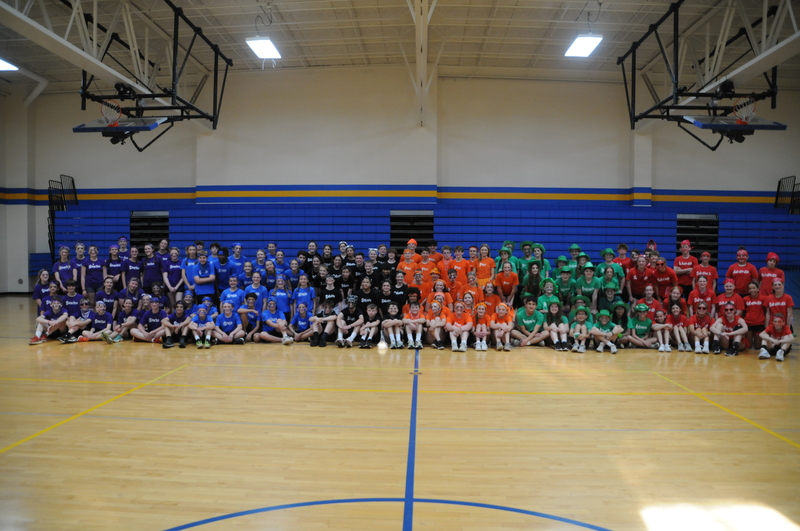 Hope Naumovitz, 14, eighth-grader and house Substantia member, said the house system helps you get to know everyone in middle school.
"You get to connect with different people who aren't in your grade or your friend group," she said. "You get to know everyone better. It gives you more chances to be a leader."
For teachers, the house system is like Disney World, according to middle school science teacher Megan Krems. 
"It's about creating good people and creating leadership," Krems, house Gratia teacher, said. "These kiddos have created friendships that I don't think they ever would have created had they not had a house with sixth-through-eighth-graders coexisting. They create friendships that last.
"It's about how to help them realize that they're in it together, that they're in this life together, and they might as well go through battles and struggles and learn from each other and find community there. It's all about coming together for one common goal, and having fun at the same time."