By Emily Martin
Natural Family Planning
My name is Emily Martin. I am 27 years old and originally from Fort Wayne, Indiana. I met my husband, Adam, during college, and we were married the summer of 2016. Since then, we have been blessed with two beautiful children. I have officially become a proud Evansville west-sider and an active supporter of Azzip Pizza and Donut Bank Coffee.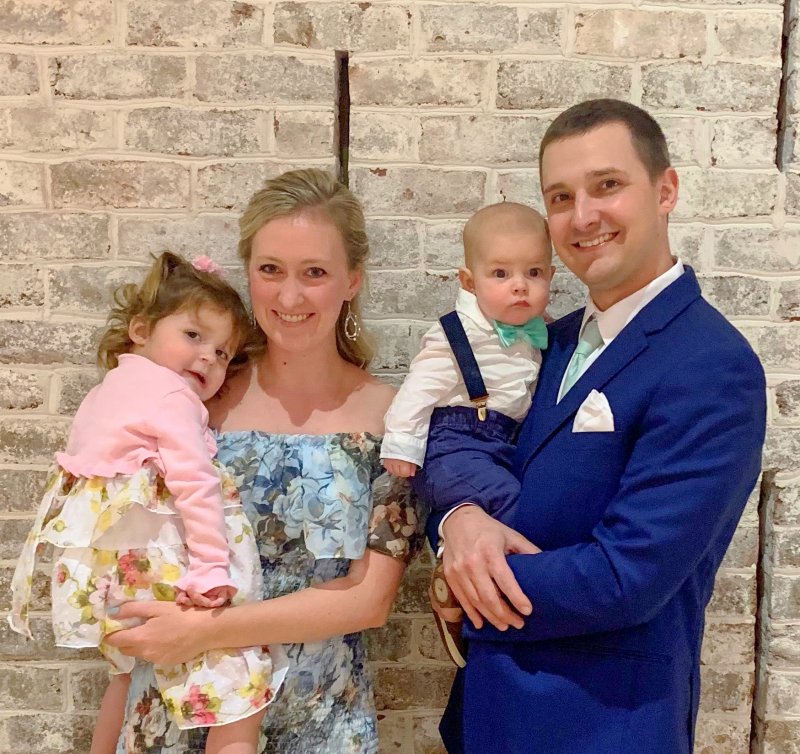 Growing up in a large Catholic family, Natural Family Planning was not a foreign concept; but my first real experience of it was during marriage preparation, as it was a requirement to learn a specific method. We were advised to pursue the Creighton Model and, unaware of the impact it would have in our married life, we started classes. I appreciated the method, but I did not feel like it was necessary since Adam and I planned on starting a family right away. However, six months into marriage, we were still waiting and, as part of the Creighton Model System, we began actively pursuing Napro Technology. 
Infertility came as an unexpected cross. In my mind, motherhood was supposed to come as a natural result of marriage; but month after month, cycle after cycle, we still weren't pregnant. The weight of this new reality challenged my expectations of married life – and my lifelong dream of becoming a mother. My faith became my fortress amidst countless calloused opinions and misjudgments; frequent medical consultations and procedures; and the seemingly impossible, unanswerable questions: Will we ever get pregnant? And if we never do, will our lives be any less joyful or our marriage be any less meaningful? 
During this time, it was amazing how close God felt; how many people became sources of comfort; and how our relationship was strengthened in numerous ways. About two years into our infertility journey, I felt called to pursue the Creighton Model further by becoming a practitioner and witnessing to the beauty of NFP and the hope that can be found amidst infertility. I finished my internship in 2019. That same year, a week before our third anniversary, we found out we were pregnant. Words cannot express the happiness we felt in that moment. Nine months later, when I finally held Audrey in my arms for the very first time, I knew that I would have endured it all over again for her.
However, all that being said, pregnancy and child birth were very difficult for me. The last trimester of pregnancy was challenging on a physical, but most of all, an emotional level. I also experienced some unexpected complications during and after labor that affected me greatly. Leaving the hospital, our approach to NFP completely changed. For the first time, Adam and I went from using NFP to achieve pregnancy to using NFP to adamantly avoid it. This was a very stressful time. In the midst of being first-time parents, and with all the challenges that come with it, we had to navigate our fertility amongst the unknowns of breastfeeding.  
Long story short – 10 months later, we found out we were pregnant again. This came as a major surprise with a minor dose of humility. There I was, a trained Creighton Model Instructor who misread her own fertility signs, resulting in an unplanned pregnancy. As an instructor, I had been educated in the science behind fertility; but in that moment, I was given the opportunity to completely surrender in faith to the control I expected to have with this knowledge. 
In practicing Natural Family Planning, we practice the practical application of various methods, and we also practice complete surrender to God's will in every aspect of our married lives – whether that means waiting patiently for God's action or embracing the surprises that come our way. Life is a gift, not a given. Life is an opportunity to stretch oneself closer towards holiness. And so, once again, we found ourselves in awe of the new life God had blessed us with. When I finally held Anthony in my arms for the very first time, I knew that I would have endured it all over again for him.
Emily Martin is a wife and mother of two. She has a bachelor's degree in Theology from Marian University and currently works part time as a Creighton Model Practitioner and a Licensed Cosmetologist.