By Megan Erbacher
The Message assistant editor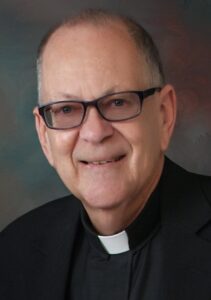 All his life, Father Joseph F. Erbacher wanted to be a priest. When he first started serving in fourth grade, he really felt called to the priesthood.
"When I was younger, my sisters would want to play house," he said. "Well, I didn't like it, but I would only play house with them if I could be the priest, and I would act like I was having Mass. And they had to come to the Mass."
After 50 years serving the Diocese of Evansville, Father Joe will retire from pastoral ministry and transition to senior-priest status, effective June 29.
Father Joe, better known by his nickname, "Effie," was born July 18, 1945, to John F. and Evelyn Jo (Wiggins) Erbacher of Poseyville. He is one of 12 children, with seven sisters and four brothers, and he was the sixth child to be born.
Father Joe was ordained March 25, 1972, by Bishop Francis R. Shea at St. Benedict Church in Evansville. His first assignment was Holy Rosary Parish in Evansville, which was followed by 18 parish assignments until his present assignment of St. Mary Parish in Ireland. He also served many years as Defender of the Bond in the Diocesan Tribunal Office.
Father Joe said he owes his vocation to his parents and their strong religious beliefs and for encouraging him, as well as his siblings.
"My parents strongly encouraged my vocation all the way," he said. "My mother was a convert to the Catholic Church, but she was a very strong Catholic. I always tell people that my mother was a much better Catholic than I'll ever be. And I really believe that. 
"When mom and dad got married, then she joined the Catholic Church, and she made sure all of us kids were brought up and practiced our faith in all that we did."
The late-Father Alfred Niehaus also played a role in Father Joe's discernment. When Father Joe was a boy, Father Alfred was the newly appointed priest at St. Francis Xavier in Poseyville, Father Joe's home parish. Father Alfred passed away in December 1984.
"It was like a bright light came into my life," Father Joe said. "Nothing against the outgoing pastor, but Father Niehaus was that breath of life. I took a great interest in serving and helping Father at church or school however I could."
Father Joe attended the following schools: St. Francis Xavier Grade School in Poseyville; St. Meinrad High School in St. Meinrad; Rex Mundi High School in Evansville; St. Mary's College in St. Mary, Kentucky; Notre Dame Seminary in New Orleans, Louisiana; and the Pontifical College Josephinum in Ohio.
Father Joe's time at Notre Dame can be attributed to his great love for New Orleans, and graduating from the Pontifical College Josephinum in Ohio was the "high point" in his educational career.
"I considered that a great honor to have attended the Pontifical College Josephinum because that was the only pontifical seminary in the U.S."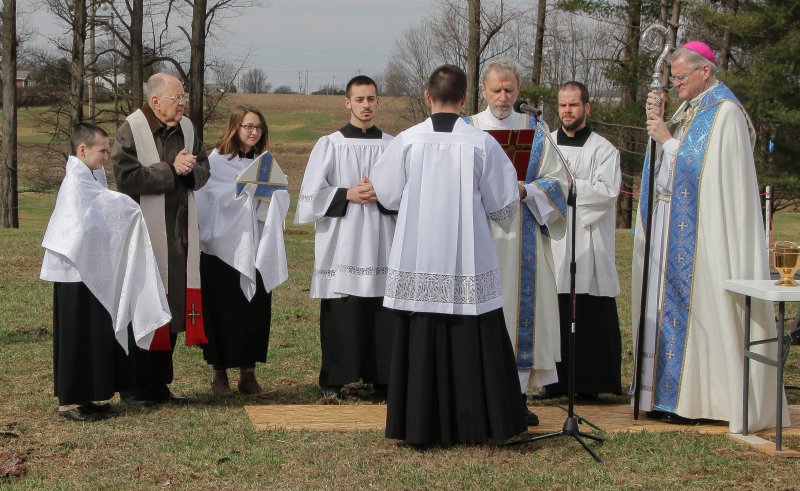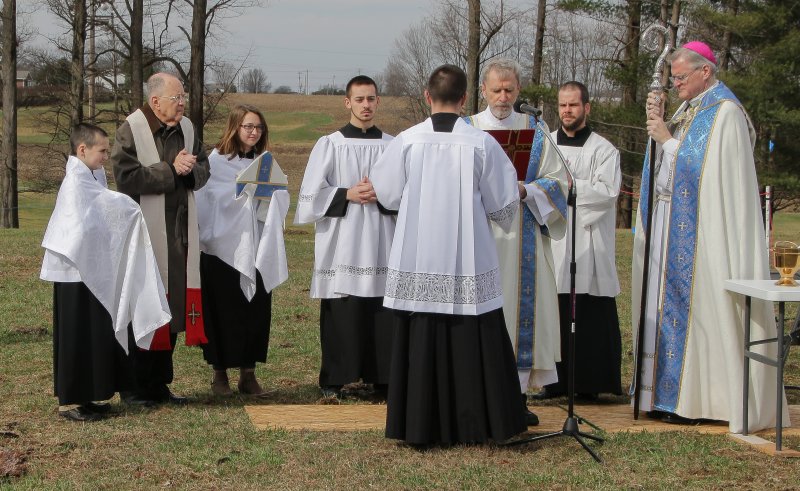 The greatest honor he was given, he said, was when then-Bishop Charles C. Thompson asked him to oversee the new church project at St. Mary Parish in Ireland in 2017. It was the first church built in the Diocese of Evansville in a decade.
"They had been planning this all the way back in 1972, when I was ordained," Father Joe said. "At the time, guys were teasing me, saying, 'Joe, just think, they're going to build a new church in Ireland; maybe you'll get to do it.' It was just a joke at the time.
"But, priests before me, members of the parish and the parish council, they had been working for this for all of those years. It wasn't just me. I just happened to bring it together and put the ribbon on the package."
In retirement, Father Joe's original plan was to stay in Dubois County and help however possible in ministry. However, in the past five months, his health has changed, and he's developed a problem with his eyesight.
"I'm getting treatment, but it may not help me," he said. "But I've dealt with people who are far worse off than me, so I don't begrudge the good Lord or anything like I'm being punished."
So, he is moving into an apartment at University Terrace, which used to be the Little Sisters of the Poor. It's located on Lincoln Avenue, which is where the Erbachers lived when they moved from Poseyville to Evansville."It's almost kind of like I've come back home to the area where it all started," he said.
Something Father Joe always found helpful in his ministry is personal contact and face-to-face meetings. He enjoys talking with people, and composing handwritten letters instead of using technology to correspond.
"I remember, prayerfully, every place I've served and all of the parishioners. Everybody has been very kind and helpful to me all during my ministry. There may have been some disagreements, but, if you sit down face-to-face and talk with people, so much can be accomplished by that. And I think that's the whole key to it."
Parishes served:
Associate, Holy Rosary, Evansville, 1972

Associate, St. Joseph, Jasper, 1973

Associate, Christ the King, Evansville, 1976

Temporary administrator, St. Peter, Montgomery, All Saints, Cannelburg, and St. Patrick, Corning, 1976

Teacher, Washington Catholic High School, continue other duties, 1977

Pastor, All Saints, Cannelburg, and St. Patrick, Corning, 1979

Administrator, St. Mary, Barr Township, continue other duties, 1981

Pastor, St. John the Baptist, Vincennes, 1983

Pastor, St. Anthony, St. Anthony, 1986

Pastor, St. James, Haubstadt, 1997

Pastor, St. Peter, Montgomery and All Saints, Cannelburg, Caretaker of St. Patrick Chapel, Corning, and of St. Michael Cemetery, Daviess County, 1998

Additional responsibilities, Defender of the Bond for Diocesan Tribunal, 2001

Pastor, Precious Blood Church, Jasper, continue as Defender of the Bond for Diocesan Tribunal, July 3, 2002

Pastor of the Catholic Churches of Martin County — St. John, Loogootee, St. Joseph, Bramble, St. Martin, Whitfield, St. Mary, Shoals, June 2004

Pastor, Holy Name Parish, Bloomfield, and St. Peter Parish, Linton, January 22, 2014

Pastor, St. Mary, Ireland, June 14, 2017