By Megan Erbacher
The Message assistant editor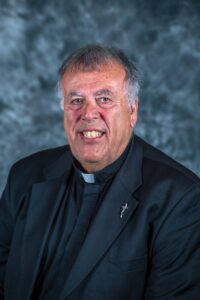 Father John Boeglin feels like the "most blessed priest in the world."
"I'm very humbled by my job," he said. "I really feel the power of grace working through priesthood. I don't know why we don't have more priests, truthfully. Everyone says you'll get lonely and have no family, but I have more family than ever as a spiritual father."
After 44 years serving the Diocese of Evansville, with 28 of those years at his current parish of Holy Family in Jasper, Father John will retire from pastoral ministry and transition to senior-priest status, effective June 29.
Father John was named Vicar for Senior Priests, and he will also continue to serve as Director for the Diocesan Office of Catholic Rural Life, which he has done for the past 40 years. 
"I feel honored to follow (the late) Father Joseph Ziliak (as Vicar for Senior Priests)," he said. "He served before me. We were best friends."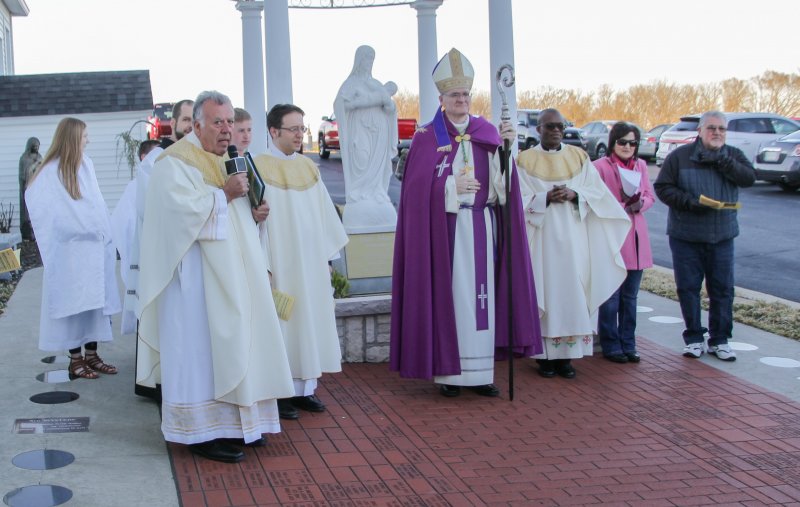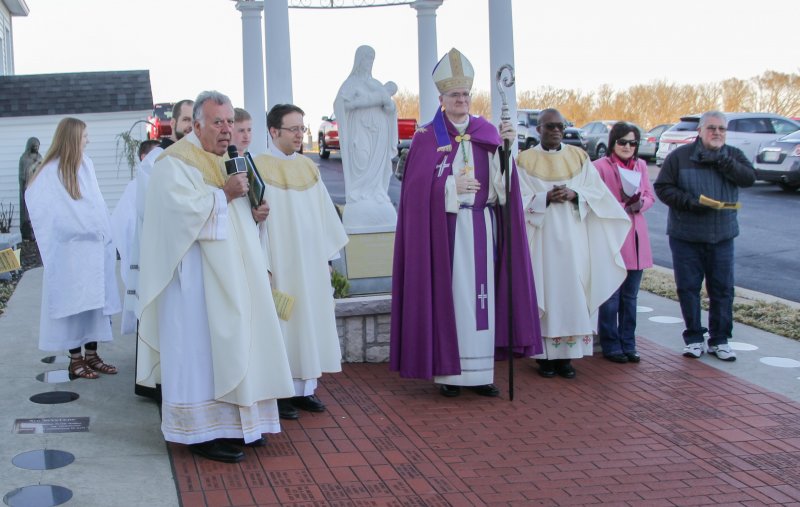 Father John was born Jan. 22, 1950, and he grew up on a dairy farm near St. James Church in Haubstadt. According to the post office, the family farm is located in Haubstadt, but Father John lovingly said it's at St. James because he can walk through the fields to the church.
Father John was ordained Sept. 1, 1978, at St. James Church, his home parish. During his 44 years as an active priest, he said he had four assignments as pastor of parishes in Evansville, Newburgh, Celestine and Jasper.
"I feel like St. Paul, who experienced four major journeys during his public ministry. … That is quite unusual for a priest to have so few assignments over that period of time," he said. "Each parish assignment had its wonderful staff and parishioners, along with brother priests and religious. … Serving the Lord fulltime is a most fulfilling life vocation. I have so many memories that I could write volumes. I am thinking of writing a memoir, if my health allows." 
During his discernment, Father John left the seminary for two years and even briefly studied medicine. He said he was either "going to be a doctor of the body or a doctor of the soul."
Father John gives thanks to his parents for their witness and love for the Catholic faith, which he said inspired him the most to become a priest. Three women played a significant role in him becoming a priest: his mother, his only sister Rita, and the Blessed Virgin Mary.
"Regardless of how busy we were on our farm with milking cows, tending chickens and raising hogs, we never missed weekend worship and Holy Week. … which I think is so essential today," Father John  said. "That's where vocations come from."
Father John's father passed away when he was only 17 years old. After he arrived at Holy Family Parish, his mother's health was failing, and she passed away in 1995. And his only sister passed away earlier this year.
"These were the two most important earthly women in my life. … Both my mother and my sister have the Memorare printed on their memorial cards as their special prayer. Both of them remind me how important a role that our Blessed Mother has played in our lives as a family and in my life as a priest. Mary has helped me so many times through the power of the Rosary."
For the past 28 years, Father John has been overwhelmed by the love and support of the Holy Family Parish, whom he considers family.
"What I will miss the most will be the Holy Trinity School kids. They have always been my adopted grandchildren. Catholic schools are where my heart was. … Every time we have Mass, I'm having Mass with my grandkids. I love kids and trying to help them understand, live their faith and love their faith.
"As a priest, I have always wanted Christ to become real for others. If we can connect our life experiences to the Bible, then our faith comes alive."
In retirement, he plans to assist his brother priests when possible, and he hopes to travel. He's fluent in German, and it's a hobby of his to stay fluent. Father John said he was possibly the last diocesan priest to attend the seminary in Innsbruck, Austria.
Father John feels that God has blessed him beyond comprehension.
"It was a great life," he said. "I am now returning back to my home on the farm, where I grew up in my Catholic faith. …  I now say 'Auf Wiedersehen,' which means in German,' I will see you again either in this life or the life to come.' Let us never forget to pray for one another."
Parishes served:
Associate, St. Theresa, Evansville, 1978

Associate, St. John the Baptist, Newburgh, 1979

St. Peter in Celestine in 1987, Holy Family in Jasper in 1994, 

Pastor, St. Mary, Ireland, continue as pastor Holy Family, Jasper, June 29, 2005

Pastor, Holy Family, Jasper, June 2006