By Megan Erbacher
The Message assistant editor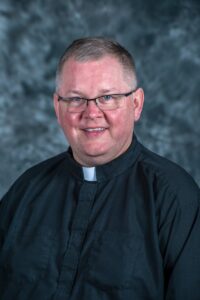 While the decision was not an easy one to make, Benedictine Father Godfrey Mullen knew it was the right thing to do to be closer to his family.
Father Godfrey's parents are 82. His mother lives in a nursing home, while his dad lives by himself in the house Father Godfrey grew up in.
"They're just at a point where they need more help," he said. "My sister lives in town, and she's very helpful to them, but she also has grandchildren who live out of town. … This is something that I can actually help with, and it can work.
"It is the right decision for me to go closer to them; it is not an easy decision. It's been wonderful to be at St. Benedict's. … I think we have worked together to build a vibrant community, so to step away from that is going to be a tough thing."
After 10 years serving the Diocese of Evansville, with nine of those years as rector of St. Benedict Cathedral, Father Godfrey is returning to his home diocese to serve as rector of the
Cathedral of St. Peter in the Diocese of Belleville, Illinois. His time at St. Benedict ends June 29.
More than a third of Father Godfrey's priesthood has been served in the Diocese of Evansville. During his 10 years with the diocese, he also served as a spiritual director, which he said has been a "very rewarding experience and something that makes leaving even more difficult."
Father Godfrey was born Jan. 22, 1966. He professed Vows Aug. 6, 1989, and he was Ordained June 5, 1994. Father Godfrey is a member of the Benedictine community of Saint Meinrad Archabbey in Indiana.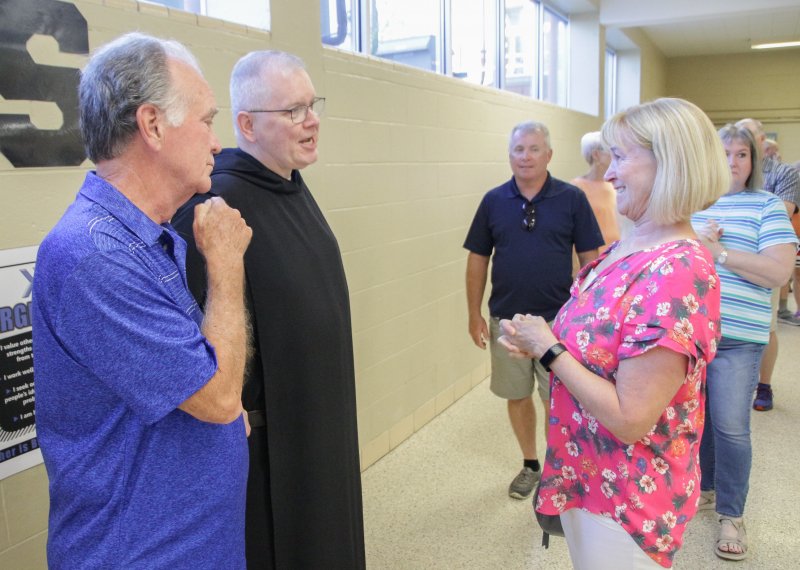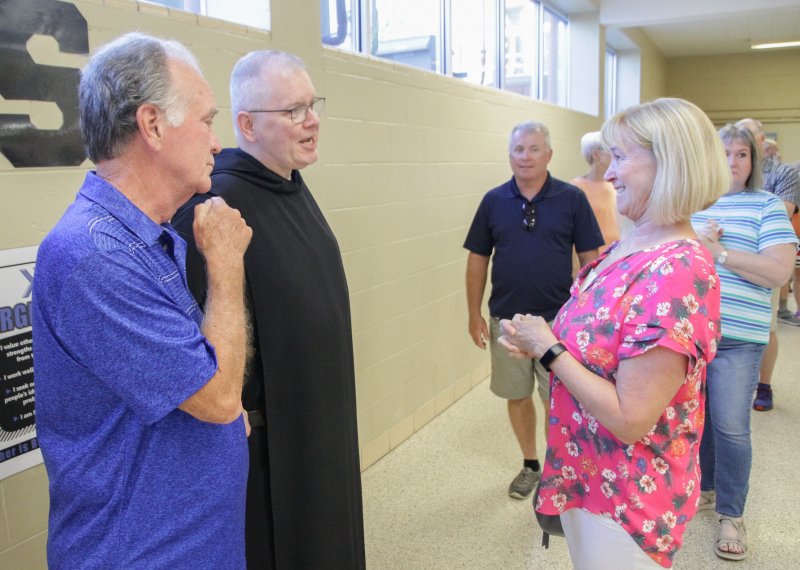 When discussions started for renovating the cathedral, the architect said cathedrals are always more complicated, but Father Godfrey said working with Bishop Joseph M. Siegel and then-Bishop Charles C. Thompson was "really painless."
"I think most people will think (the renovation) is my crowning achievement as the rector of St. Benedict, but I would not agree with that," Father Godfrey said. "We have a great pastoral council, a great finance council, a great school council, and a great building and grounds committee. They all know how to work together well to make the vibrancy that this parish is now known for. In my opinion, that is a far more lasting gift to the parish. And it's not that I did it, we've worked on it together.
"That, to me, that's the part that I am most proud of. That lay leadership is in place in a legitimate way that is a huge help to the pastor. Not to take anything away from the renovation, but in my opinion, that people-work was way more important."
One of Father Godfrey's favorite memories was "kind of forced" by the coronavirus pandemic. Since all of the schoolkids couldn't attend Mass together because of social distancing, they were split into groups.
"The freedom of preaching to age-appropriate groups made such a difference in the connection I felt in my preaching, especially with middle school kids," he said. "It was kind of overwhelming. It was beautiful. I started speaking to them as adults, and they responded to that. It was lovely."
Father Godfrey shared that when he went to speak to Bishop Siegel about his departure, the bishop was "as gracious as anyone could be," and he offered a "sense of compassion." 
Part of what Father Godfrey brings to a parish is his monastic vocation. 
"I know from the incredible generosity of the priests of this diocese that they have a respect for that. One of the things I've heard from several priests is, 'Oh no, our chant is going to be so bad when you leave,'" he said with a laugh.
"Praying with the priests of the diocese has been a real gift to me. Not unlike praying with my brothers at St. Meinrad. … I value very much the friendships I have with so many of the priests in this diocese."
Parishes served:
Pastor, St. Mary Church, Huntingburg, August 2012
Rector, St. Benedict Cathedral, June 12, 2013
Priest delegate to Reitz Memorial High School, continue as rector, St. Benedict Cathedral, July 1, 2017
Dean, South Deanery, continue other duties, March 5, 2018
Administrator, St. Clement Parish, Boonville, continue other duties, June 27, 2018 to July 31, 2018
Administrator, Pro Tempore, Resurrection Parish, Evansville, continue other duties, October 26, 2018 to January 31, 2019