By Megan Erbacher
The Message assistant editor
Lisa Popham always put her children first and had an open ear to talk about anything; that is, unless the Indianapolis Colts were playing, her daughter Paige Popham said.
Paige, 29, and her sister, Rachel Updike, 31, were always No. 1 in Lisa's life. Until Rachel had Cooper, 4, and Collins, 2; and the daughters quickly fell in seniority to Lisa's two grandsons.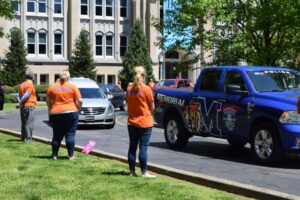 "But that was okay with us," Paige said. "As loving of a mother as she was, she was an even better 'Gram, Gram.'"
Lisa (Hedge) Popham, 62, who served Reitz Memorial High School as assistant principal the past 23 years, died April 26 at her home, surrounded by her family and husband of 33 years, Joe.
Since COVID-19 prevented a public gathering in her honor, Reitz Memorial President John Browning said Memorial remembered Lisa the evening of April 26. The entire school remained dark except for the light in Lisa's office, Browning said, which "shined bright in her honor." The Reitz Memorial flag in the Koch Family Plaza was flown at half-staff until the morning after her burial, and candles were lit and placed in the shape of a heart on the school's front steps.
On social media, friends, family, colleagues and former students used the hashtags #FightLikeATiger and #PrayersForPopham. Many people expressed condolences and shared memories, like "Lisa: always a giver!!;" "No better person out there than Mrs. Popham;" and "Thanks for helping us when we needed it most."
Nick Rudisill, Reitz Memorial Class of 2015 graduate, said Mrs. Popham always had a smile on her face and offered wise advice to all who stepped into her office. She was not only a mentor, Rudisill said, but one of the biggest cheerleaders of her students.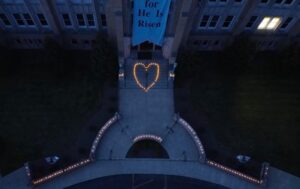 "The light shining from her office was a beautiful and appropriate tribute to the lady that radiated positivity and guidance into so many lives," he said. "She will be greatly missed."
It is hard to put into words what kind of mother she was, Paige said.
"She was our best friend, but also spent most of my nights in school fighting with me over homework," Paige said. "She was the biggest supporter, but always wanted us to be a better version of ourselves. I would say that she was a fantastic mother. She found a way to make it to all of our sporting events, plus most of Memorial's extra activities. I am not quite sure how she had the time to work and do all of this."
Her personality was something special, Paige explained. She not only had a "teacher-voice," but Paige said she was bubbly, funny and loved to have a good time.
Paige said her mom was passionate about her job, the Reitz Memorial community, her family and friends, and she traveled to Acworth, Georgia, to visit Rachel, her son-in-law and grandsons any chance she could.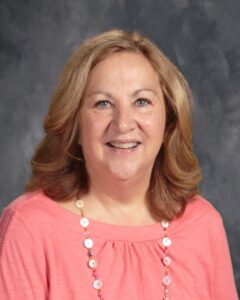 "When she was having a good time, she had the loudest laugh and the biggest smile in the room," Paige said. "She also loved to dance. You could always count on her to be the first one on the dance floor at a wedding or just dancing by herself at home."
Lisa was known to greet students with a smile, and she offered a comforting presence to students and faculty.
Reitz Memorial principal Sally Sternberg said Lisa was a valued member of the administrative team. Over the past year and a half, Sternberg had the opportunity to work closely with Lisa.
"I witnessed her selfless nature of giving to the students, parents, faculty and staff of Memorial on a daily basis, whether that was through the open-door policy of her office or her many evenings spent supporting students in their extracurricular and athletic events," Sternberg said. "Truly, Lisa viewed the Reitz Memorial school community as her family. And, as her family, we were blessed to have been shaped by her presence in our lives."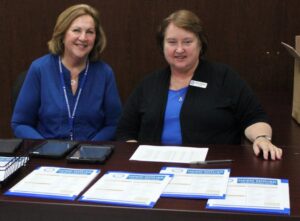 Superintendent of Catholic Schools Dr. Daryl Hagan said Lisa's passing was heartbreaking for the community.
"Lisa shared the school's conviction that students must be taught holistically," Hagan said. "She lived her Catholic faith one encounter at a time with students, parents, teachers, and all who she came in contact with. She expressed the positives in all and looked for solutions when needed. Lisa was a caring, Catholic educator who made a difference to others. She also enjoyed playing the icebreaker games at administrators meetings - she was a tough opponent!"
Jennifer Godsey, Reitz Memorial administrative assistant, first met Lisa in 2008 when she started working at the school, and she worked directly with her this year.
"I really got to see first-hand how Lisa was so great with the students - all students," Godsey said. "She treated the student who might have been struggling with their grades just the same as the class Valedictorian. She was a very fair and non-judgemental administrator."
The last time Godsey saw Lisa, she thought Lisa was going to the doctor and believed she would return in a few days. She'll miss Lisa's singing next school year.
"She was the worst/best singer I have ever known," Godsey said. "She would turn on her 70's playlist and sing her heart out back behind her desk. It was great, it made me giggle daily!"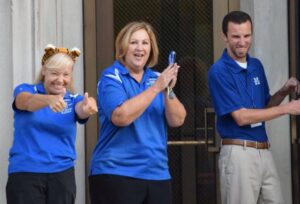 Mark Schoenbaum recalled Lisa's "infectious laugh that could melt away the stress of working in an educational environment." The Reitz Memorial art instructor knew Lisa for 23 years, and he said she was "always approachable and always kind."
"Memorial lost one of its finest," Schoenbaum said. "Brother Eugene once said to me, '… that the school is bigger than any one individual.' Lisa will be a very difficult person to replace, because she truly loved the students, faculty and Memorial. She, without a doubt, was a Tiger and bled blue!"
Lisa had a heart of gold, said Catie Diefenbaugh, Reitz Memorial administrative assistant. The two weren't just coworkers, they were family.
"I will miss her every day and look forward to meeting her again when we reunite in heaven," Diefenbaugh said. "I am forever thankful for our time together. Lisa Popham was a gift to Memorial. We can all keep her memory alive by seeing the good in those around us."
Private graveside services were held May 1 at St. Joseph Catholic Cemetery. A celebration of Lisa's life and Memorial Mass will be held at a later date after restrictions are lifted.