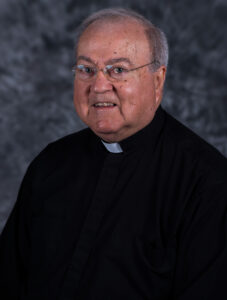 Rev. Joseph L. Ziliak, 85, senior priest of the Diocese of Evansville, died Feb. 8 at Ascension St. Vincent Hospital in Evansville. Father Joe was known and loved across the diocese and the region because of his media and pastoral ministries, and his work leading pilgrimages and tours across the world.
He was born Nov. 20, 1936, in Evansville to Edwin M. and Cecilia C. (Obert) Ziliak. He was a son of St. Benedict Cathedral Parish in Evansville.
Father Joe attended St. Benedict School in Evansville through eighth grade, then completed high school and college at St. Meinrad College in St. Meinrad. He attended seminary at Collegium Cannisianum Seminary and University in Innsbruck, Austria. He was ordained a priest April 7, 1962, by Bishop Paul Rusch of Innsbruck. He celebrated his first Mass as a priest in a small chapel in Oberammergau, Germany, and he celebrated his first Mass in the U.S. Aug. 12, 1962, in St. Benedict Church in Evansville.
After completing a master's degree in English literature in 1962 at the University of Notre Dame in South Bend, Father Joe served the Diocese of Evansville in a variety of capacities, including: Teacher, vice rector and librarian at Magister Noster Latin School, Evansville; Diocesan Director of Radio and Television and Vicar for Seminarians; and Editor, Evansville edition of The Criterion, newspaper for the Archdiocese of Indianapolis. He was Administrator of St. Nicholas Parish, Santa Claus, Indiana, and the first editor of The Message, newspaper of the Diocese of Evansville. He was Pastor of Nativity Parish, Evansville, while continuing as editor of The Message. He became associate publisher of The Message and was later named Pastor of St. John the Baptist Parish, Newburgh. He served on the Council of Priests, as a Diocesan Consultor, as Administrator of Mary, Help of Christians, Parish, Mariah Hill, Indiana, and St. John Chrysostom Parish, New Boston, Indiana. He was presbyteral moderator at St. Bernard Parish, Rockport, Indiana, and St Martin I Parish, Chrisney, Indiana. He retired from full-time pastoral ministry in 2012, but served as the Vicar for retired priests until his passing. After his retirement, he served as Sacramental minister of St. Bernard Parish, Rockport and St. Martin I Parish, Chrisney in 2014.
In 1983, Father Joe was appointed to the Metropolitan Evansville Progress Committee. In 1984, he was elected to a two-year term on the Catholic Press Association Board of Directors. He was reelected in 1986, this time to a three-year term on the CPA board.
Father Joe led pilgrimages and tours to destinations in more than 50 countries on six continents. He visited Rome and Vatican City during the service of St. John XXIII, St. John Paul II, Pope Emeritus Benedict XVI and Pope Francis.
He was preceded in death by his parents. Survivors include four brothers: Edwin A. (Donna), of Noblesville, Indiana; Donald A. (Jean), of Columbus, Ohio; Lawrence, of Greenwood, Indiana; and Jerome (Barbara), of South Bend Indiana; 13 nieces and nephews; and many great-nieces and great-nephews.
Visitation will be from 2:30 p.m. CST to 8 p.m. CST Friday Feb. 11 at St John the Baptist Church, 526 Frame Road, Newburgh, with a prayer service at 7 p.m. CST. Visitation will continue from 9 a.m. CSST to 11 a.m. CST Saturday Feb. 12 at St John the Baptist Church. Evansville Bishop Joseph M. Siegel will celebrate a Mass of Christian Burial with priests of the diocese at 11 a.m. CST Feb. 12 at St. John the Baptist. Interment will be in the mausoleum of St. John the Baptist Cemetery in Newburgh.
Memorial contributions may be made to St John the Baptist School in Newburgh and/or the Diocese of Evansville Priest Retirement Fund.