Special to The Message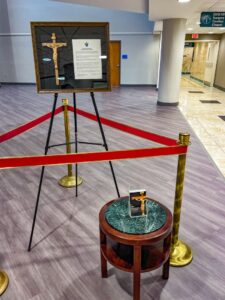 During the week of May 3, a Pandemic Crucifix presented to Ascension Healthcare by Archbishop Mitchell T. Rozanski of St. Louis visited Ascension St. Vincent locations in the Evansville area. The Pandemic Crucifix traveled around Indiana from April 12 to May 7.
Archbishop Rozanski visited Ascension's home offices in St. Louis to present the crucifix, a replica of a larger version created for the Cathedral Basilica of St. Louis, and offer a special blessing for those who serve its mission across the United States, especially those who care for patients and their families. This crucifix is traveling to all Ascension Ministry Markets as a reminder of how we are all united in the love of God and neighbor, asking for God's protection and healing for ourselves and all those we serve.  
When the crucifix visits Ascension locations, associates are encouraged to take the opportunity to join together with colleagues across Ascension in reflecting upon their mission to bring hope and healing to those they serve. The crucifix is a sign of the hope and healing we have all received from Jesus.
About the Pandemic Crucifix
In a letter to Ascension, Archbishop Rozanski related the history of the Pandemic Crucifix. 
He wrote, "The crucifix of San Marcello is a medieval work of art that is venerated at the Church of San Marcello al Corso in Rome. Having survived a fire that destroyed the church in 1519, the crucifix was popularly believed to have intercessory power.
"During a plague epidemic in 1522, the crucifix was carried in procession through the City of Rome. According to tradition, the procession caused the plague to leave the neighborhoods through which the crucifix passed, eventually saving the entire City of Rome.
"In March 2020, Pope Francis had the San Marcello crucifix brought to Saint Peter's Square on several occasions during the outbreak of the COVID-19 pandemic.
"On April 3, 2020, Archbishop (Robert J.) Carlson (now retired) blessed a nearly 4-feet-tall crucifix produced in the Alps of Northern Italy by craftsmen with a wood carving tradition that goes back to at least the Middle Ages. This 'Pandemic Crucifix' is now in place at the Cathedral Basilica of Saint Louis as a testament to the faith of the people of the archdiocese during the coronavirus pandemic."
Archbishop Rozanski added, "May this crucifix serve as a reminder that we are all united in love of God and neighbor, and that the death which Christ suffered on the cross resulted in the glory of the Resurrection and the promise of Eternal Life." 
The Message thanks Ascension associates who provided the information for this story.