Special to The Message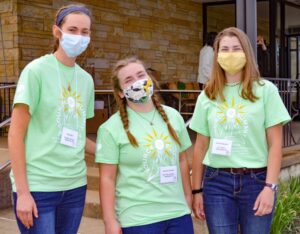 SOURCE + SUMMIT held its 20th Anniversary retreat April 16-18 at the Vanderburgh County Fairgrounds on Evansville's north side. COVID-19 guidelines gave the retreat a slightly different look, but its impact on those attending remained unchanged by the pandemic.
"Your Father and I have been searching for you."
Catholic missionary and speaker Nic Davidson kicked off the retreat with characteristic humor, quirkiness, and gravity. He introduced the above theme in reference to the spiritual disparity caused by COVID-19 – especially the quarantine measures embraced by community, family and individuals for the past year. He presented domestic figures regarding suicide, child abuse, drug and alcohol abuse, and others, as signs of humanity's yearning for communion; to make the purpose for this retreat not as an escape from the world, but as a spiritual oasis to replenish our souls. Davidson and many speakers over the weekend encouraged youth in attendance to dive deeper into their relationship with the Lord and recognize that the Good Shepherd always has and will continue to search for His lost sheep.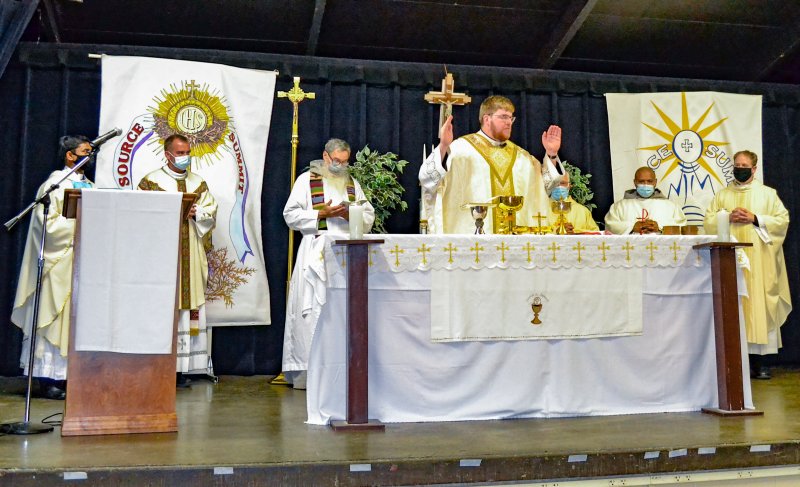 All those who attended the in-person retreat were invited to deepen their faith through guided prayer, participation in the Sacraments, guest speakers, peer discussion, witness talks and their choice of recreational activities. A recurring highlight of the weekend was Catholic illusionist Giancarlo Bernini, who traveled from Texas to inspire and entertain through optical illusions designed to turn our perspective of the everyday into something more meaningful. He managed to surprise the minds of all while keeping the focus on Jesus.
Many other topics in faith and Church teaching were explored by visiting Franciscan Friars of the Renewal Father Agustino Torres and Father Terry Messer, Father Tyler Tenbarge and other diocesan priests throughout the weekend. They covered the Sacraments, Theology of the Body, spiritual warfare, vocation and more. Students were invited to seek clarity through Q&A panels with religious, as well as high school, college, and adult volunteers who journey alongside them, offering their experience and prayers as a testament of God's powerful love and providence.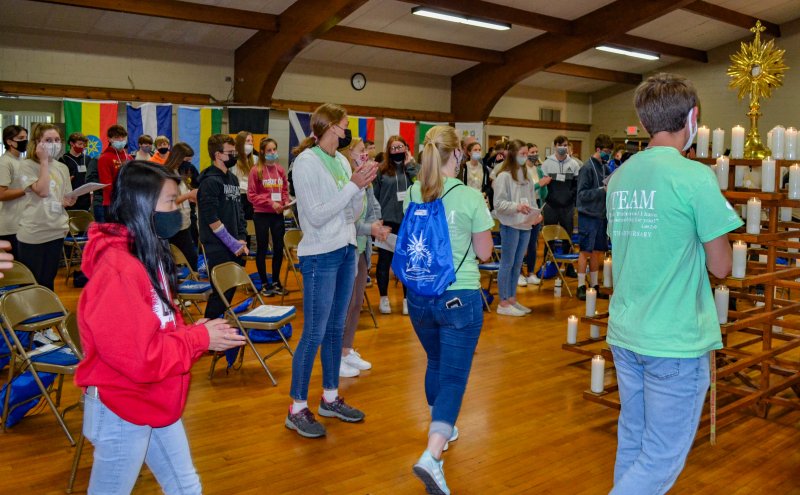 Year after year, the opportunity to abide in the Love of the Lord through Eucharistic Adoration is the element of the retreat from which the weekend derives the most renown. For many youth participants, this is their first real exposure to the beauty of adoration, and they get to encounter Jesus physically many times throughout the weekend. The Blessed Sacrament is present in an elegant monstrance atop a display of candles called "the burning bush," where all are able to adore Him, for whom we long, in a silent and sobering environment.
Source + Summit 2021 may have looked a little different than the preceding gatherings, but the Word prevails. Fear was dispelled, hearts were opened, and smiles beamed, albeit behind masks, as over 350 youth and adults spent a fruitful weekend learning, growing and praising the Source + Summit of our faith, our Lord and Savior Jesus Christ.