Special to the Message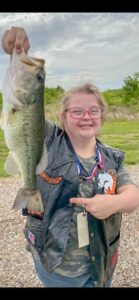 Tess Fuller of Boonville won the trophy for the largest fish caught during the the 2021 edition of the Knights of Columbus Special Needs Fishing Tournament. DeGonia Springs, in Warrick County, hosted the May 15 tournament. 
The day was beautiful and offered all who participated a well- deserved day at Lake Last Cast. Volunteers and anglers alike noted their great delight in returning to the tournament after a year that included cancellation due to the COVID-19 restrictions. One participant was rewarded with more than a great day by the water.
Tournament records revealed that Tess posted a nice-sized catch in 2017. She has been a faithful attendee since, and earned the 2021 trophy for the largest catch of the day at 18 inches.
All of the 164 anglers who entered in advance attended and fished the tournament. They combined to land 207 fish with a total measurement of 1,332 inches. Tess' bass was the largest at 18 inches.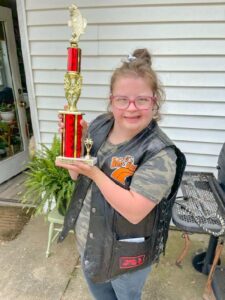 More than 50 volunteers assisted with the tournament, including Knights of Columbus from Council #10257 of St. Clement Parish in Boonville and Council #14673 of Good Shepherd Parish in Evansville.