By Victoria Arthur
Statehouse Correspondent for Indiana's Catholic Newspapers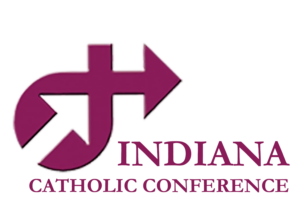 The Indiana Statehouse remains a center of public-policy debate after the overturning of Roe v. Wade, as lawmakers consider a wide range of new pro-life bills while the state Supreme Court weighs challenges to last summer's groundbreaking law that extended legal protection to unborn babies. 
Indiana became the first state in the nation to enact a new law of this kind following a special legislative session from late July to early August, which culminated in the passage of Senate Bill 1, which significantly limited abortion in Indiana. Later known as Senate Enrolled Act 1, the law took effect Sept. 15 but was almost immediately challenged in court by Planned Parenthood and the American Civil Liberties Union. 
On Jan. 19, the Indiana Supreme Court began hearings on the law – as elsewhere in the Statehouse, lawmakers were starting to review newly introduced legislation on a broad variety of pro-life matters. The Indiana Catholic Conference is closely monitoring developments in both branches of state government. 
"We don't know when the Indiana Supreme Court will give its ruling, but we are hopeful that SEA 1 will stand," said Angela Espada, executive director of the ICC, the public-policy voice of the Catholic Church in Indiana. "We pray for an ultimate decision that will promote a culture of life and respect the dignity of the pre-born and their mothers."
Oral arguments on SEA 1 opened days before the 50th anniversary of the January 1973 Roe v. Wade U.S. Supreme Court decision, which declared a constitutional right to an abortion. That decision was overturned in June 2022 with the high court's ruling in Dobbs v. Jackson Women's Health Organization, which returned regulation of abortion to the states and served as the catalyst for the last summer's special session of the Indiana General Assembly. 
SEA 1, which was signed into law Aug. 5 by Gov. Eric Holcomb, banned both surgical and chemical abortions with some exceptions, including pregnancies resulting from rape or incest (within 10 weeks of fertilization), and in cases of lethal fetal anomalies or to save the life of the mother (up to 20 weeks post-fertilization). ,
In addition, the measure terminated the licensure of all abortion centers and required abortions to be performed in hospitals or surgical centers owned by hospitals. Historically, nearly all abortions in Indiana have taken place in abortion centers, such as those operated by Planned Parenthood.  Enforcement of SEA 1 has been on hold pending the legal challenges by Planned Parenthood and other abortion providers and advocates. 
While the future of SEA 1 hangs in the balance, the ICC will focus on the 2023 legislative session, now in full swing, continuing to serve as a voice for the unborn while also advocating for other key issues in the pro-life realm. 
"We want people to remember that, while there have been some gains since the Dobbs ruling, there is still much work to be done – and not only as it relates to abortion, but to the entire spectrum of life issues," Espada said. "We are encouraged by the number of bills that have been introduced so far this month to assist babies, mothers and families." 
This includes proposed bipartisan legislation for paid family leave and child tax credits – as well as child support and tax credits for the unborn. 
Senate Bill 319, authored by Sen. Andy Zay (R-Huntington), establishes that an unborn child is considered a dependent child and, therefore, eligible for a tax exemption. Meanwhile, Rep. Elizabeth Rowray (R-Yorktown) has introduced House Bill 1009, which would allow a child-support order to include the period dating from the conception of the child.
Sen. Shelli Yoder (D-Bloomington) has authored Senate Bill 255, which would provide a tax credit for child and dependent care for Hoosiers earning less than 250 percent of the federal poverty level. A similar measure, Senate Bill 238, is backed by Sen. Greg Taylor (D-Indianapolis).  
In addition, proposed legislation promoting universal child care and pre-kindergarten education has been introduced by Sen. Fady Qaddoura (D-Indianapolis). Among other provisions, Senate Bill 471 would provide tax credits for employers who provide child care for their employees. 
These efforts follow the second key outcome of last summer's special legislative session – providing Hoosiers with relief from soaring inflation. That included the allocation of $45 million to support pregnant women, postpartum mothers, babies and families. 
Fiscal concerns will top the agenda for this long session of the General Assembly, held every two years and culminating in passage of the state budget, likely in late April or early May. 
For the ICC, measures that support babies, mothers and families are of paramount importance, in line with the long history of Catholic social teaching. Protecting the most vulnerable and affirming human dignity from conception to natural death will remain the most pressing of the Church's priorities, according to Alexander Mingus, associate director of the ICC. 
For example, another measure that the ICC will support in this legislative session concerns the dignified handling of the remains of a baby lost through miscarriage. House Bill 1058, introduced by Rep. Randall Frye (R-Greensburg), would establish that a healthcare facility may transfer the remains of a miscarried child to a nonprofit organization that provides funerals, cremations or burials.
"The Church's social doctrine insists on the profound dignity of the human person, a principle that guides the ICC's policy work," Mingus said. "Of the many bills filed this session, we will work to support the policies that affirm this dignity, and provide material support for mothers and families." 
To follow priority legislation of the ICC, visit www.indianacc.org. This website includes access to I-CAN, the Indiana Catholic Action Network, which offers the Church's position on key issues. Those who sign up for I-CAN receive alerts on legislation moving forward and ways to contact their elected representatives.