By Megan Erbacher
The Message assistant editor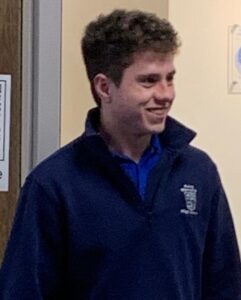 As Reitz Memorial High School senior John "Jack" Logan walked to the media center, he assumed his help was needed for the National Honor Society, because he serves as vice president of the organization. However, once he walked through the doors and saw his parents, he was "very confused."
In December, Logan was surprised to learn his undergraduate college tuition will be paid in full because he was named a Vanderburgh County 2023 Lilly Endowment Community Scholarship recipient. The scholarship provides full-tuition, required fees and an annual stipend of up to $900 for required books and equipment for four years of full-time undergraduate study at an accredited public or private nonprofit Indiana college or university. The scholarships are awarded based on academic merit and a selective interview process.
Logan assumed the time had passed for announcing scholarship recipients, so he was "completely surprised."
"I saw the people who I interviewed with and thought, 'Wow, this is actually happening,'" he said. "I started to have thoughts about what could happen now, especially for schools in Indiana, like Purdue or Notre Dame. Suddenly, Notre Dame became a possibility, because prior to that, I would not have been able to go to Notre Dame. It just became so much more real to me. I was definitely in a little bit of shock but happy.
"I now have a possibility to achieve that dream I've had forever."
Logan is the son of Patrick and Bethany Logan, and he has two older sisters and a younger brother. The family's home parish is St. John the Baptist in Newburgh, where he has been an active member and helped teach a confirmation class.
Reitz Memorial Principal Aaron Schmitt said the school community couldn't be prouder of Jack and all that he stands for.
"I think it's a testament to him, his character, how hard he's worked, and how much he has been willing to take on," Schmitt said. "I think it's also a testament to the faculty, teachers and the staff both at SJB and Reitz Memorial, and how much people have been willing to provide guidance, push and make sure he is where he needs to be and that he understands he is capable of more."
Logan's accomplishments include serving as vice president of the National Honor Society; co-founding a Model UN club; participating in drama club, Students for Life, Youth Resources' TeenPower and some international clubs. Logan also serves on the board for Incognito Instructors, a free online tutoring program for Reitz Memorial students.
"It's definitely rewarding being able to help people and making a difference in an area that I'm confident I can help in," he said of his involvement with Incognito.
Athletically, Logan wrestles and plays lacrosse. Until this year, he also played soccer.
"All three of those sports have been some of the best experiences I've had between the coaching staff and the community of athletes," he said.
Logan admitted to having many late nights to keep up with all that he's involved in, but he's also been able to rely on the people around him – including family, friends, coaches and teachers – to help him succeed.
"I'm terrible at procrastinating, so it has required a lot of time management," he said. "I know my parents have definitely kept me honest about that, especially with making lists and making me look at them."
Logan is still finalizing his plans after high school. He applied to four schools: Notre Dame University, Purdue University, the Naval Academy and Air Force Academy. If he attends Notre Dame or Purdue, he plans to major in chemical engineering and will consider joining a Reserve Officers' Training Corps (ROTC) program.
Sidney Hardgrave, Vanderburgh Community Foundation regional director of community engagement and impact, said in a press release, "This year's recipients impressed the committee with their accomplishments, leadership skills and maturity."
Since the 1998-99 school year, more than 5,000 Indiana students have received the Lilly Endowment Community Scholarship.