By Megan Erbacher
The Message assistant editor
Donna Hamilton will never forget the story she heard years ago of the Most Holy Mother of God Church in Russia. Hamilton and her husband, John, were at Good Shepherd Parish when they learned about the destruction of the Russian cathedral and how the communists chipped away the crucifixes from the outside of the church to eliminate all visible signs of religion.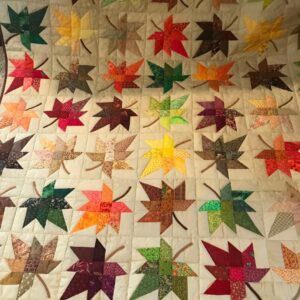 Since then, the Hamiltons have supported the mission is Vladivostok, Russia.
The Mary Mother of God Mission Society: Reviving the Roman Catholic Church in Eastern Russia was founded in 1992 by Evansville native Father Myron Effing. Father Myron is a 1959 Mater Dei High School graduate and a 1963 University of Evansville graduate. He moved to Russia 29 years ago to help rebuild Catholic parishes in Russia after Communism fell.
To raise money for the Vladivostok mission, Hamilton made a quilt and donated it for a fundraiser to benefit the mission. Her "Falling Leaves" quilt, which took about a year to complete, features vibrant colors in 168 patchwork leaves cascading against an ivory background. The quilt is 104 inches by 120 inches, machine-stitched and hand quilted by a woman who assists Hamilton with quilting projects. Hamilton said it is ideal for a Queen or King size bed, or even as a decorative wall hanging.
A drawing will be held on Dec. 11 for Hamilton's "Falling Leaves" quilt. Officials suggest a donation of $10 per entry or $100 for 15 entries. For each entry: write your name, address, phone and email on a 3-inch by 5-inch card or piece of paper, and send the entries and donation to the mission office at Vladivostok Mission, 1736 Milestone Cir., Modesto, CA, 95357.
"We thank Donna for the great love and many prayers sewn into the beautiful quilt on behalf of the Vladivostok mission," Vicky Trevillyan, mission coordinator, said in a newsletter.
Marilyn Wassmer, Father Myron's sister, recalled another time Hamilton held a quilt raffle at the West Side Nut Club Fall Festival to benefit the Vladivostok mission.
"This is just a great fundraiser," Wassmer said.
Father Myron, who serves as pastor of Most Holy Mother of God Catholic Church in Vladivostok, is responsible for founding seven parishes in Russia and two charitable organizations since 1991. He is the founder and superior of the Order of Canons Regular of Jesus the Lord (CJD).
The Hamiltons are parishioners of Good Shepherd in Evansville, and John Hamilton attended Mater Dei with Father Myron. Donna has always enjoyed expressing herself artistically, and she considers the "Falling Leaves" quilt her signature.
"I think it's really important that people should still give something of themselves to others," she said. "If it doesn't cost anything to make it or do it, it's still worthwhile. If you put in a lot of love and care it makes it that much better of a gift."
For Hamilton, the quilt donation is a "gift of love."
"I feel that warmth and comfort are important, and they show that you care and that you love," she said. "I know if they have more money in the (Vladivostok) mission, they can do more works of God. It's part of my way of showing the love of God."
For more information on the quilt raffle or Father Myron's work in Russia, visit www.vladmission.org.