BY JIM SCHROEDER
REFLECTION
Sts. Peter and Paul Church, Haubstadt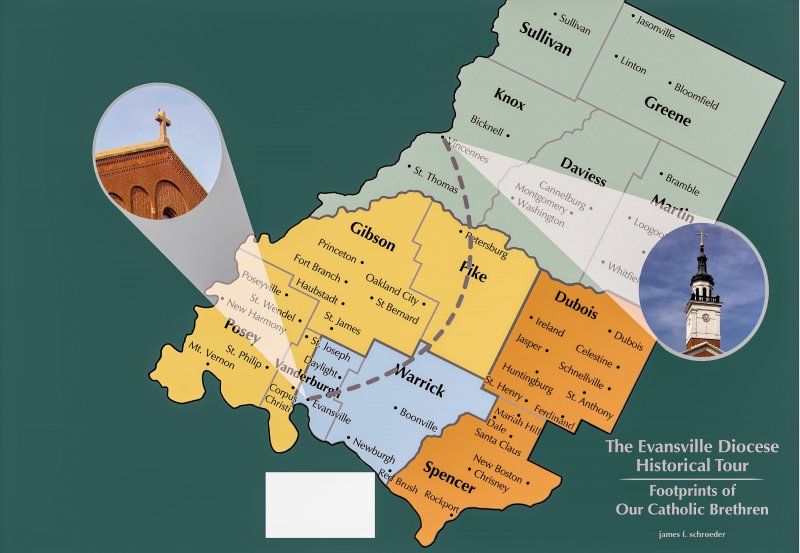 "Brothers and sisters: Have no anxiety at all, but in everything, by prayer and petition, with thanksgiving, make your requests known to God" (Philippians 4:6).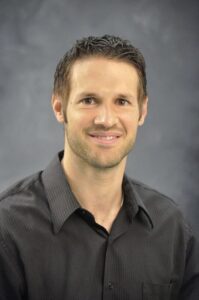 The year was 1950. My grandmother had just received her diploma as a member of the first graduating class of Mater Dei High School. Sixty-five years later, we were back for an anniversary celebration. The years had slowed my grandparents down, but they remained treasures to our family. Before we left that evening, I posed with her and my father as three generations of Mater Dei graduates once again said thanks to the school we loved. Before we left, we had a chance conversation with Father David Nunning, who had recently retired from pastoral ministry at St. Boniface Parish in Evansville and the diocese's West Deanery. He described how the influence of Father Eugene Dewig (and Father Lautner) had led him to the priesthood. After nights spent cleaning the school as a freshman to afford the $60 tuition to Mater Dei, Father Dewig one day surprised him by saying that he thought young David should take travel east to St. Meinrad. David wasn't sure; but gradually, God's call built within. Years later, a little before Father Dewig was killed in a tragic car accident, the seeds of priesthood had been planted in young Alex Zenthoefer, and of the diaconate in Tom Lehman. Father Nunning and Father Dewig had inspired these dreams in them. Lives of much meaning intertwined deep in the valley on the Westside.
The following morning we pulled into downtown Haubstadt. It was Respect Life Sunday. The beautiful sandstone church was quarried from the same stones as St. Meinrad Archabbey's frame. The pews were packed. As the congregation settled in, masculine and feminine voices lifted "Ave Maria" to the rafters. Our youngsters quickly made their presence known. Father Tony Ernst spoke of a transcendent experience in the basilica of Notre Dame. He described a mother and a severely disabled son embracing during Mass, and his momentous awareness about how human life, all human life, was in the words of Pope Francis, "the masterpiece of God's creation." He detailed the modern-day threats to our culture of life, from the aborting of unborn children laden with birth defects to the physician-assisted suicides of the old, weary and alone. He challenged the congregation to recognize that when others seek to intentionally remove life, we are all convicted in the process. He also described the experience of his associate pastor from India, Father Sudhakar Bhastati, who remarked when leaving a nursing home during a recent visit with an older gentleman, "Is there no one to be with him?" It was as if the implicit message was that no life should ever be alone.
Twenty-six years before, in that same sandstone church, Paula Hagedorn and Dan Kohl declared their marital vows. I was nine at the time. My little brother, Andrew, was the ring bearer. Seated in the church that day was my great-grandmother, Clara Rose Hagedorn. Her husband had passed away 15 years before. Although slowed by age and infirmity, she had come to see another grandchild wed. She was a treasure to our family. It would be her last Mass, as a few days later she contracted a serious illness and was laid to rest at the age of 88. My sister, Laura Rose Kristine Schroeder, was born three weeks later. Later in the year (2015), 26 years after she passed on, the 50th anniversary of the Hagedorn Lake being built on her property was celebrated. Our youngest, Louis Francis Schroeder, would lay eyes on the homestead for the first time where his great-great-grandparents built their lives together and raised their children. Those children and their children continue to return year after year. Just days before, Louis had sat in the lap of his great-grandma and grandpa Schroeder back in Evansville, his big blue eyes rejoicing in theirs. The double helix of faith and family carried on, and the precious eyes of His divine image in his life, in their lives, in all life, could not be denied.
This reflection is from Jim Schroeder's book "The Evansville Diocese Historical Tour: Footprints of Our Catholic Brethren." Jim, his wife, Amy, and their kids live in Evansville. They are parishioners at Holy Redeemer Parish. Jim is a pediatric psychologist and Vice President of the psychology department at Easterseals Rehabilitation Center. "The full story, including illustrations, is available on Amazon or with his other books and articles at www.james-schroeder.com."