Special to The Message
In September, the Ladies of Charity visited St. Vincent Early Learning Center to honor their friend, the late Malinda (Goedde) Anslinger.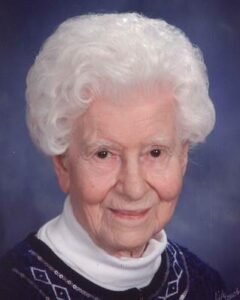 Anslinger, 101, of St. Wendel, passed away April 21 at her home while she was surrounded by family. It was just nine days before she would have turned 102.
A St. Wendel native, Anslinger was born to the late Henry and Rosina Goedde. She loved children, and in her early 20s, she started working at St. Vincent Day Nursery. She helped cook, clean, tell stories and washed the children's clothes.
Anslinger and her husband of 61 years, Bernard Anslinger, had eight kids of their own – six girls and two boys. Bernard passed away in 2009.
Connie Gries, President of the Ladies of Charity - Evansville, was a longtime caregiver and friend to Anslinger. Her memorial contributions were given to the Ladies of Charity because Anslinger's family said Gries loved and cared for their mother very much. It was later decided by the Ladies that the $752 donation would benefit the St. Vincent Early Learning Center in Anslinger's honor.
"It was only right that the money given in Malinda's memory be a part of something she loved," Gries said. "God works in wonderful ways. Not only am I president of our Ladies of Charity - Evansville, Inc., but I was tremendously honored to spend time with such an awesome and lovely woman."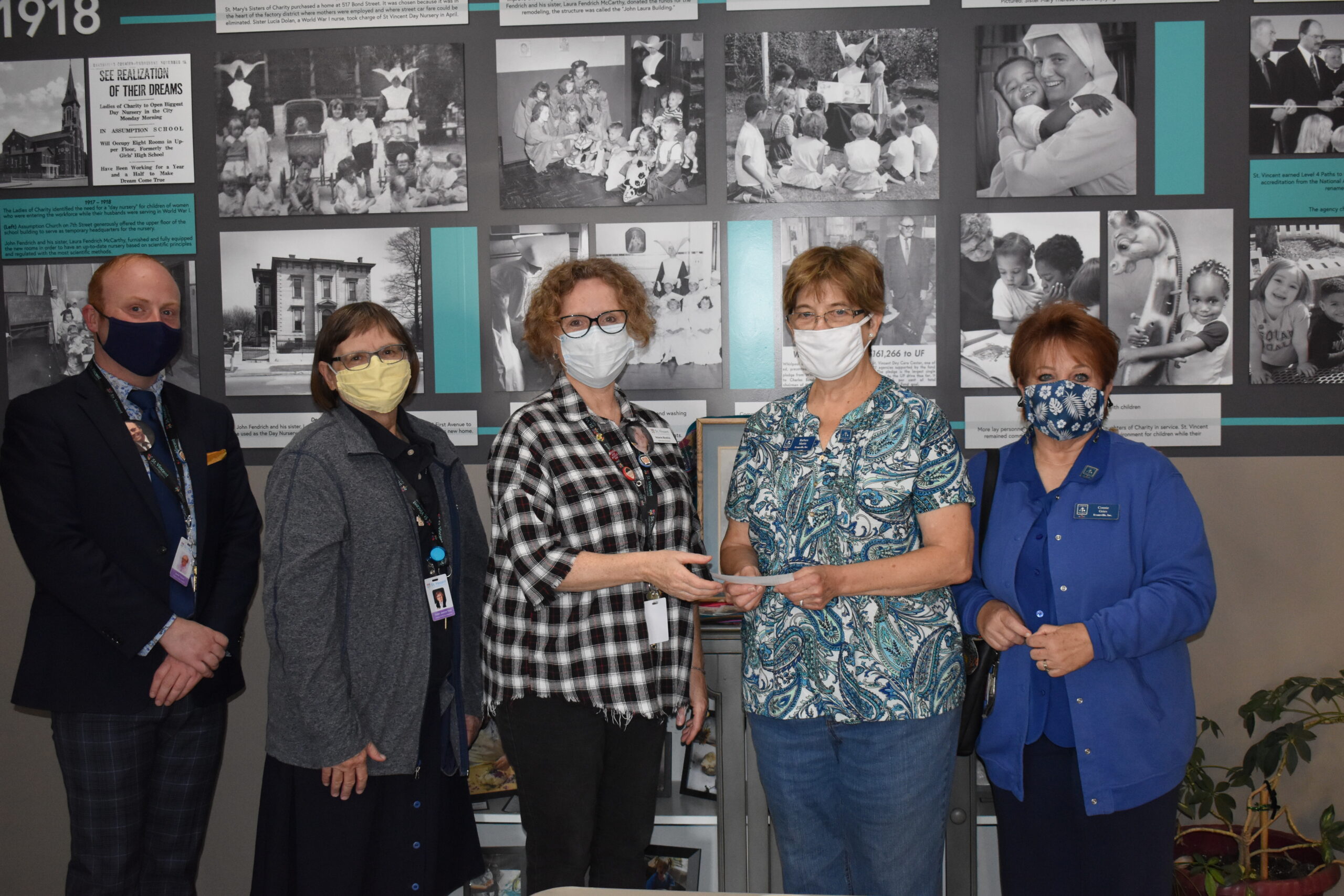 By chance, when Anslinger was 99 years old, Gries ran into one of her daughters and asked how their mother was doing on her own. The kids were looking for someone to care for their mother during the day, and Gries immediately agreed to help.
"Every morning, (I) would enter through the kitchen, smile and say 'Good morning, my queen!' and kiss her on the top of her head," Gries recalled. "(We) had wonderful days together, talking, singing and watching "The Andy Griffith Show." … Good night, my queen — your memory continues."
St. Vincent Early Learning Center officials thanked Anslinger's family and friends for their contributions to the Ladies of Charity in her honor, and they also thanked the Ladies of Charity for their ongoing support of the center through their service and donations.
"We are grateful for Mrs. Anslinger's service to St. Vincent's mission and children," St. Vincent officials said. "She was an amazing mother, grandmother and great-grandmother. She was a member of St. Wendel Catholic Church and a lifelong community volunteer."
Anslinger was a homemaker, St. Wendel Catholic Church parishioner, a member of St. Wendel's Ladies Club, the St. Ann's Auxiliary of the Knights of St. John and a former member of VFW Post #6576 Ladies Auxiliary.
In 2000, Anslinger was inducted into the Simon Bruté Society by the Diocese of Evansville for her service to the church.
Surviving Anslinger are six daughters, Betty Herr of Chandler, Rita (Mike) Schnur of Newburgh, Connie (Jeff) Taylor of Wadesville, and Diane (Jim) Stone, Marcia (Gil) Jochem and Ruth Richmond, all of Evansville; two sons, Jerry (Pat) Anslinger of Wadesville; and Eugene Anslinger of Evansville; sixteen grandchildren and sixteen great-grandchildren.