Special to The Message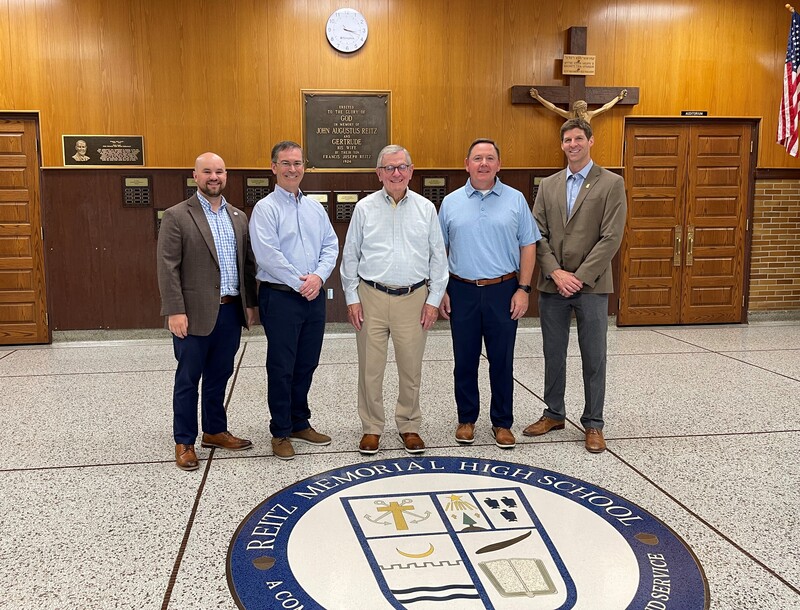 Evansville's Reitz Memorial High School has received a donation of $1.1 million from the Koch Foundation in Evansville to support initiatives in its 2022-2025 Igniting the Tradition Strategic Plan. The pledge, to be paid out over the next five years, is the largest donation to Reitz Memorial High School since 1922.
"We are all very grateful to the Koch Foundation, especially Jim Muehlbauer, Brad Muehlbauer and Steve Church, who made this donation possible," said Reitz Memorial President Christian Mocek. "This donation will help us make needed infrastructure improvements to ensure we meet our goals laid out in our strategic plan." 
As an initiative of the Igniting the Tradition Strategic Plan, Reitz Memorial undertook a facility-master-planning process in Fall 2022. A few infrastructure projects were highlighted, and this gift will allow Memorial to move forward on addressing those needs. 
"As we approach our centennial celebration, we are planning to make significant improvements to our learning environment for our students, families, and school community," explains Mocek. "I'm thankful to the Koch Foundation for taking a leadership role in this effort."
Jim Muehlbauer said, "We believe the world needs more people with a good, well-rounded education, grounded in moral values, and prepared to lead. The Koch Foundation is pleased to help Memorial with its work."
The Koch Foundation was created by Koch Enterprises, Inc., whose corporate mission is to improve the quality of life within the communities where it has operations "by helping them better serve their residents through encouraging team member participation in important community organizations and activities through financial grants in the area of education, arts, health care, and human services for people in need through no fault of their own."
"Memorial High School is grateful to the Koch Foundation and our many generous partners who sustain our mission of Catholic education in the Diocese of Evansville," said Mocek. "The support of organizations like the Koch Foundation ensures Memorial High School continues being a place where all students graduate as leaders of virtue and moral character prepared to tackle the challenges of tomorrow."