By Megan Erbacher
The Message assistant editor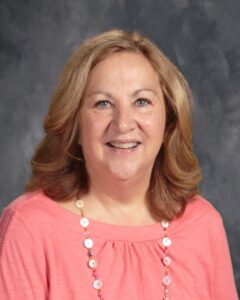 Lisa Popham was a teacher first before she became an administrator, her husband Joe Popham explained, and he said she was always a teacher at heart.
"Because of that, we believe that the teachers and faculty held a special place in her heart," Joe said. "Also, Lisa just loved Reitz Memorial High School, simple as that."
Lisa (Hedge) Popham, 62, died April 26, 2020, at her home, surrounded by her family, including her two daughters, Rachel and Paige, and husband of 33 years, Joe. She served Reitz Memorial as assistant principal for 23 years. Since COVID-19 prevented a public gathering in her honor, the entire school remained dark on the evening of April 26, 2020, except for the light in Lisa's office.
To honor his late wife, Joe contacted Reitz Memorial President Christian Mocek to establish the Lisa Popham Memorial Endowment through the Catholic Foundation of Southwestern Indiana. The endowment will provide support to teachers of Reitz Memorial with funding for special projects, training programs, materials, classroom enhancements and more. 
"Our family wants to give back to the school that meant so much to Lisa," Joe said. "She truly loved helping and working with her coworkers."
Mocek said this is one of few endowments specifically for teachers.
"I think the endowment in her memory is a great recognition of her and her commitment to this school where she worked for many years," Mocek said. "I also think the purpose of the endowment honors her commitment to the faculty, especially the way she loved and cared for the people."
Angie Lensing, Reitz Memorial physical education teacher and girls' varsity soccer head coach, worked with Lisa during her tenure, and the two quickly became friends. Lensing said Lisa's memory and her love of Catholic education and Reitz Memorial will live on through the endowment.
"This endowment is a testament to Lisa, and I can't think of a better way to honor her memory and legacy," she said. "She had such an impact on faculty, staff and students. … As a teacher who worked beside her for 24 years, it is especially fitting to grant recipients that have Lisa's love and passion in education."
When people look back on their time at Memorial, Joe wants them to think about the positive experiences they had with Lisa and to remember the love she had for everyone. 
"We already have multiple people tell us all of the time how much they loved that Mrs. Popham stood outside her office and would speak to the students during passing period," Joe said. "It really made their day."
After Lisa passed away, Joe recalled a particular Facebook post from a student that mentioned how he loved seeing Lisa at his Cross Country meets since many people from school didn't attend them. 
"That post stood out to our family because it just showed Lisa's pride in the school," Joe said.
Lisa always showed up for students and her staff, according to Lensing, not because she had to but because she wanted to.
"Lisa was every student's cheerleader, both academically and athletically," she said. "She also made an effort to be supportive of teachers and students by always showing up; she was so generous with her time. Lisa also made it a priority to listen and always had an open door policy."
Lensing believes Lisa would be "extremely grateful and proud to know of the positive impact she had" on everyone.
"To her, Memorial was not just a school … it went far beyond that," Lensing said. "Memorial was a defining characteristic of Lisa. After all, Lisa taught us all that teaching at RMHS isn't just a job, it's a family. Once a Tiger, always a Tiger."
During Lisa's battle with cancer, the Popham family said the support they received from the Memorial community was amazing.
"Lisa was overwhelmed with the love and support she received from the people of our community," Joe said. "The Popham family would like to thank everyone for their support during that time."
To contribute to the endowment, Mocek said people can send a check to Reitz Memorial High School and write Lisa Popham Memorial Endowment in the memo line.