The Message assistant editor
Diane Shaw choked-back tears as she accepted a donation from Resurrection School students to support Honor Flight of Southern Indiana.
Resurrection eighth-grader Aubree Beyer presented a $708 check to Shaw after a school Mass on Nov. 26. Beyer, 14, serves as House Council President for House Scholastica. She explained that each year on Veterans Day students can participate in a patriotic dress day if they donate to help raise money to benefit a veteran organization.
This year's $708 will fully fund one Honor Flight for a veteran, Shaw said, plus assist with an additional flight. She has volunteered with the nonprofit for three years, and she serves as the vice president of the board.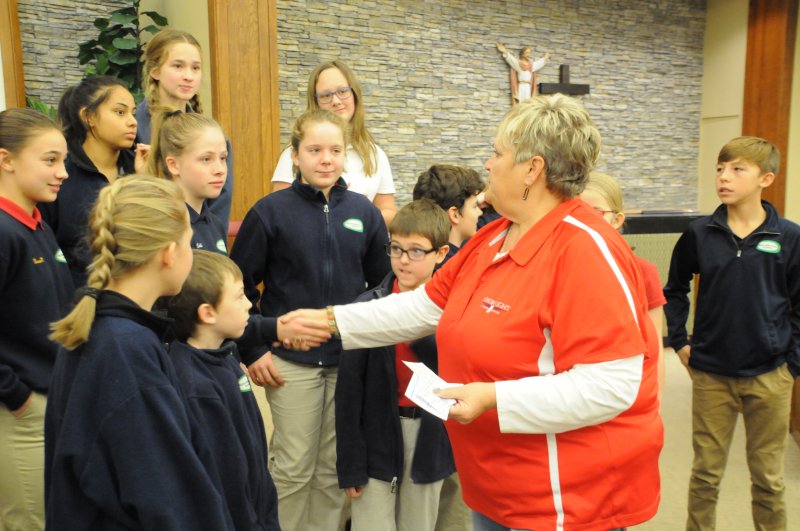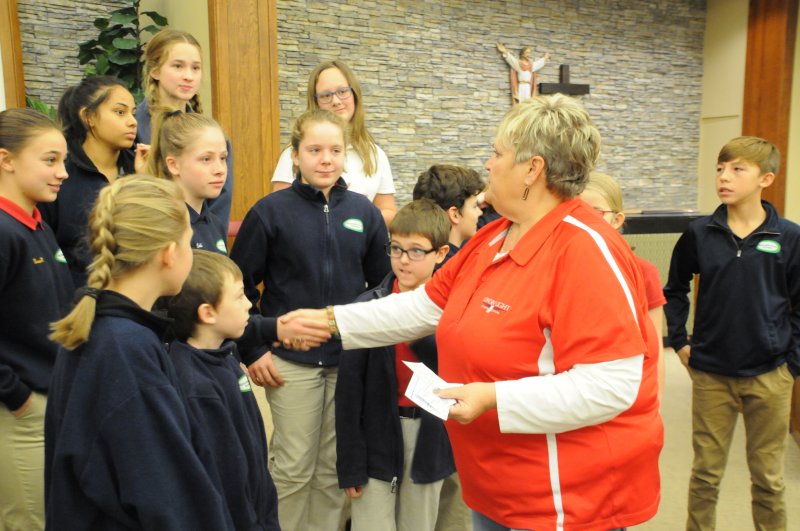 "This is such a blessing," Shaw said. "On behalf of Honor Flight, thank you from the bottom of my heart. You guys are making a difference. I get emotional every time I talk about our veterans. … Then when I have a check presentation from students who are raising the money to give to the generation that served is so heartwarming."
Beyer's grandpas are both veterans, she said, but they haven't gone on the Honor Flight – yet.
"It was so cool to be able to help other people in our community and reach out to those who need help and want to do those life-changing things (like Honor Flight)," she said. "I have a personal connection with it, and I know those veterans are so excited to go on that trip. ... Seeing the Honor Flight and what they do was a great motivator to host a free-dress day to help them out."
Honor Flight was created to honor America's veterans. Honor Flight of Southern Indiana is the 133rd Honor Flight Network hub and serves the Indiana counties of Crawford, Daviess, Dubois, Gibson, Knox, Lawrence, Martin, Orange, Perry, Pike, Posey, Spencer, Vanderburgh and Warrick. The flights are made possible with the help of "generous donors and volunteers," Shaw explained.
Honor Flight is a "whirlwind tour of Washington, D.C. in one day," Shaw said. The flight leaves the Evansville Regional Airport "bright and early," on a nonstop flight to Washington, D.C. Once they land, Shaw said a police escort takes the veterans to their stops, which include the World War II Memorial, Korean War Memorial, Lincoln Memorial, Vietnam Veterans Memorial, Air Force Memorial, as well as a tour of the city to see the United States Capitol Building and the White House. The veterans also visit Arlington National Cemetery for the Changing of the Guard ceremony at the Tomb of the Unknown Soldier.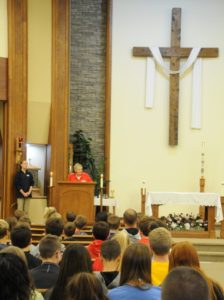 "You'd be surprised at how many veterans get super excited about that police escort because we don't stop for anything," Shaw said.
Once they land back at home, Shaw said it's important to have community support to give veterans a "welcome home parade."
"We pack the Evansville airport and have 2,000 – 3,000 people in our little airport just to give these heroes their welcome home," she said.
About 400 veterans are currently signed-up to go on an Honor Flight, but Shaw said they need more veterans to sign-up. On the most recent flight, the oldest veteran was 98-years-old and the youngest veteran was 78-years-old.
Honor Flight is "bringing the awareness of our veterans back to the younger generations so they can see what these men and women actually have done for us," according to Shaw.
"Each and every one of us owes so much to our veterans and our current military for the freedoms they are allowing us," she said.
Resurrection School Principal Theresa Berendes said students plan to offer an annual donation to Honor Flight.
"Thank you to Resurrection School, to the community and to the parents of these children who are raising them to understand what it means to support our men and women veterans," Shaw said.
"You guys are rock stars," she told Resurrection students. "Keep changing the world."