Special to The Message
Sharon Burns, executive director of Catholic Charities of the Diocese of Evansville, has announced her decision to leave the diocesan staff on Jan. 17, 2020. Burns has led Catholic Charities since 2012.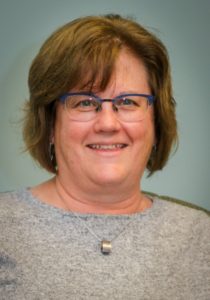 "I have accepted an opportunity to serve as the manager of a research and evaluation department for a Maryland-based non-profit," Burns said. "The change will allow me to live and work in Evansville while offering more flexibility to spend time enjoying family, friends and several hobbies."
Bishop Joseph M. Siegel expressed his gratitude to Sharon for her years of leadership at Catholic Charities: "Sharon has done an excellent job in directing our diocese's outreach to those in need in our 12 counties. With her compassion, professionalism and creativity, she has mobilized our dedicated Catholic Charities staff and our parishes in helping provide services and hope to countless people in Southwest Indiana. I pray the Lord may continue to bless her for her efforts and I wish her the best as she begins a new chapter in her life and career."
Diocese of Evansville Chancellor Tim McGuire said, "I would like to take this opportunity to thank Sharon for her faithful service. During her seven years, she and the Charities staff developed many new programs and enhanced several of the core services of Catholic Charites in our diocese. Because of her leadership and vision, Catholic Charities is highly respected among its peers. Her dedication, creativeness and work ethic will be missed."
Mike Vogel, chair of Catholic Charities' Board of Advisors, said, "Catholic Charities has a long history of service and positive impact on our community through compassionately delivering sustainable, professional, and person- and family-centered care. Sharon has brought passion, ceaseless energy and vision to this organization. She has worked side-by-side with community leaders and staff to build better organizations that would provide a more just and caring world for those in need, and to institute programs that instill hope and confidence for a life that works. She will truly be missed by our staff, board and benefactors."
Burns added, "Catholic Charities is blessed with compassionate, knowledgeable, professional staff members who serve all with the greatest of human dignity. Also, our Board of Advisors supported a change in direction toward helping individuals and families create lives that work – emotionally, economically and socially. It has been my pleasure to work with each of them.  They have informed, educated and guided my development as a Catholic Christian."
Burns said that working at Catholic Charities "has challenged, changed and expanded my heart for understanding and traveling the journey with the poor. My hope is that the agency continues to serve well as the face of Jesus for the poor, and that all who participate – staff, board members, donors, volunteers, colleagues, and the Catholic faithful – grow in their understanding of, and response to, Jesus' baptismal call to go out and respond to and accompany those who suffer."
McGuire said the search for Burns' replacement would begin in the near future.