By Megan Erbacher
The Message assistant editor
Resurrection School Principal Theresa Berendes wrapped-up a faculty meeting on May 1, and then she joined what she thought was a finance meeting.
Once she logged into her second virtual meeting on Zoom, she sat in her office, stunned and quiet. She realized there were about 60 people logged into the meeting, which wasn't a meeting at all, but a surprise to announce her as the 2020 Outstanding Building Principal of the Year.
She shook her head in disbelief and covered her mouth in shock before removing her glasses to wipe her eyes as she fought back tears.
This is the 29th Annual Outstanding Educator of the Year Awards, according to organizers, which is sponsored by the University of Evansville and the Evansville Courier & Press. The program honors the dedication of Vanderburgh County K-12 educators at nonpublic and public schools who excel in the profession and have at least three years of experience. Awards are given in four categories: elementary, middle schools, high schools, and principal.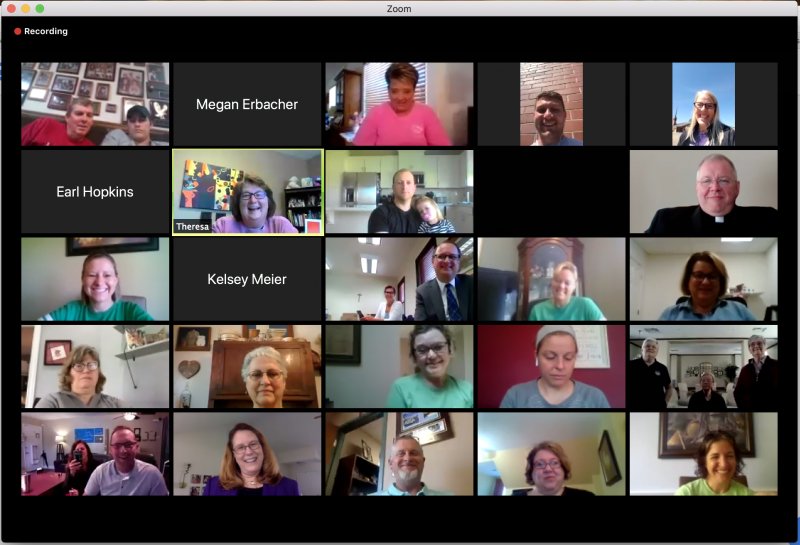 Typically, UE officials host a "prize patrol" day to surprise the winners in-person, but the coronavirus pandemic resulted in virtual surprises this year. The Zoom link was shared with faculty, staff, priests, family and friends so others could participate in the fun.
"This school year was particularly unique," Amy McBride, UE associate professor and program chair, said. "Teachers had to forego their original plans. They had to become instant experts on virtual and distance learning. Administrators, like yourself, have had to navigate these uncharted waters to provide stability and calm for staff, faculty, students and parents. It required many hours of work by all, but the results have been very uplifting. You have all become a beacon of light for your students during this difficult time."
Berendes has been an educator for 29 years, with 10 of those years as principal of Resurrection and three years as principal of St. Theresa School. She said Catholic schools are the place to be.
"I'm honored, and I'm humbled," she said. "I wouldn't have been nominated for this award without my staff. They are my backbone. We are family, and we are an incredible team. We do good things here. And my fellow principals, we're a great team. We all work together."
During her time at Resurrection, Berendes has implemented many programs including a house system for students in grades 5-8 to strengthen communication and leadership skills, as well as to encourage a sense of family and community. Students also participate in the Amazing Shake Challenge, which helps them gain confidence in introducing themselves through a firm handshake, eye contact and clear communication. Younger kids develop leadership skills through the Leader in Me program.
Berendes puts the child first as part of her educational philosophy, and through these programs she helps students connect and grow.
"I believe it is my duty to help each child achieve his/her highest potential academically, spiritually and emotionally," Berendes said. "I cannot do this by myself alone. I believe that I must work to include all staff, parents and our community to promote the success of each child."
Berendes strives to meet the needs of students. As an educator, Berendes spends countless hours tutoring, mentoring and inspiring students, while she also encourages communication between parents and faculty.
McBride said 50-100 candidates are nominated each year and it's challenging to select winners. She said judges look for qualities including solid content knowledge, positive relationships with students and families, powerful teaching strategies and leadership skills.
Catholic Schools Superintendent Dr. Daryl Hagan congratulated Berendes. He said the day before the announcement, he talked to Berendes on the phone regarding Outstanding Educator finalists, and he recalled her saying she didn't win because she said the other principals are so deserving for everything they do for kids.
"I played it up like she didn't win, and I was so touched at how quick she is to build others up around her.
"Theresa, it's only appropriate to honor and recognize excellence and distinguished service, especially today in the midst of this world pandemic and especially for the unsung heroes in education," Hagan said. "You are one of those heroes."
Father Jerry Pratt, administrator of Resurrection Parish, said it's appropriate for Berendes to receive this award in "no ordinary time because she's no ordinary principal."
"She has this gift for thinking outside the box," he said. "She's constantly saying, 'How can we be better? How can we improve? How can we grow?' She's not willing to rest on any laurels at all. I think we're just so blessed to have her here. … On behalf of this parish, we congratulate her and love her for all she does for us and our kids."
As principal of a Catholic school, she believes it's important to lead by example, so she begins and ends each school day with prayer. She works with teachers to incorporate prayer services and Masses with relevant content from the outside world that still correlate with the liturgical
calendar, meets with students to reflect on their behavior, and eases the transition for new pastors.
"It is a true blessing to be able to share faith and our Catholic beliefs to every aspect we encounter in the education of our students," Berendes said.
The winners will be celebrated at an awards banquet later this year when it is safe to gather.