By Megan Erbacher
The Message assistant editor
Elizabeth Flatt, principal of St. John the Baptist Catholic School in Newburgh, has always dreamed of visiting Australia; and she planned to make that dream come true at the end of the month as part of her Lilly Endowment Teacher Creativity Fellowship.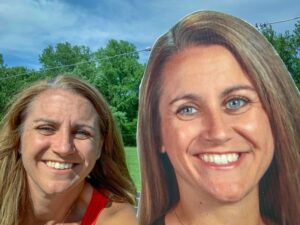 Earlier this year, Flatt was one of 100 Indiana K-12 educators honored with a Lilly fellowship. However, the coronavirus pandemic halted traveling plans, so Lilly officials have allowed educators the flexibility to complete their grant on a longer timeline. Flatt plans to visit Sydney, Australia, in summer 2021.
Educators spend their days inspiring students to explore, inquire and grow. So, Lilly Endowment, Inc. launched the Teacher Creativity Fellowship Program in 1987 to give Indiana's private and public school K-12 educators the encouragement and financial support to renew their commitment to the education profession.
Each fellow receives a grant of up to $12,000 to fund personal development and nurture their own curiosity. The Endowment selected the 2020 fellows from a competitive pool of more than 450 applicants.
Flatt had to re-read the congratulatory email multiple times because she was surprised to be chosen as a first-time applicant for the fellowship. She feels honored because she said there are "so many great educators" who apply every year.
"This opportunity is important to me to recharge and be rejuvenated so I can continue working in education with the great passion and energy it takes," she said. "My job as a school administrator can be stressful at times and this allows a break in all of that to fill my own cup so I can support and inspire others that I work with."
Flatt's proposal, "Return to Running in the Land Down Under," focuses on overall wellness. It combines her passions for running and traveling by completing a half-marathon race, attending a wellness retreat to learn new practices and witnessing world-class athletes compete by volunteering at the Ironman Cairns Race in Australia.
"Upon my return, I will keep this rekindled energy and enthusiasm alive through local wellness initiatives," Flatt said.
Including the 2020 Fellows, more than 3,100 Indiana educators have received fellowship grants.
Most 2020 fellows plan to travel to explore locations across the globe and pursue creative passions in the arts and humanities, some will write retreats and others will participate in language and cultural immersion programs.
"These teachers, school counselors, principals and media specialists have designed projects that promise to restore them both personally and professionally," said Ted Maple, the Endowment's vice president for education. "For more than three decades we have learned how meaningful these renewal experiences can be for the educators themselves. But we know, too, that they return to their schools rejuvenated and with a greater commitment to their students and their schools."
Flatt not only wants to visit a "beautiful" place she's only dreamed of, but she hopes this opportunity also allows her to refocus on her personal wellness (physical, emotional and spiritual) to help her grow.
"I also hope to inspire others to set goals and have the courage to pursue their dreams no matter how big or small they seem. "As a Leader in Me School, we focus on the 7 Habits (of Highly Effective People) so this is a great example of "Sharpening the Saw" to be the best version of myself," Flatt said. "I also hope to continue to encourage wellness initiatives at our school."
The Message will provide coverage of Flatt's experiences once she is able to safely travel.