The Message assistant editor
Rivet High School senior Madison Allen said she enjoys attending a Catholic school because all of her classmates are "close-knit."
Allen, 17, said smaller class sizes make it possible for everyone in the school community to know each other well.
"I like how close we all are," she said. "We're all best friends."
Rivet senior Livia Trent, 18, agreed.
"We get to be a family at Catholic schools," she said.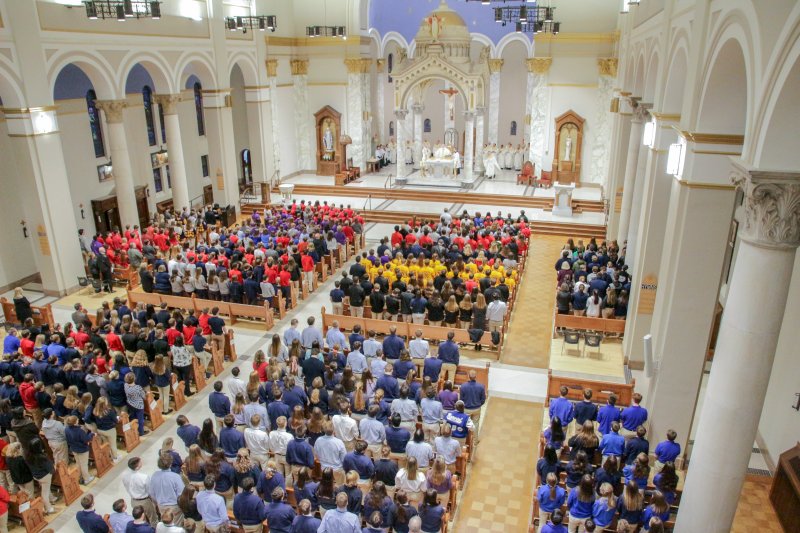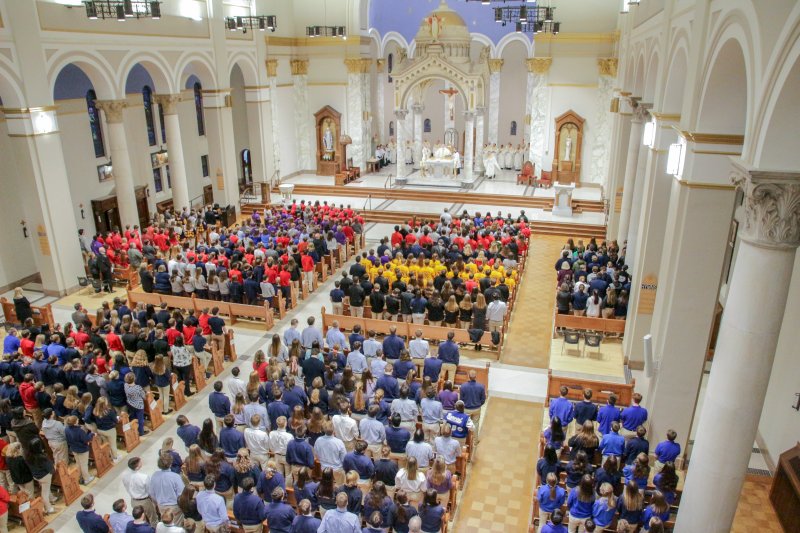 The two high school seniors were part of nearly 900 Diocese of Evansville students, as well as educators and community members, who gathered at St. Benedict Cathedral for Mass with Bishop Joseph M. Siegel on Jan. 28 to celebrate National Catholic Schools Week and more than four decades of this annual focus on Catholic education.
Twenty-one priests of the diocese concelebrated Mass with the bishop, Deacon Joe Siewers served as Deacon of the Mass, and Diocesan Director of Worship Matt Miller served as the Master of Ceremonies. The multi-school choir for the Mass included two students from all 26 Diocese of Evansville Catholic schools.
The focus was on Catholic education, and students from every diocesan school learned more about the theme "Catholic Schools: Learn, Serve, Lead, Succeed."
The 2020 Annual National Catholic Schools Week was Jan. 26 through Feb. 1. Since 1974, the focus has been to celebrate Catholic education throughout the U.S. Catholic schools often host various events throughout the week to promote the value of Catholic education and what it offers to kids, churches and communities.
Allen was proud that her high school, Rivet, hosted the Catholic Schools Week Mass this year.
"I like seeing all the different Catholic Schools together," she said. "It's nice because it's like a family."
During his homily, Bishop Siegel discussed the appropriateness of celebrating the Mass on the Feast of St. Thomas Aquinas. Bishop Siegel said the Church doctor's focus on Jesus Christ helps us know what's really important in life.
The bishop said our diocesan Catholic schools have the same focus on Jesus Christ and offer an environment where students can pray and attend Mass during the school day to learn and grow in their faith. He told students to thank their parents for making a Catholic education possible for them.
In his welcome address, Catholic Schools Superintendent Dr. Daryl Hagan said everyone arrived Tuesday morning as separate schools from across the 12 counties in the diocese, yet they gathered as one body in Christ.
Hagan said the theme of the week encompasses the core products and values found in Catholic schools across the country. He said educators guide students as they are formed in the faith and obtain skills needed for the 21st century.
"We have 26 outstanding academic principals in our diocese and two presidents, and they educate, they inspire and they proclaim. … Catholic schools are a family," Hagan said. "I think our students understand that and feel that every day because we don't educate just the academic child. We educate the whole child."
Rivet senior Olivia Lankford said she has witnessed all of her peers growing closer to their two priests: Father Tony Ernst, administrator of St. Francis of Xavier Parish in Vincennes and St. Philip Neri Parish in Bicknell; and Father Simon Natha, who serves as parochial vicar of those two parishes.
"We're all getting really close to our two priests, and I think they're starting to mean a lot to all of us," Lankford, 17, said. "It's good for all of us."