Seminarian Aaron Herrenbruck
Seminary, Class: St. Meinrad Seminary and School of Theology, 2nd Theology
Home Parish: St. Clement Parish, Boonville
Birthday: Dec. 19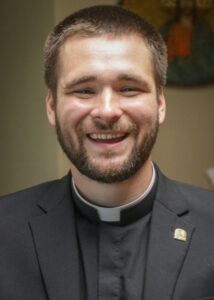 In seminary, a lot of emphases is placed on finding and discerning one's vocation. This makes a lot of sense because to be prepared for the priesthood, you need to be quite confident in the big picture of God's will for you. To achieve this focus on discernment, our lives are centered on the Eucharist.
We go to Mass and participate in it every single day. We are expected to spend time in adoration of the Eucharist multiple times a week, and we take many classes to help us better understand what the Eucharist is.
All of our lives should be centered on the Eucharist because it's the source and summit of our faith, but in seminary, we are given every opportunity to make that a reality.
For me specifically, my discernment has been totally influenced by my relationship with God through his sacrament of the Eucharist. In high school and college, I found myself in a slump of sorts in which I was going to Mass every Sunday, but my faith was all but nonexistent. Up until that point in my life, my faith was not my own. I only believed in God and went to church because it was how I was taught. I never asked myself the serious questions or believed in God by my own will.
Then, I met a girl I liked and noticed she went to daily Mass. So I would show up at daily Mass and sit at a pew between her and the door so I could run into her by "accident" after Mass. I began showing up to daily Mass to see her, but then I found myself continuing to go because I would experience a peace there which I had never had before. After that I would find times for adoration and confession where my relationship with God changed. Spending a little time in adoration of the Eucharist helped transform my heart.
It is in these moments of silence and intimate prayer in which we can be honest with God about who we want to be, and He will help us to see His plans for us.