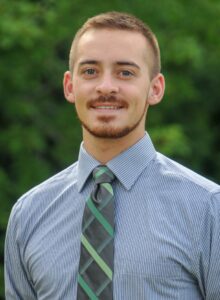 Name: Bradley Gehlhausen
What are your parents' names? Gerald "Jerry" and Lisa Gehlhausen
Current Parish: Annunciation of the Blessed Virgin Mary, Ireland
What kinds of ministries were you involved in at your parish? What kinds of Diocesan retreats/events have you attended that have been helpful?
At St. Mary's in Ireland, I was a server and attended religious education throughout middle school and high school.
Teens Encounter Christ really helped me see beyond the secular boundaries drawn by cities, counties, school districts, etc. I imagine Source & Summit can dissolve those boundaries as well. Now I tend to think of the Diocese of Evansville as one, big parish. You have many brothers and sisters in your diocese experiencing the same trials in search of the Truth as you are. Go find them. Memorable retreats I was able to make via Bosco Youth Ministry in Jasper: One Bread One Cup, National Catholic Youth Conference, Catholic HEART Workcamp.
When did you start thinking of priesthood? What made you think of it?
I was in first grade religious education class when our catechist explained that God asks some men to be priests; some say yes and some don't. My 7-yr-old self thought, "That's stupid! You mean, sometimes, God asks men to be priests, and they tell Him, 'NO'?!" Then she posited, "And God might be calling some of you boys in this room right now to be priests too..." I wish she'd never said that, haha.
What moved me to enter seminary was a number of things — studying philosophy and attending World Youth Day to name a couple.
What aspect of priestly ministry is most attractive to you? Why?
For now, I'll say being a bearer of the mystery. That small void of mystery in people's minds in which they hold out hope, unable to ascertain what's possible or impossible in this world, is placed on the priest almost every time he enters a room, I think.
What gives you hope for the Catholic Church today?
Bishop Robert Barron's Word On Fire movement -- check out its podcast!
Estimates today show that, for every one Catholic that enters the Church, six are leaving. If I may be so bold, that one Catholic that enters the Church on purpose and with eyes awoken is worth at least those six that leave a faith they've never bothered to represent well in the first place.
Those Americans who are often willing enough to die to themselves in order to parent a lot of good children (children who will be our country's future) are often good Christians.
What Scripture passage hits home with you the most these days? Why?
"Do not be conformed to this world but be transformed by the renewal of your mind, that you may prove what is the will of God, what is good and acceptable and perfect." — Romans 12
I fear people are often too tethered to the internet and vain interests to actually discern things themselves. I am guilty of this as well.
What things do you find life-giving? (Reading? If so, what have you read? Movies? If so, what movies have you enjoyed? Music? If so, what music moves you? Hiking, exercising? Explain why.)
I don't know what it is, but I love talking to and recalling random things about people I went through school with in Jasper.
Reading G.K. Chesterton is hilarious. His witty, timeless quotes alone are enough to keep me entertained for hours.
"Without education, we are in a horrible and deadly danger of taking educated people seriously."
"The Christian ideal has not been tried and found wanting. It has been found difficult and left untried."
What is the hardest part of going to seminary? What are you most excited about this year for seminary?
The hardest part about going to seminary (and life I suppose) is figuring out which thoughts are my will and which ones are God's. I am most excited about taking Metaphysics this spring.