Seminarian Chase Riecker
Seminary, Class: Bishop Simon Bruté College Seminary in Indianapolis, Senior
Home Parish: St. Isidore the Farmer Parish, Celestine
Birthday: Oct. 24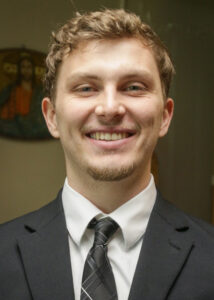 "Now when you ask of God any grace during the Mass, Jesus prays for you, and offers in your behalf the merits of His Passion." This is a quote from St. Alphonsus Liguori, speaking on the importance of Holy Mass above all other prayers and devotional practices.
The Holy Eucharist being the fruit of the Mass and the sustaining nourishment for our souls to excel in merit and virtue, this precious gift should inspire the most ardent of dispositions and sentiments.
For me, this was not something I understood or cared to know when I was in high school, and it never really dawned on me until I was about 18. I made a Teens Encounter Christ retreat as a senior in high school, and I remember being introduced to adoration with an emphasis placed on silence. In silence, I had a sense of peace for the first time I can remember. All the restless thoughts and concerns ceased for a moment of perfect solitude.
Having just gone to confession, I truly felt forgiven, and any words I have tried to produce, words that give an adequate representation, have alluded me. This really struck me and was the beginning of my own conversion.
This would have never happened had I not been given the proper environment, and I think silent adoration is the solution to numerous spiritual diseases of our generation. God speaks in silence, and surely those who place the ear of their heart at the breast of Jesus will hear the voice of He who made them for this intimate moment of adoration.