Deacon Stephen McGinnis
Seminary, Class: Saint Meinrad Seminary & School of Theology, 4th Theology
Home Parish: St. Bernard Parish in Rockport,  St. Martin I Parish in Chrisney
Birthday: Oct. 22
Maybe tomorrow, next month or next year …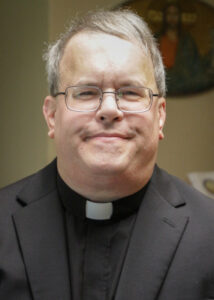 I had thought about becoming a priest since the age of 13. However, it was always something to be put off until the next major milestone: After I graduated from Notre Dame, after I defended my dissertation, after my business was established, etc. It was always something to be considered down the line.
Then, years ago, as I sat before the Blessed Sacrament mentally preparing for teaching fourth-grade religious education, I became aware of the Real Presence of Jesus at that specific moment, in that specific place. Not someone who was abstract, not something ephemeral, but very real. Then I realized that if Jesus was really and truly present in that moment, then the call to serve him – my vocation – must also be present at that moment. It was then that it became clear that God, who was calling me, knew me better than I knew myself. He knew my fears and anxiety, and yet he still called.
I then became a seminarian for the Diocese of Wheeling-Charleston and was ordained a deacon. However, as a result of a serious illness shortly after my ordination, I knew that I would be unable to be ordained a priest. The risk of being unavailable due to illness was too great. So I was assigned to several parishes as a resident deacon.
When my father retired from the Air Force, he decided to move to Rockport, Indiana. And after several years, I moved here as well. While I was very happy serving these parishes as a deacon, the idea of moving forward to the priesthood was always there. Again, it was something to consider in the future, and again, my time before the Blessed Sacrament reminded me that just as Jesus was present right then and there, my call, my vocation, was also present right there and then. With the assistance of Father Ron Kreilein, Father Tyler Tenbarge and Bishop Joseph M. Siegel, I was incardinated in the Diocese of Evansville and was assigned to Saint Meinrad Seminary.