By Megan Erbacher
The Message assistant editor
A crowd of 2,400 offered a standing ovation to Abby Johnson, the keynote speaker for the annual Right to Life of Southwest Indiana Banquet on Aug. 25 at the Old National Events Plaza.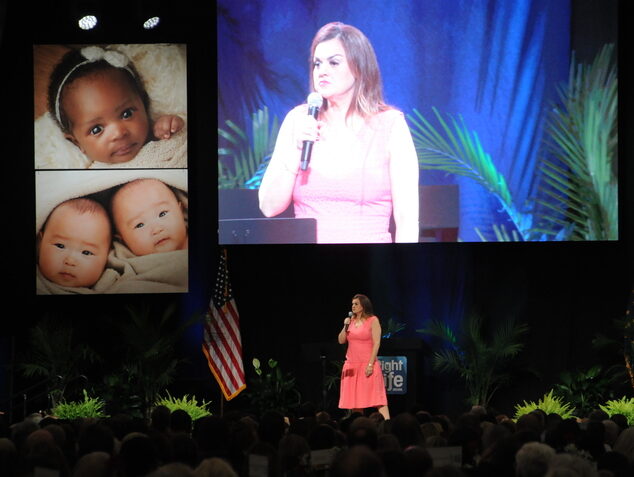 Johnson is a former Planned Parenthood facility director from Texas turned pro-life advocate and founder and CEO of And Then There Were None, a nonprofit organization that helps abortion workers leave the industry. The event also welcomed special guest speaker, former Vice President Mike Pence.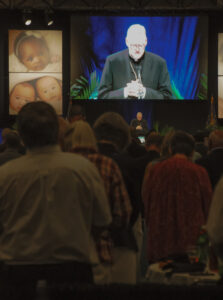 Bishop Joseph M. Siegel offered the invocation at the start of the evening. Bishop Siegel said it was with much joy and hope that the group gathered to celebrate the great progress that has been made in our nation and our state to promote and defend the rights of the preborn. The bishop thanked God for the Dobbs Supreme Court decision that again gave states like Indiana the ability to protect the preborn and support their mothers.
Bishop Siegel asked God to continue to guide and bless the efforts of all, including the Right to Life of Southwest Indiana, in defending the sanctity and dignity of human life, from the moment of conception until natural death.
During her keynote address, Johnson said she is often asked what changed her mind about leading a Planned Parenthood facility. She explained her change of heart and mind when she assisted in an ultrasound-assisted abortion and saw what happened. Johnson said she watched in horror as a 13-week-old baby fought for its life. 
Johnson ultimately left her job at Planned Parenthood and began working in defense of the preborn. She wrote a book about her experience, titled "Unplanned," and she eventually converted to Catholicism.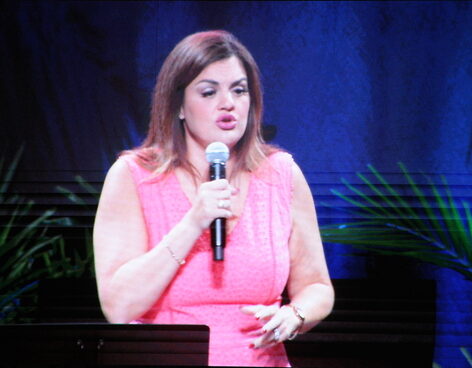 Did the abortion she assisted with change her? Yes, Johnson answered. But, she said, so did prayer. No one is beyond conversion, she explained, because no one is beyond the power of Jesus Christ. Our society is incredibly lost, she said, and the only way back on track is through Jesus Christ.
Johnson, who lives in Texas with her husband and eight children, said while she is pleased the Dobbs Supreme Court decision overturned Roe v. Wade, she said the fight is not over for the preborn; it is just beginning. Johnson said we must fight harder, louder and never stop sharing Jesus Christ with the world.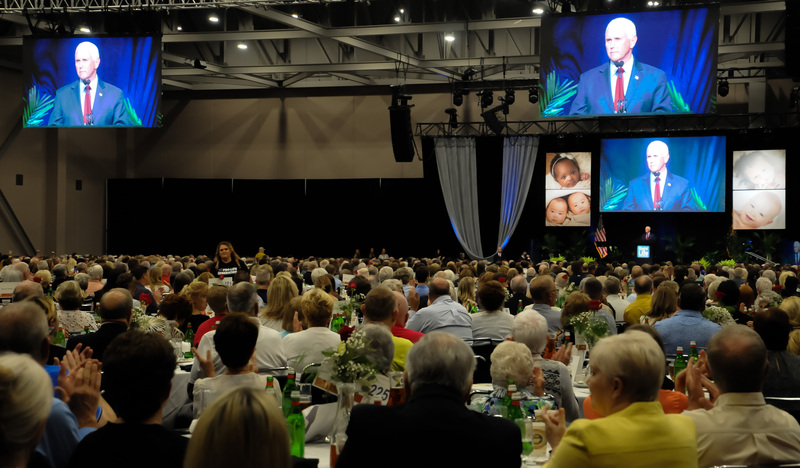 Other featured speakers for the event included Mary Ellen Van Dyke, executive director of Southwest Indiana Right to Life; Mike Fichter, CEO and president of Indiana Right to Life; Dr. Christina Francis, who received the 2022 Life Achievement Award; and Lainey Browning, the 2022 oratory speech winner.
Van Dyke explained the annual banquet serves as the organization's primary fundraising event, which helps with its major programs and projects such as providing and maintaining four Safe Haven Baby Boxes at local Fire Departments, providing thousands of diapers to local pregnancy care centers, empowering students, and a recently unveiled Go Mobile Clinic which will provide free services to women such as ultrasounds and pregnancy testing for those who are in underserved areas within Southwest Indiana.
"With the fall of Roe v. Wade, our organization is moving to expand its reach to help moms facing unplanned pregnancies through tangible means such as the Go Mobile Clinic, support of local pregnancy centers and programs that support those who have had abortions," Van Dyke said.