By Tim Lilley
The Message editor
Benedictine Sister Jane Michele McClure, who serves as major gifts officer for Habitat for Humanity-Evansville, stepped to the microphone at the edge of a sun-bathed lot in Poseyville and began speaking with the words that serve as the headline of this story.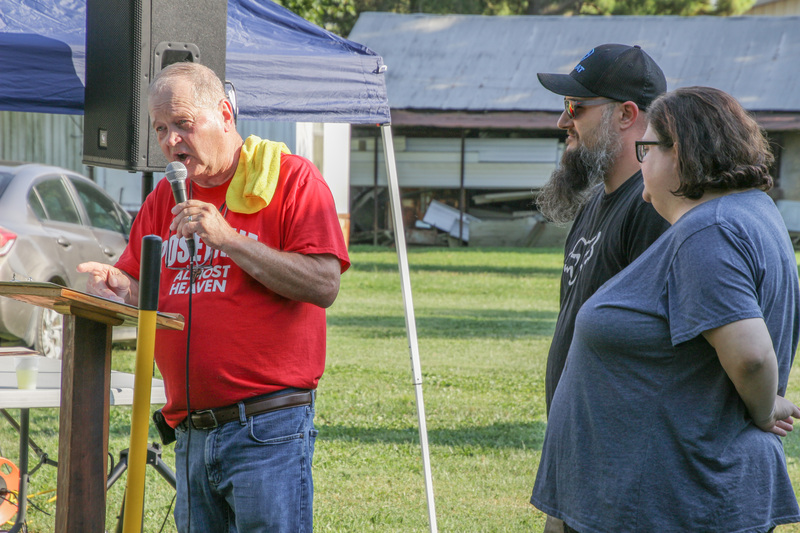 "What a community! There is no stopping you," she added. Sister Jane Michele was one of scores of people who turned out for the Aug. 26 groundbreaking for the first Habitat build in northern Posey County – a six bedroom house that will become home for Jessica and Mario, and their six children. 
Beth Folz, who serves as executive director of Habitat-Evansville, spoke just before Sister Jane Michele, and she thanked everyone who had worked on the project over the past two years. She said, "Congratulations to all who have worked on this. The progress to date is amazing. Thank you for all you have done for the family."
Jessica and Mario, Poseyville Town Councilman Bruce Baker, Father Ed Schnur and Deacon Mark McDonald turned the first shovels of dirt at the location of the couple's new home, which is just south of the St. Francis Xavier campus. A large crowd looked on. Beth said the turnout was one of the largest for a Habitat groundbreaking that she could recall.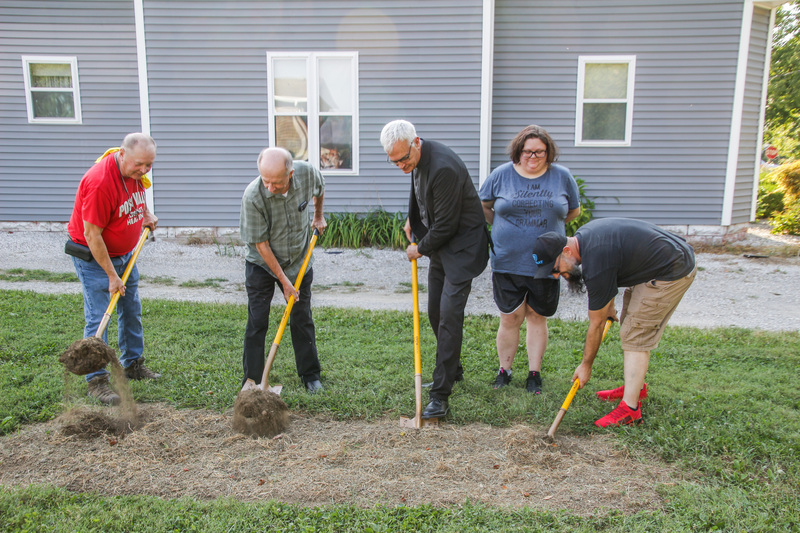 In comments to The Message a few days before the groundbreaking, Beth explained that Habitat-Evansville expanded its service area to include Posey County in 2004. Since then, there have been 13 builds in Mount Vernon – a 14th is now underway – and one build in New Harmony. The Poseyville build is the first in northern Posey County.
Beth said, "The housing crisis we are experiencing in our country affects everyone. Whether you live in a metropolitan area or a smaller, rural town, if you don't have a safe, decent and affordable place to lay your head at night, it affects so many other aspects of life – health, education, employment, financial stability and more. We are excited to walk alongside Mario and his family as they help build the home that they will buy from Habitat through a no-interest mortgage.  At Habitat, we say we are a hand-up, not a hand-out; and hardworking families like Mario's take pride in the fact that they commit 300 hours of sweat equity in helping to build their home, taking homeownership preparation classes, and working alongside volunteers who give of their time, talents and treasure.  It is impactful work that changes lives, and Habitat is grateful for the commitment of our friends in Posey Country who are making this home possible."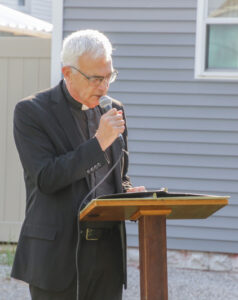 Father Ed, pastor of St. Francis Xavier Parish in Poseyville and St. Wendel Parish in St. Wendel, offered the opening prayer for the groundbreaking ceremony. He prayed, in part, "It's a big task before us, but we know You bring us to this work." Father Ed encouraged the original group of local residents who met two years ago and identified housing as an urgent need.
Deacon Mark, who serves St. Francis Xavier Parish and St. Wendel Parish, told The Message recently about that meeting, when Poseyville Town Council member Baker said, "We need homes. There are jobs here but nowhere for families to sleep."
During the groundbreaking, Deacon Mark told the crowd, "Everyone deserves a good, warm, comforting, loving place to live." He also recognized fifth-generation Poseyville resident Matthew Nix, who helped him find the location of the new home. Matthew heads up the new nonprofit Grow Poseyville. He said, "We formed Grow Poseyville on three pillars – Main Street, housing and promotion of the town."
Deacon Mark also recognized John Schmidt and Joe Wildeman, volunteers who have trained with Habitat-Evansville and will serve as the hands-on construction managers for Jessica's and Mario's home. He noted that, as of the groundbreaking, the Poseyville committee had raised $224,000 to fund area Habitat builds. He added, "This first home is paid for, and the second home is paid for. We have a lot for it being surveyed right now. And we have enough to partially fund a third home."
He also highlighted some of the major donors, which include the Knights of St. John, GAF-Mount Vernon, Toyota, the Posey County Community Foundation, and the Men's and Women's Clubs of St. Francis Xavier Parish and St. Wendel Parish.
Deacon Mark added that the groundbreaking ceremony served as the celebration of the end of the beginning. "We move on from here to much more."