Seminarian Jacob Schneider
Seminary, Class: Bishop Simon Bruté College Seminary in Indianapolis, Junior
Home Parish: Corpus Christi Parish, Evansville
Birthday: Aug. 30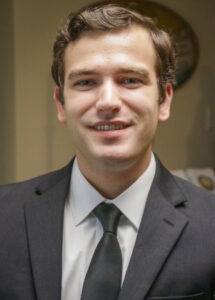 The presence of Jesus Christ in the Eucharist is a reality so profound that many are rendered to a state of awe upon realization, and it is this awe that has been the driving force of my discernment. The best example I can think of to display the power of Christ's presence is that of St. Clare of Assisi. When her monastery was under threat of attack, she raised a Eucharist held in a monstrance, and the enemy army was quickly repelled. This event got me thinking that if Christ's presence in the Eucharist was so powerful that even ferocious armies were brought to heel at its very sight, then it is something that requires my utmost attention and devotion.
I trace this first realization of Christ's presence in the Eucharist back to my first Source and Summit retreat. Back then, I was a sophomore in high school and just beginning to look more into my faith. I came to Source and Summit without knowing what to expect, and what happened was more beautiful than anything I could have thought. The speakers during the opening evening and morning were amazing, and they offered brilliant insight for someone seeking to grow in his spiritual life. However, it wasn't until that night, during the Eucharistic Adoration and Procession, that I ultimately witnessed Christ's true presence. As they came around the corner, I saw the bishop, led by his entourage of servers. The incense was billowing and the candles blazed with light; these things led me to then gaze upon the monstrance and the body that lay within. Everything was silent; there was joy, followed by tears. 
This moment at Source and Summit guided me into fostering devotion to the Eucharist. And it did not stop there because Christ had other plans. With my increase in the adoration of the Eucharist, so, too, did my attention to the one who consecrates it and exposes it for all to see. And not even a year later, I began making weekly trips to Sacred Heart Church for Monday night Adoration and Mass, leading me to converse more with others who were discerning seminary. Falling in love with Christ in the Eucharist led me to admire the priesthood.