By Bertha Melendres, Director of the Office of Hispanic Ministry
Special to The Message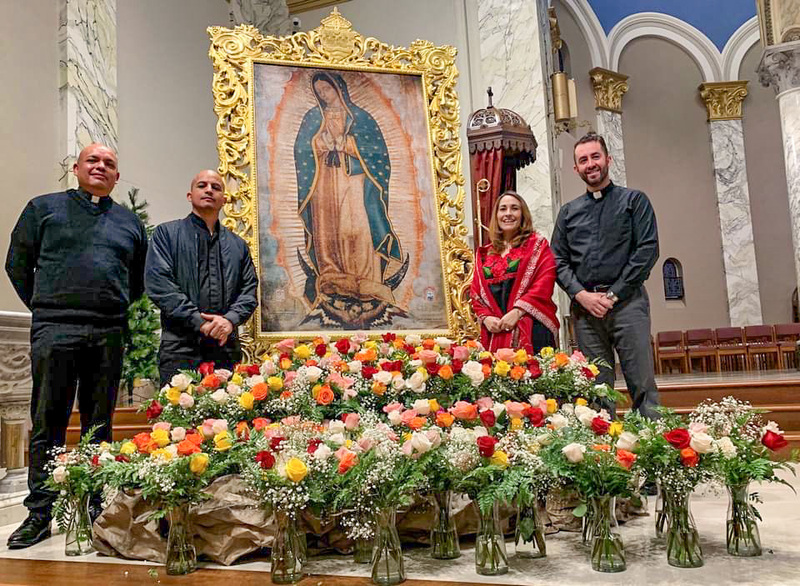 If you visited St. Benedict Cathedral in Evansville before Dec. 12, 2021, you might have noticed that there were no images of Our Lady of Guadalupe in our Cathedral. During one of the Office of Hispanic Ministry board meetings, Father Juan Ramirez mentioned that he had attended an event at St. Ben's and noticed that there was no image Our Lady of Guadalupe present. As Bishop Ricardo Ramirez wrote in his book "Misa, Mesa y Musa," "Like Joseph in the Old Testament who had a Technicolor dreamcoat, the Church in the United States is also of many colors. This multi-hued coat of the Church has been getting more colorful over the years." 
Statistics show that Indiana's Hispanic population has increased at least 82 percent since 2000. Our Diocese has over 300 registered Hispanic families in our parishes, and many others that are not registered yet.  We believe that places of worship like the cathedral should reflect the cultural diversity and the beliefs of their people.  
Father Juan suggested that we donate an image of our beloved "Morenita" (little dark girl as we like to call Our Lady of Guadalupe) on behalf of the Office of Hispanic Ministry. We all knew that we had to do it. With the blessings of Bishop Joseph M. Siegel and Benedictine Father Godfrey Mullen, then the rector of the cathedral, we began a wonderful journey of palpable faith, immersed in love and generosity that seemed almost miraculous.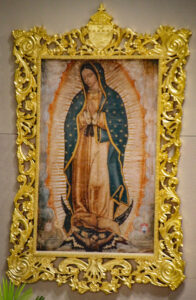 I mentioned the idea to my husband, Deacon Jorge Melendres, and he said he would ask his friends and fellow restaurant owners for donations to purchase a nice image. Father Homero Rodrigues, Father Juan and Father Martin Estrada also joined him on this quest.  
Nine generous restaurant owners donated to the effort. They include the owners of  Mi Pueblo, El Jimador Bar and Grill, Riviera Mexican Grill, Miranda Popusas & Tacos, La Campirana, Los Bravos, The Diner by Mele's, Jalisco's and Acapulco.  
Additional contributions from St. Joseph Parish in Jasper, St. Mary Parish in Huntingburg and Holy Rosary Parish in Evansville enabled us to purchase the image and a nice frame for it. 
Father Martin volunteered to pick up a six-foot-tall replica of the image of Our Lady of Guadalupe from the Basilica of Guadalupe in Mexico City on one of his trips to visit his family. It was a challenge to travel back to Indiana with such a big tube containing the precious cargo, but he managed to do it.  Father Martin also commissioned Francisco Javier Zuno Becerra, a carpenter from La Barca, Jalisco, Mexico, to make the beautiful carved frame out of red cedar, which was to have the Diocese of Evansville coat of arms on top. 
After the frame was completed, Father Martin traveled back to Mexico to see how he would ship or bring the frame with him. The frame was larger than the size allowed to be checked in the plane. But coincidentally, his aunt, Martha Vazquez from Nebraska, happened to be visiting his family and driving a truck back to the U.S. after having stayed a few days longer than expected. She offered to bring the frame to Nebraska; we will always be grateful to her.  
At that point, our challenge was getting the frame from Nebraska to Evansville. It happened that Esteban Barrera, a member of Holy Rosary Parish, was visiting his family in Nebraska – and he was able to bring it to Evansville for us! I like to think of this as another "God-cidence," as I like to call them.  After a few days, we finally had the frame in four separate pieces and the image here in Evansville.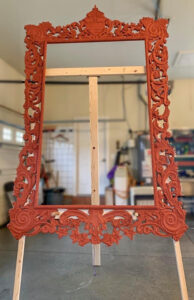 Father Martin and Hilario Ayala, another parishioner from Holy Rosary, put the frame together and built a special display stand for it. The frame was in a raw wood state and now we had to decide what type of finish we would want on it. Some of us suggested that we just stain it because there was only a week before the Our Lady of Guadalupe Celebration, where we planned to present the painting to Bishop Siegle. But Father Martin told us that so much had been done thus far that we had to have the best frame for our beloved Virgencita (Little Virgin.) 
Father Martin researched what type of gold leaf would be best – and learned to apply it. He then recruited many volunteers – including his sister, Olivia Estrada, who ended up doing most of the golf-leaf application herself. It took countless hours, and volunteers worked late into the night all week long.  I believe that the final touches were being completed at St. Ben's the night of Dec. 9, when the image was delivered to the cathedral. 
Since Father Martin did not have the right tools to stretch the canvas onto the frame, it did have a wrinkle on it for the celebration. But a few days later, we contacted Mike from Inman's Picture Framing in Evansville. He was so kind as to come into the cathedral and stretch the image for us. When I asked him about the charge for his work, he told me that even though he was not Catholic, he would like to do it as a gift to Our Lady of Guadalupe. I was just speechless.
When I visit St. Ben's, or whenever I stop to think of all that happened – all that so many people had to do for us to be able to have our Patroness of the Americas in our cathedral – I see how this gift that we thought we were making to our diocese ended up being a bigger gift for us all – a gift that brought us closer as a community of different races and colors. It reminds us that our Mother is always present and accompanying us in our journey – no matter where it may take us. 
I am overwhelmed by so much love to our beloved Virgencita de Guadalupe, amazed at the vast generosity of my Hispanic  and non-Hispanic brothers and sisters and at the wonderful works of God that has also given us a huge reason to celebrate  and come together every year. 
We brought this image of Our Lady of Guadalupe to her new home – an Image made by Mexican hands, brought here by the desire of her faithful children who, even far away from their homeland, invoke her name and seek her protection with profound love.  
As we approach Dec. 12, her feast day, we are getting ready to celebrate her once again at St. Benedict Cathedral and throughout the entire Diocese. Our celebration at the cathedral will start at 5: 30 p.m. CST Dec. 12. Bishop Siegel will celebrate the bilingual Mass. We will have dancers, a mariachi band, and delicious traditional Mexican tamales and other Hispanic treats. I hope all of you will join us as we celebrate our Patroness of the Americas and say together, "Que Viva la Virgen de Guadalupe – Long live the Virgin of Guadalupe!" 
El regalo de Nuestra Señora de Guadalupe
 Por Bertha Melendres, Directora de la Oficina del Ministerio Hispano
 Especial para El Mensaje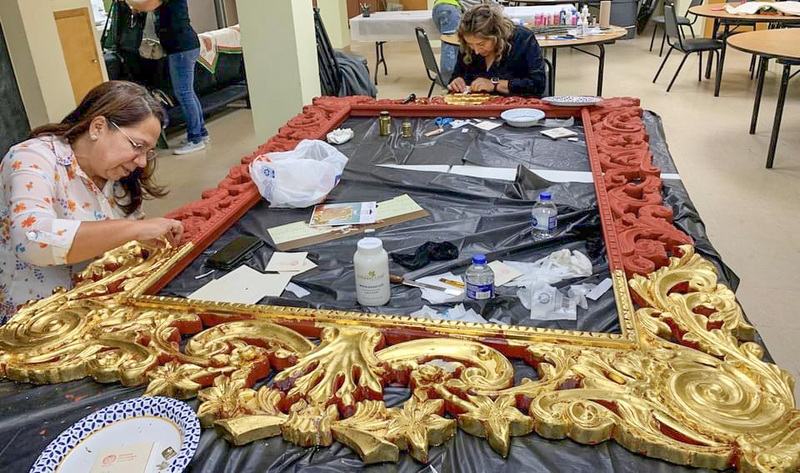 Si usted visitó la Catedral de San Benito en Evansville antes del 12 de diciembre de 2021, es posible que haya notado que no había imágenes de Nuestra Señora de Guadalupe en nuestra Catedral. Durante una de las reuniones de la junta de la Oficina del Ministerio Hispano, el Padre Juan Ramírez mencionó que había asistido a un evento en St. Ben's y notó que no había ninguna imagen de Nuestra Señora de Guadalupe presente. Como escribió el obispo Ricardo Ramírez en su libro "Misa, Mesa y Musa", "Al igual que José en el Antiguo Testamento que tenía un abrigo multicolor, la Iglesia en los Estados Unidos también es de muchos colores. Este abrigo multicolor de la Iglesia se ha vuelto más colorido a lo largo de los años".
Las estadísticas muestran que la población hispana de Indiana ha aumentado al menos un 82% por ciento desde el año 2000. Nuestra Diócesis tiene más de 300 familias hispanas registradas en nuestras parroquias, y muchas otras que aún no están registradas.  Creemos que los lugares de culto como la catedral deben reflejar la diversidad cultural y las creencias de su gente.
El Padre Juan sugirió que donáramos una imagen de nuestra amada "Morenita" como nos gusta llamar a Nuestra Señora de Guadalupe, en nombre de la Oficina del Ministerio Hispano. Todos sabíamos que teníamos que hacerlo. Con las bendiciones del obispo Joseph M. Siegel y del padre benedictino Godfrey Mullen, entonces rector de la catedral, comenzamos un maravilloso viaje de fe palpable, inmersos en el amor y la generosidad que parecían casi milagrosos.
Le mencioné la idea a mi esposo, el diácono Jorge Melendres, y él dijo que pediría donaciones a sus amigos y compañeros dueños de restaurantes para comprar una imagen bonita. El Padre Homero Rodríguez, el Padre Juan y el Padre Martín Estrada también se unieron a él en esta búsqueda.
Nueve generosos dueños de restaurantes donaron al esfuerzo. Entre ellos se encuentran los propietarios de Mi Pueblo, El Jimador Bar and Grill, Riviera Mexican Grill, Miranda Popusas & Tacos, La Campirana, Los Bravos, The Diner by Mele's, Jalisco's y Acapulco.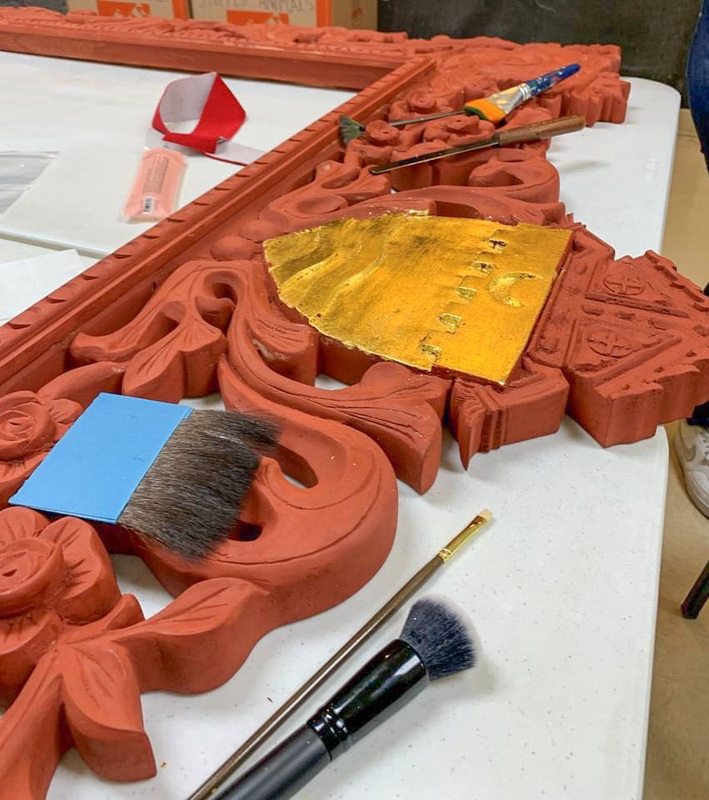 Las contribuciones adicionales de la parroquia de San José en Jasper, la parroquia de Santa María en Huntingburg y la parroquia del Santo Rosario en Evansville nos permitieron comprar la imagen y un bonito marco para ella.
El padre Martin se ofreció como voluntario para recoger una réplica de seis pies de altura de la imagen de Nuestra Señora de Guadalupe de la Basílica de Guadalupe en la Ciudad de México en uno de sus viajes para visitar a su familia. Fue un desafío viajar de regreso a Indiana con un tubo tan grande que contenía la preciosa carga, pero lo logró.  El Padre Martin también encargó a Francisco Javier Zuno Becerra, un carpintero de La Barca, Jalisco, México, que hiciera el hermoso marco tallado de cedro rojo, que debía tener el escudo de armas de la Diócesis de Evansville en la parte superior.
Después de que se completó el marco, el Padre Martin viajó de regreso a México para ver cómo enviaría o traería el marco con él. El marco era más grande que el tamaño permitido para traerlo en el avión. Pero casualmente, su tía, Martha Vázquez de Nebraska, estaba visitando a su familia y conduciendo una camioneta de regreso a los Estados Unidos después de haberse quedado unos días más de lo esperado. Se ofreció a llevar el marco a Nebraska; Siempre le estaremos agradecidos.
En ese momento, nuestro desafío era traer el marco de Nebraska a Evansville. Sucedió que Esteban Barrera, miembro de la Parroquia del Santo Rosario, estaba visitando a su familia en Nebraska, ¡y pudo traerlo a Evansville por nosotros! Me gusta pensar en esto como otra "coincidencia de Dios o Dio-cidencia", como me gusta llamarle.  Después de unos días, finalmente teníamos el marco en cuatro piezas separadas y la imagen aquí en Evansville.
El padre Martín e Hilario Ayala, otro feligrés del Santo Rosario, armaron el marco y construyeron un soporte de exhibición especial para él. El marco estaba en un estado de madera cruda y ahora teníamos que decidir qué tipo de acabado querríamos en él. Algunos de nosotros sugerimos que simplemente lo embarnizáramos porque solo faltaba una semana para la celebración de Nuestra Señora de Guadalupe, donde planeábamos presentar el cuadro al obispo Siegel. Pero el Padre Martin nos dijo que se había hecho tanto hasta ahora que teníamos que tener el mejor marco para nuestra amada Virgencita.
El padre Martin investigó qué tipo de hoja de oro sería mejor y aprendió a aplicarlo. Luego reclutó a muchos voluntarios, incluyendo a su hermana, Olivia Estrada, quien terminó haciendo la mayor parte de la aplicación de hojas de oro. Tomó incontables horas, y los voluntarios trabajaron hasta altas horas de la noche durante toda la semana.  Creo que los toques finales se completaron en St. Ben's la noche del 9 de diciembre, cuando la imagen fue entregada a la catedral.
Como el Padre Martin no tenía las herramientas adecuadas para estirar el lienzo sobre el marco, tenía una arruga para la celebración. Pero unos días más tarde, contactamos a Mike de Inman's Picture Framing en Evansville. Fue tan amable de ir  a la catedral y estirar la imagen. Cuando le pregunté sobre el costo por su trabajo, me dijo que aunque no era católico, le gustaría hacerlo como un regalo a Nuestra Señora de Guadalupe. Me quedé sin palabras.
Cuando visito St. Ben's, o cada vez que me detengo a pensar en todo lo que sucedió, todo lo que tanta gente tuvo que hacer para que pudiéramos tener a nuestra Patrona de las Américas en nuestra catedral, veo cómo este regalo que pensamos que estábamos haciendo a nuestra diócesis terminó siendo un regalo más grande para todos nosotros, un regalo que nos acercó como una comunidad de diferentes razas y colores. Me recuerda que nuestra Madre siempre está presente y nos acompaña en nuestro camino, sin importar a dónde nos lleve.
Estoy impresionada por tanto amor a nuestra amada Virgencita de Guadalupe, asombrada por la gran generosidad de mis hermanos y hermanas hispanos y no hispanos y por las maravillosas obras de Dios que también nos han dado, una gran razón para celebrar y reunirnos cada año.
Trajimos esta imagen de Nuestra Señora de Guadalupe a su nuevo hogar, una imagen hecha por manos mexicanas, traída aquí por el deseo de sus hijos fieles que, incluso lejos de su patria, invocan su nombre y buscan su protección con profundo amor.
A medida que nos acercamos al 12 de diciembre, su fiesta, nos estamos preparando para celebrarla una vez más en la Catedral de San Benito y en toda la Diócesis. Nuestra celebración en la catedral comenzará a las 5: 30 p.m. CST el 12 de diciembre. El obispo Siegel celebrará la misa bilingüe. Tendremos bailarines, mariachis y deliciosos tamales tradicionales mexicanos y otras delicias hispanas. Espero que todos ustedes se unan a nosotros para celebrar a nuestra Patrona de las Américas y decir juntos: "¡Viva la Virgen de Guadalupe!"