By Megan Erbacher
The Message assistant editor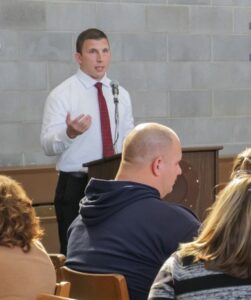 Jeremy Goebel spent three years in the seminary as he discerned what vocation God was calling him to in his life. As he dug deeper into his faith, Goebel said his burning desire for marriage never left. 
"Eventually, what I realized was that God was calling me to love," he said. "All vocations, as Bishop (Joseph M.) Siegel beautifully said, are a vocation of service to others. Marriage is a vocation of love, too. I was missing love."
On Nov. 7, Goebel, who serves as diocesan director of Youth and Young Adult Ministry, delivered the keynote address during the 2022 Evansville Serra Club Vocations Awareness Luncheon at the Catholic Center in Evansville. Serra Club honored 39 eighth-graders representing 17 diocesan parishes. The program, which coincided with National Vocations Awareness Week from Nov. 6-12, recognized students for creating projects focused on different vocations including priesthood, diaconate, religious life, marriage and lay ministry.
Each year, Serra Club asks students in Evansville-area parishes to create projects related to vocations. Serra Club President John East reported 336 projects were submitted this year. Selected students are invited to the luncheon to receive an award. Winning projects were diverse and ranged in creativity, including games, essays, posters and art projects.
East shared his excitement that next year, the club plans to expand and invite schools in the northern parts of the diocese to participate.
Goebel has been happily married to Katie for nearly 10 years, and they have three children.
"I love the vocation that God has called me to," he said.
The youngest of 12 children, Goebel grew up in a Catholic family on the Westside of Evansville. He graduated from Mater Dei High School, where he said he often put football, wrestling and being popular above God.
"I didn't live a perfect life. … I participated, but I didn't live out my faith fully."
During his three years in seminary, Goebel said God and our mother, Mary, healed his heart and prepared him for marriage.
"If you say yes to God, he's never outdone in generosity," Goebel said.
Goebel advised adults to offer words of encouragement to the young people in their lives. If you see a gift in someone, he said, let them know.
He then advised students to spend time in prayer and talk to someone about their discernment.
"You don't have to discern alone, and you don't have to decide all at once. Just take the next small step in front of you.
"Vocations are an absolute adventure for everybody, regardless of where you're at or where you're headed," Goebel said. "Vocation is God's life that he made just for you. It's awesome and it's going to make you happy. It will make you fulfilled. It will give you life."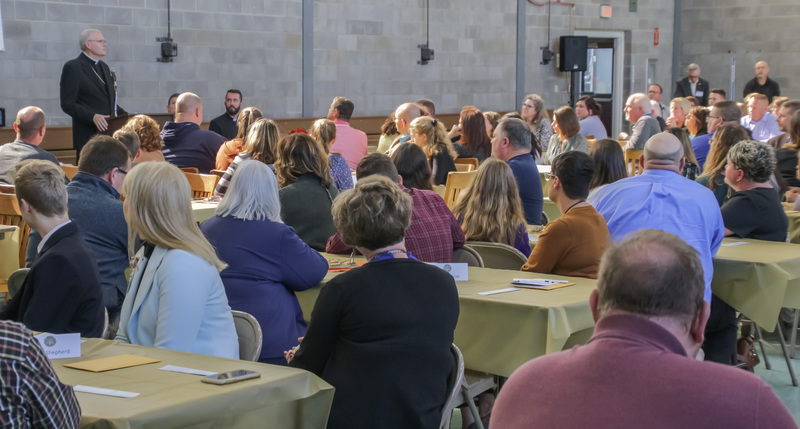 Bishop Siegel opened and closed the celebration in prayer. Bishop Siegel told students it's important to recognize God's call. It's also important, he said, to take time for prayer, be quiet and listen. God wants the best for us, Bishop Siegel said.
Whatever their vocation might be, Bishop Siegel told students to listen to that voice of the Lord and allow the Holy Spirit to humbly guide them. Whatever that call is, he said, may they find joy and peace in their lives by fulfilling God's will.
2022 Serra Club Vocations Awareness Winners
St. Bernard Parish
Nadia Adkisson, Kendall Lloyd, Kristin Schultz
St. Benedict Parish
Emma Early, Maggie Goedde
Holy Redeemer Parish
Vincent Catanese, Andrew Minnette
St. Wendel Parish
Daniel Sieben, Kiersten Wunderlich
St. Philip Parish
Rachael Shockley, Ava Whicker
Annunciation Parish — Holy Spirit School
Josie Thomas, Summer Shelby
Westside Catholic School, St. Boniface
Elsa Wichman, Bridget Schneider, Evan Stolz
Sts. Peter & Paul, Haubstadt
Kate Parmer, Crewe Hasenour
Annunciation Parish — Christ the King School
Valerie Fernandez, Lillian Coomes
St. John the Baptist Parish
Claire Blessinger, Addie Kensler, Eleni Scordalakes
St. Joseph Parish, Vanderburgh County
Ima Ntewo, Ashley Jung
Holy Cross, Ft. Branch
Meredith Mann
Good Shepard Parish
Teagan Davis, Andrew Foster
Corpus Christi Parish
Lauren Black, Isaac Decamps, Megan Schlusemeyer
Resurrection Parish
Ezekiel Rohleder, Jennifer Reising
Holy Rosary Parish
Emma Dilger, Grace Dilger, Devin Payne, Elva Serrano
St. James Parish
Audrey Spindler, Payton Scheller