By Tim Lilley
The Message editor
St. Benedict Cathedral in Evansville hosted the Diocese of Evansville's South Deanery Mass for All Nov. 13. The Mass is part of the ongoing work of the diocese's Ministry with Persons with Disabilities, and is the second Mass for All celebrated in the diocese. St. Francis Xavier Parish in Vincennes hosted the first Mass, for the North Deanery, at St. John the Apostle Church in June of this year.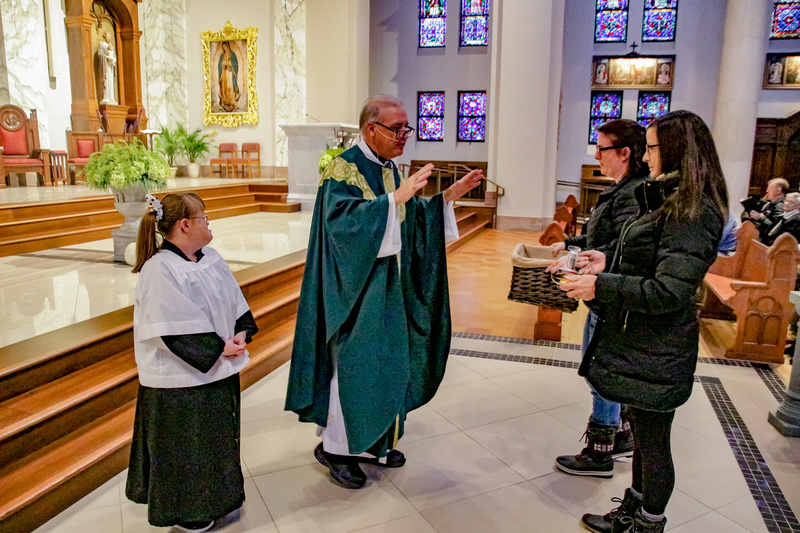 Mary Kaye Falcony, assistant director of the Diocesan Office of Catechesis, said the turnout for the Mass illustrates the need for parishes across the diocese to welcome all to their families – including those with special needs. She said, "I saw a lot of people who are not members of St. Benedict Cathedral Parish. They were here especially for this Mass.
"It's about bringing awareness," she said, of the ministry's work to celebrate Masses for All at least quarterly across the diocese's four deaneries. "We hope that this Mass and others the committee is organizing will help parishes to see that they can provide effective ministry to people with disabilities. We hope to see parishes celebrating Masses like this one across the diocese in addition to those organized by the Ministry with Persons with Disabilities."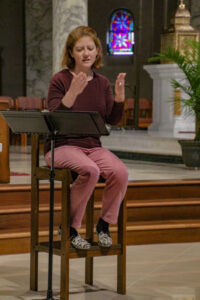 Father Eugene Schmitt, parochial vicar of St. Benedict Cathedral Parish and Sts. Mary and John Parish in Evansville, celebrated the Mass. Theresanne Beshears, a member of Evansville's Holy Redeemer Parish, provided translation of the Mass in American Sign Language. 
Mary Kay said that committee members Emily Schnapf, executive director of Marian Educational Outreach, and Matt Miller, director of the diocesan Office of Worship, were instrumental in pulling together all the details for the South Deanery Mass for All. She said, "We have a wonderful committee; a large number of them serve parishes as directors of religious education. As a result, they have their own programs to focus on during weekend Masses. Emily's and Matt's contributions to this Mass were wonderful – and very much appreciated!"
In his homily, Father Eugene focused on the concept of vocations, as the weekend concluded the annual celebration of National Vocations Week. The gospel reading for the Mass, Luke 21: 5-19, concludes with these words from Jesus: "By your perseverance you will secure your lives." 
Father Eugene related the story of Don Piper, whose story is recounted in the book "90 Minutes in Heaven." Following a serious traffic accident, first responders examined Don and found no vital signs or other signs of life. In the book, Don talks about leaving his body and going to Heaven, where he encountered his grandfather and other family members before returning to life.
Over the course of an extensive recovery that included 34 surgeries, Don discerned that God was calling him to share his story with as many people as possible to provide renewed faith and hope in eternal life with God. Father Eugene said, "We celebrate all vocations, and we celebrate perseverance in all of them."
After Communion and before the final blessing and dismissal, Father Eugene invited all in attendance to join him in praying the Prayer for Awareness, which was printed on holy cards distributed before Mass. The prayer says, in part, "Open our hearts, minds and doors to the gifts of every person. Help us to become truly welcoming communities where everyone can find a place at your table."
Details on the next Mass for All organized by the Ministry with Persons with Disabilities will appear in The Message. For more information on the ministry, visit https://www.evdio.org/ministry-with-persons-with-disabilities.html.