Special to The Message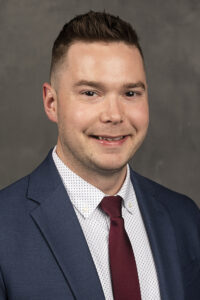 Bishop Joseph M. Siegel has appointed Joe Paul Hayden of Evansville to serve as Stewardship Director for the Catholic Diocese of Evansville. He will join the diocesan staff Jan. 9, 2023.
Joe Paul most recently served as the Director of Annual Giving at Saint Meinrad Archabbey in St. Meinrad, where he managed a team of five with responsibility for multimillion-dollar annual giving programs through individuals, businesses, and foundations.
Bishop Siegel said, "I am happy to welcome Joe Paul to the staff of the diocese. He brings a great love for and knowledge of the diocese, along with a deep commitment to helping our people to become even better stewards of the gifts they have been given by God. He will build on the strong foundation established by Matt Potter over the past few years."
Diocese of Evansville Chancellor Dean Happe said, "We are extremely pleased and blessed to have someone of Joe Paul's commitment and passion for our diocese join our team, and I look forward to working with him in our continued effort to provide stewardship services that enable the good work and ministries across our diocese."
Joe Paul said, "I am humbled and grateful to serve in this new role as Director of Stewardship. The Diocese of Evansville has had a particular significance in my life and vocation, and I can only thank God for His generosity to serve in this capacity. I can only hope to continue the high standard Matt has set over the last few years in this position. I look forward to working with the wonderful clergy of our diocese, the talented staffs of the Catholic Center, Catholic Charities and the Catholic Foundation, and all of the parishes and schools to assist them in enhancing a culture of stewardship within the diocese."
He holds a Bachelor of Arts degree in Philosophy and a minor in Theology from Marian University. Prior to joining the Saint Meinrad staff, Joe Paul served as Campus Minister at Reitz Memorial High School in Evansville, and as the Evangelization Coordinator at Evansville's Annunciation Parish.
In his new role, Joe Paul will serve as a primary advisor to Bishop Siegel, coordinating and managing stewardship efforts to support the diocesan mission. Joe Paul will work closely with Bishop Siegel, Chancellor/COO Dean Happe and a number of diocesan staff members to foster an attitude of stewardship in all aspects of diocesan life. 
He also will serve as a consultant and resource for our parishes and schools regarding weekly stewardship, capital campaigns, annual giving programs and offertory enhancement. He also  will oversee diocesan stewardship event planning such as the Bruté Society Mass and Induction, and the annual diocesan appeal – Called to be Faithful Stewards Catholic Parishes Campaign.
Joe Paul, his wife Ellen and their 9-month old son, Dominic, are members of Annunciation Parish.