Special to The Message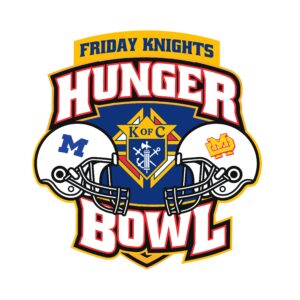 The 7th Annual Friday KNIGHTS Hunger Bowl is set for Sept. 8 at Enlow Field on Washington Avenue in Evansville.  Funds will be collected during the game to support the St. Vincent de Paul Food Pantry. The Hunger Bowl Game will have a 7 p.m. kickoff and feature the Reitz Memorial High School Tigers hosting the Mater Dei High School.
The six previous Hunger Bowls have raised nearly $60,000 for the St. Vincent de Paul Food Pantry. 
The Friday Knights Hunger Bowl idea was sparked in 2017 by a conversation between Knights John Sandwell of Auxillio Council #16454 (St. Philip Parish, Posey County and Evansville's Corpus Christi Parish) and Mark Hackert of St. Benedict Cathedral Parish Council #7544.  They wanted to come up with a vehicle for local K of C councils to work together.  The conversation turned to the St. Vincent de Paul Food Pantry, coordinated by Benedictine Sister Donna Marie Herr, who had previously taught at Mater Dei.  From this conversation, the Friday Knights Hunger Bowl featuring the annual football game between the two Evansville Catholic high schools was born.
The first year, just over $3,000 was raised; students from Mater Dei and Memorial got involved in the fundraising.  From there, the Knights worked each year to involve more councils, schools and parishes.  The event has continued to grow; and in 2022, the Knights were able to present over $22,000 to Sister Donna Marie for the food pantry.
For more information on the Knights of Columbus and the Hunger Bowl, contact Mark Hackert (812-319-6403 or email [email protected]) or John Sandwell (812-250-1923 or email [email protected]).