By Megan Erbacher
The Message assistant editor
About two years ago, Vanderburgh County Sheriff's Deputy Todd Schimmell was driving in his cruiser and couldn't shake a poem he started to write years before. He was determined to finish it.
So, he did. Since then, he has written around 30 children's stories; but the children's book scene is difficult to crack, Schimmell said. 
Until last year, when he wrote a serious poem called "Anxiety" in his children's story style. He posted it on Facebook and received positive feedback, including a comment from local author and publisher Mike Whicker.
"He told me if I put together a collection of poems he would help me," Schimmell said.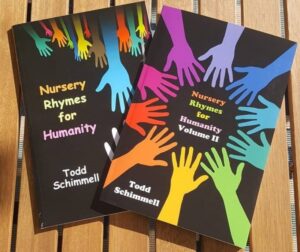 That's how his first published book, "Nursery Rhymes for Humanity," was born. 
"A very happy accident," he admitted. "I did not set out to write poetry for teens and adults, but I love it!"
A member of Evansville's Corpus Christi Parish, Schimmell has worked for the Vanderburgh County Sheriff's Office since 2005, first as a Confinement Officer, then as a Deputy starting in 2009. 
He's married to the "love of his life," and they have five children together ranging in ages from 10 to 17-months. The couple learned early in their fourth son's pregnancy that he wouldn't survive, but Schimmell's wife carried him to term, and Theo lived for 45 minutes.
Schimmell also serves as the school resource officer at three Catholic Schools — St. Joseph in Vanderburgh County, Corpus Christi and Resurrection — and three public schools. He recently read his new book, "The Fun Reader: (Adults Beware)!" to Saundra Sweeney's pre-kindergarten students at St. Joseph School.
"I've always loved to write," Schimmell said. "My father was a children's book illustrator. He liked to write short stories as well."
Sweeney said Schimmell always makes time to bring joy and laughter to the children in the community. She said everyone was "smiling from ear-to-ear" when he read his new book to her students.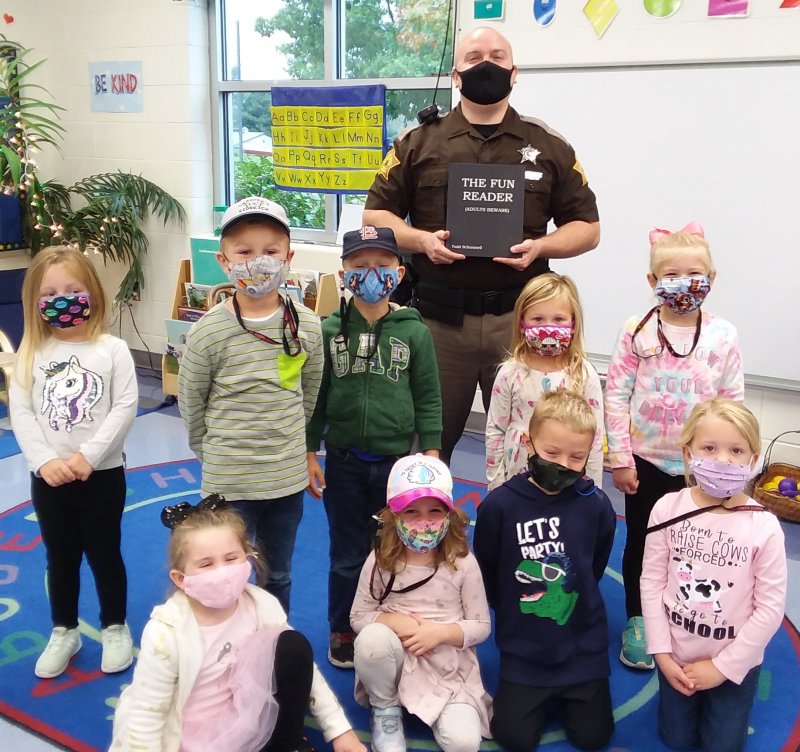 "They absolutely loved it," she said. "The giggles were super contagious! Actually, they enjoyed it so much that they talked him into reading them two more books that day."
"The Fun Reader: (Adults Beware)!," published Oct. 1, is his third published book. The book makes the reader the star, as the reader is asked to sing, dance, say and even smell silly things.
"I want the family to enjoy the book and have fun together," Schimmell said. "There are no pictures, only text. I want my book to be a tool for the reader. I hope the child remembers the reader's silliness and the fun they had more than remembering my book."
"Nursery Rhymes for Humanity Volume I" was published in March, and Volume II was published six months later. Through a series of rhyming poems, the books explore human connection, feelings, family and faith.
Schimmell's publishing company is named Compassio Veraque LLC, which is Latin for empathy. He said he writes to evoke emotions from the reader and to help them have an experience they may not find anywhere else.
"I discuss mental health, people, family and faith," he said. "I do it in my nursery rhyme style to hopefully help the reader remember the poem and let their guard down."
Sweeney said Schimmell visits her classroom often, and even eats lunch with her students. She said he does an exceptional job of making kids feel at ease.
"They truly get excited when they see him and can't wait to tell him all of their stories," she said. "He makes them each feel like they are the most important child in the room."
As a school resource officer, Schimmell said his goal is to build lasting relationships with students, to protect them and help them grow-up knowing law enforcement officers are helpers.
"I have the best job ever," he said. I get to have fun and interact with staff and students all day. I also know that fun and enjoyment comes with a heavy price. If something goes wrong or threatens the people I've grown to love in these buildings; it's up to me to stop it."
Sweeney feels blessed Schimmell is an important part of the St. Joe family.
"(He) has taught my class that they can be anything they want to be, especially now that he is an officer and an author," she said. "I love how he makes them all feel comfortable, safe and important. … And he has definitely proven that he's never too busy to bring a smile to their face."
Schimmell is currently working on a series of short stories geared toward the imagination of 7-11- year-olds. He hopes to publish "Nursery Rhymes for Humanity Volume III" next summer, as well as a couple of children's books.
All of Schimmell's books are available on Amazon and Barnes & Noble.