Special to The Message
MARCH 17 UPDATE — As the situation with the COVID-19 virus continues to evolve, the Sisters of St. Benedict want to keep you informed of the latest news and cancelations being made in efforts to limit the spread of the virus.
Liturgy of the Hours and Masses are closed to the public until further notice.
The Benedictine Hospitality Center will not house guests for at least 30 days, at that time they will reevaluate.
All tours inside the monastery, guided or self-guided, are suspended until May 12.
Monastery Gift Shop is closed until further notice, but online orders and shipments are still available through monasterygiftshop.org.
Cancelled programs include:

Sundaes with the Sisters – March 22
The Way of the Cross – March 28
Spirituality in the Different Stages of Life – April 28

Spring Fest set for April 25 will be postponed until a date later in the Fall.
Entrance into the monastery is restricted to essential visitors only, after passing screening at the reception desk.
We invite you to join us in asking God's intercession to restore health to all and maintain peace throughout the nation. If you have questions regarding the restrictions, please call 812-367-1411.
MARCH 16 — Following the recent CDC guidance for large events and mass gatherings concerning the COVID-19 virus, the Sisters of St. Benedict are closing their Liturgy of the Hours and Masses to the public until further notice.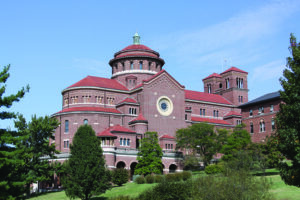 The monastery is closely monitoring the situation and are taking precautions to ensure the safety of all sisters in the community as well as staff and guests. We appreciate everyone's understanding and cooperation and we will continue to pray for all those affected.