The Message assistant editor
Courtney Ethridge not only wants her students to get a proper education, but she also wants them to have the confidence and skills to engage in conversation with anyone from the mayor of Evansville to their peers.
Add a firm handshake and eye-contact to the introduction and you have the recipe for a good first impression, according to Ethridge, Resurrection School language arts teacher for grades 7-8.
To help students perfect their social skills, Resurrection held its 4th Annual Amazing Shake Challenge for grades 5-8. For the past nine weeks, 149 students participated in the competition, narrowing it down to eight finalists for the championship round on March 4.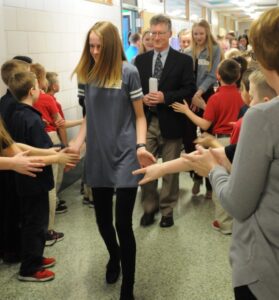 "I want them to be comfortable talking, even just sitting in class when they answer questions," Ethridge said. "I don't want them to mumble, I don't want them to put a question mark on the end of everything they say. I want them to feel confident in a conversation, and that's what I want them to get out of this."
During the Amazing Shake Challenge, the eight finalists advanced through a meet-and-greet with teachers and a special lunch to earn the "best of the best at one-on-one communication."
In the preliminary rounds, students were graded by Resurrection staff, while the championship round was judged by prominent community members.
The top eight finalists were: Aubree Beyer, eighth grade; Maggie Hagerty, eighth grade; Taylor Stock, eighth grade; Olivia Niemeier, seventh grade; Jacob Reising, seventh grade; Finley Roberson, seventh grade; Simon Theby, seventh grade; and Clara Theby, fifth grade.
During the final round, students were evaluated on etiquette skills including their introduction with a firm handshake, eye contact, charm, how well they responded to questions, if they asked at least one appropriate question and their closing.
Students lined the hallway leading into Resurrection Church to high-five the finalists before the top three finishers were announced.
Father Jerry Pratt, Jr., administrator of Resurrection and Corpus Christi parishes, announced the winners: Olivia Niemeier won the competition, Maggie Hagerty earned second-place and Jacob Reising earned third-place.
"I really can't believe what I experienced today," Father Pratt said. "The eight folks that I visited with are just stunningly impressive; considering their ages, even more impressive. I couldn't be more proud of them."
Niemeier, 13, admitted she was surprised she won, but she is proud of herself. Last year, the seventh-grader didn't advance past the first round.
"I was surprised by how well I could answer questions off the top of my head," she said. "I'm so thankful for all of the other students who I got to share the experience with in the last round. And especially to Mrs. (Courtney) Ethridge because she was my speech coach and I feel like speech really helped."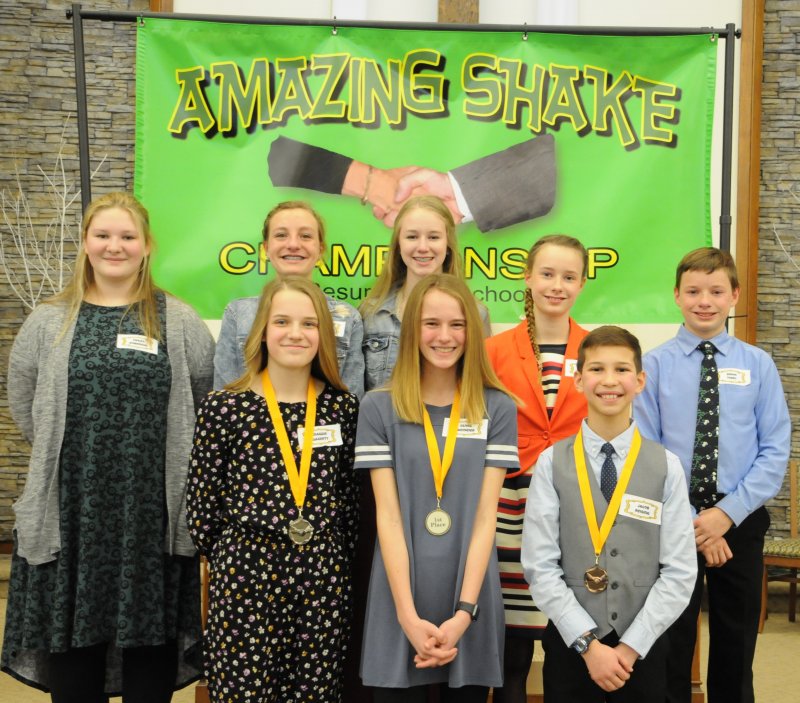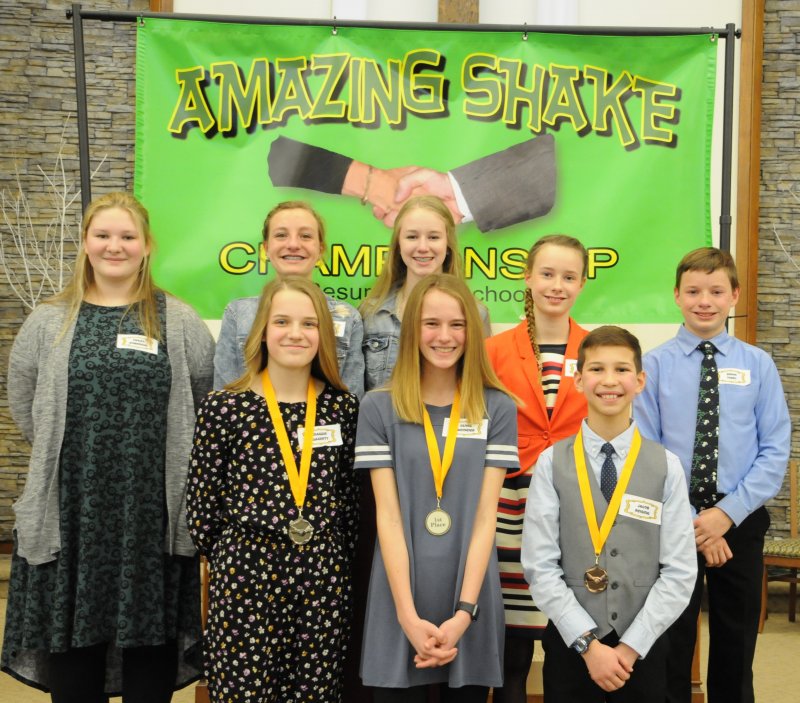 Niemeier enjoyed the competition, and she said it taught her better social skills.
"Now knowing what I can do in future interviews will help me throughout my whole life," she said.
This year's championship round judges were Steve Dabrowski, Catholic Diocese of Evansville Director of Youth and Young Adult Ministry; Father Jerry Pratt; Annie-Rose Keith, Director of Marian Educational Outreach; Gayle Knight Williams, Executive Director of Chemo Buddies; Dr. Joseph Uduehi, University of Southern Indiana Art Professor; Wes Rees, Director of Human Resources at Traylor Brothers; Dr. Ashley Jordan, Executive Director of Evansville African American Museum; and Dan Hoefling, President of George Koch Sons, LLC.
Resurrection modeled the challenge after the Ron Clark Academy in Atlanta, Georgia. When Resurrection's junior high teachers witnessed the mature social skills of students at Ron Clark they wanted those etiquette skills to become part of Resurrection.
Strong communication skills are so important, Ethridge said, because they will help kids throughout their life.
"Technology is such a big part of our lives, which can be great, but we're missing out on the one-on-one interaction," she said. "That's what we try to stress with this program. When you talk to someone make and keep eye contact, lean in because it shows you're interested. When you shake someone's hand, have a firm handshake that shows you are strong and into what you're doing."