The Message editor
Keynote speaker Kevin Dowd told scores of young people from across the Diocese of Evansville that the Sacrament of Confirmation is a personal invitation. As biblical evidence, he talked about Luke 10:1-9. In that passage, Jesus appoints 72 others to go ahead of him to places he intended to visit, announcing that the "kingdom of God is at hand for you."
Dowd delivered the keynote at the Diocese of Evansville's annual Confirmation Spectacular, held Feb. 1 at St. Joseph Parish in Jasper.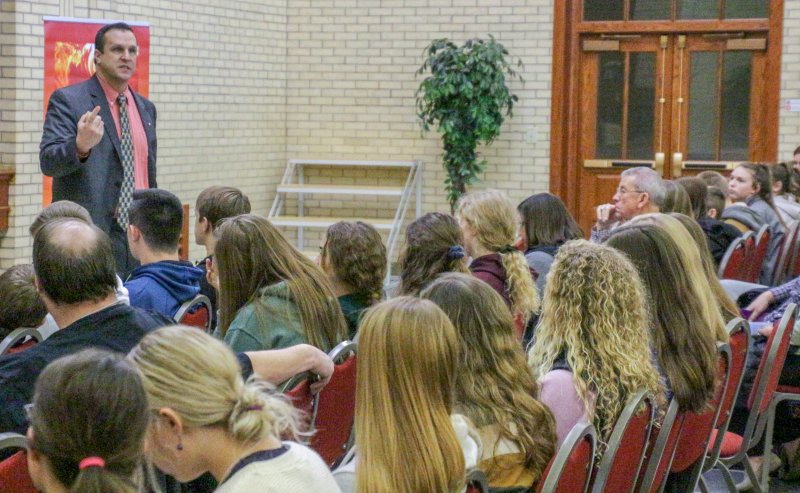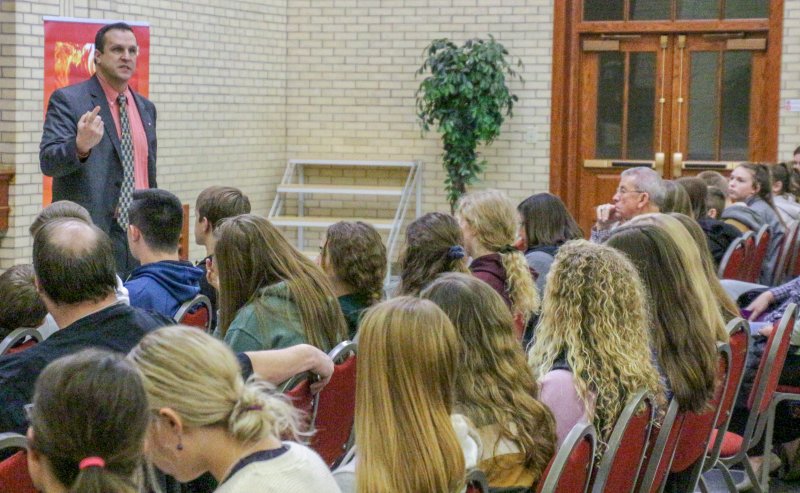 Dowd said that, in Confirmation, each of us receives a personal invitation from God to continue Jesus' work on earth. "That same invitation has been passed down for 2,000 years," Dowd said. "This is a very personal invitation. Remember that Confirmation is an invitation, not an obligation."
Dowd teaches Catholic Social Justice at Anna Maria College in Paxton, Massachusetts. He holds a master's degree in religious education from Boston College and a bachelor's degree from Harvard; he is working on a doctorate in theology and education at Boston College. Dowd has authored a book that provides a Catholic perspective on the issue of bullying and respecting others, "Teaching Kids to Respect Others." He also serves on the board of St. Mary's Healthcare in Worcester, Massachusetts.
He told candidates that they shouldn't worry about being "imperfect" when reflecting on this invitation. "If you wait until you're perfect, (God's work) will never get done." Dowd emphasized that each of us has unique gifts because each of us is unique.
"In all of time, there has never before been and never again will be … you," he said. "You are a unique idea in the mind of God. When we talk about gifts, we (have to recognize) that gifts are unique to each of us."
Referring to Luke's account of Jesus appointing others to go ahead of him, he explained that the invitation of Confirmation is not unlike those appointments, "Jesus wants to be present in every place in the world through us," Dowd suggested. "But Jesus can only be there if you say yes to His invitation to finish his work.
"Make no mistake, it will not be easy," he added. If you say yes to this, you are saying yes to someone who was murdered and tortured (as a result of the work he was doing)." Dowd told the candidates to remember that Jesus sent the Holy Spirit to be with us every step of the way – that however God asked us to use our unique gifts, the Holy Spirit will be with us.
The Confirmation Spectacular also included four breakout sessions exploring discipleship and four exploring the gifts of the Holy Spirit. Candidates had the opportunity to attend one of the breakouts in each area after Dowd's keynote before coming together again for Dowd's closing. Candidates concluded the Confirmation Spectacular by attending the Vigil Mass at St. Joseph Church.