By Megan Erbacher
The Message assistant editor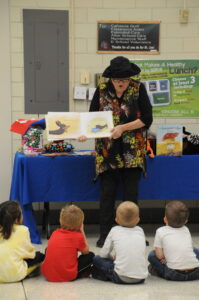 Local author Mary Jo Huff excitedly invited all of the children to the front of St. Joseph School's cafeteria in Princeton to sing, dance, wiggle and giggle with her before storytime.
Huff, of Storytellin' Time in Newburgh, provided signed copies of her new book, "No, No, Ebenezer!" during St. Joseph's Nov. 15 Take a Tour Tuesday. Across the Diocese of Evansville, prospective students and their families visited diocesan Catholic schools, which hosted Take a Tour Tuesday events on Nov. 15. The purpose of these open house style events are for potential students and guardians to learn more about Catholic education, tour facilities, meet teachers, learn about financial aid and get all of their questions answered.
St. Joseph is located at 427 S. Stormont Street in Princeton. Principal Lynde Anquillare welcomed potential families and prekindergarten students at the door with a smile and a free book. St. Joe is a preschool (age three) through fifth-grade school.
Anquillare said some people will RSVP for the Take a Tour event, but they welcome anyone who wants to learn more about the school. She said it's nice to have an event concurrently with the open house because future students and families can see what St. Joseph offers and see their teachers in action.
"It highlights the intimate atmosphere and our small classes," she said.
During her interactive presentations, Huff incorporates play, music, movement and puppets to share her passion for language and literacy. No matter the age of her audience, she wants them to join in on the fun and laughter.
Huff is an award-winning author who meets Common Core and State Standards with her presentations. She has been an emcee for various events and workshops across the United States.
"I love what I do," she said.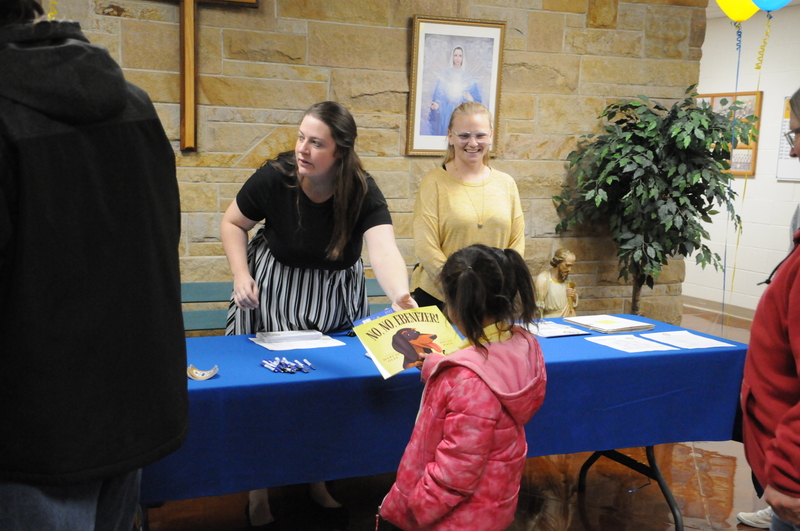 Anquillare said at St. Joseph, about 50 percent of students are Catholic. She said her goal is to find people who believe in a core set of values.
"That's how we implement our discipline and, at any time, how we're talking to the kids," Anquillare said. "When you're around people who share those same values, that's just naturally going to happen. You can have a different faith, but in the end, you'll find that most of us have the same core set of beliefs, and we can find commonality in that."

For more information about St. Joseph School in Princeton, call 812-385-2228.