Special to The Message
"Open your mouth for the mute, for the rights of all who are destitute. Open your mouth, judge righteously, defend the rights of the poor and the needy" (Proverbs 31: 8-9).
Last March, two teachers from St. John the Baptist Catholic School in Newburgh launched an Eighth Grade Speech Madness competition. Jenna Hochmeister, language arts teacher, and Maria Janney, high ability language arts teacher, started the project with their two classes. 
Thirty-six eighth grade students selected a nonprofit organization that he or she is passionate about and that also supports one of the seven themes of Catholic Social Teaching. As a fundraiser, students had a free dress day, which earned $1,800 to be given as donations to the top three winning speakers' charities.
For the Speech Madness competition, students researched their nonprofits and wrote speeches. Students competed in a bracket-style elimination tournament by presenting their speeches to student and adult judges. After completing five rounds, the top three students were announced.
Margaret Janney earned the top prize of $1,000, which she donated to the Equal Justice Initiative. Lyra Sagez earned second place and donated $400 to the Tri-State Food Bank. Third place went to Lyla Wischer, who earned $200 for Every Mother Counts.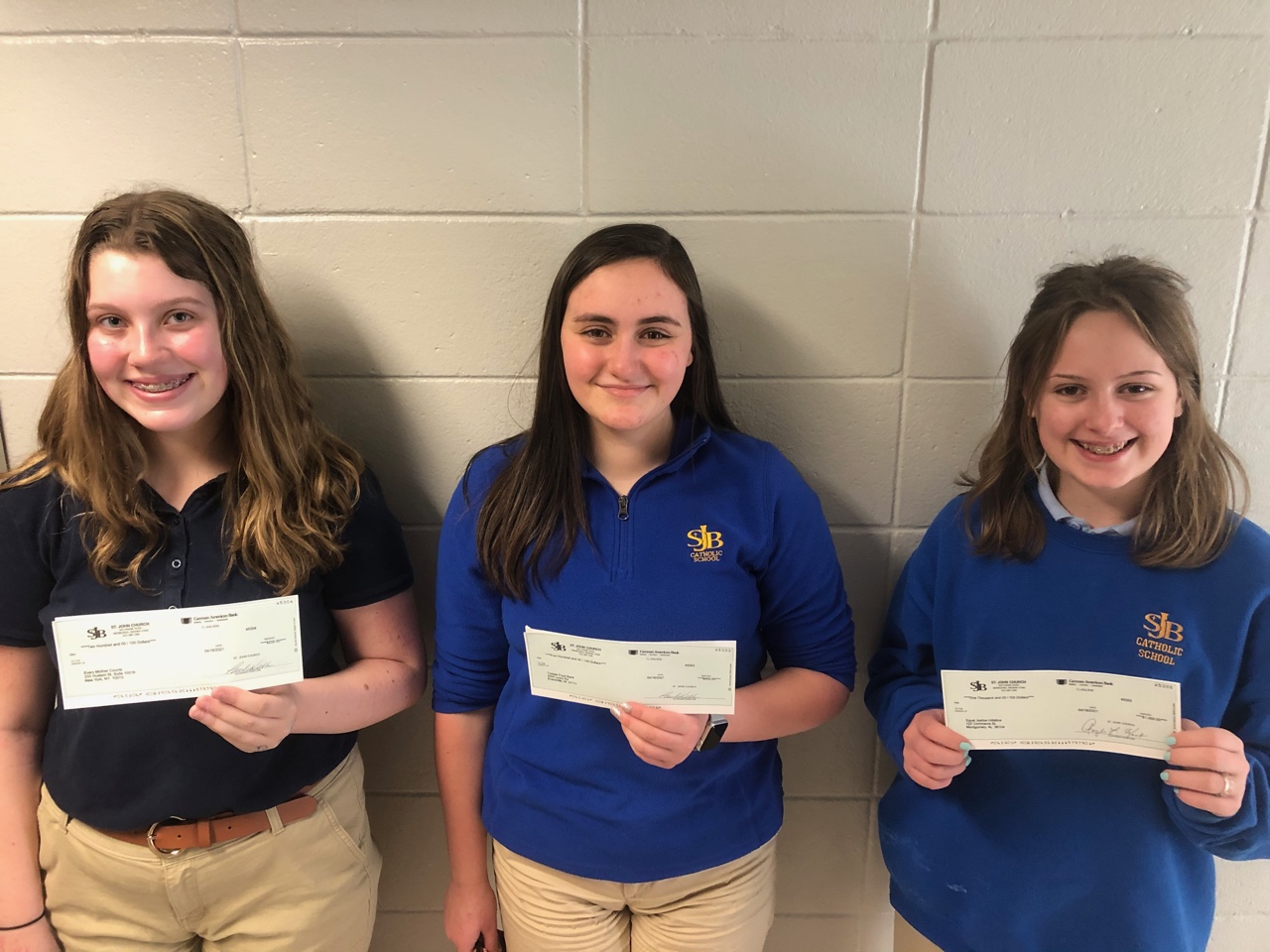 Margaret became passionate for the Equal Justice Initiative after reading the book "Just Mercy" in Hochmeister's language arts class. The organization was founded by Bryan Stevenson. The Equal Justice Initiative exemplifies Catholic Social Teaching, especially in the tenets of Preferential Option for the Poor and Vulnerable, Life and Dignity of the Human Person, and Solidarity.
The headquarters for the Equal Justice Initiative is in Montgomery, Alabama. In June, Margaret traveled to Montgomery with Hochmeister and Janney to personally present her $1,000 check. 
Hochmeister and Janney look forward to continuing the Eighth Grade Speech Madness competition next school year to weave language arts skills with awareness of Catholic Social Teaching for students.