By Megan Erbacher
The Message assistant editor
Dressed in their professional best and some with prepared notecards, eight sixth-grade students from St. John the Baptist School in Newburgh took their turns presenting to Koch Enterprises leaders, teachers, family members and special guests May 10 at Koch Enterprises in Evansville.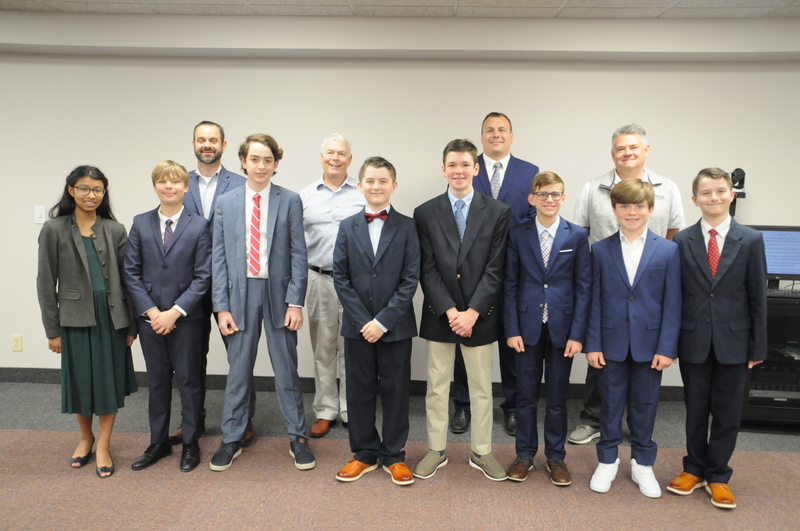 The presentations were a culmination of a partnership between students in St. John's high ability math class, leaders from Koch Enterprises and Junior Achievement. In January, students collaborated with George Koch Sons, and General Manager Josh Gilberg tasked students with solving the problem, "What is the Internet of Things (IOT), and how can George Koch Sons improve and utilize smart devices to provide a better product to customers and grow system sales?"
Becky Humm, St. John's high ability math teacher, explained students learned about entrepreneurship and business through a Junior Achievement class taught by Koch Enterprises Vice President of Human Resources Glen Muehlbauer. Students also toured the George Koch Sons facility in Evansville. St. John students worked with mentors from George Koch Sons to research, conduct surveys, collect and analyze industry data, create a business case, marketing plan and execution plan.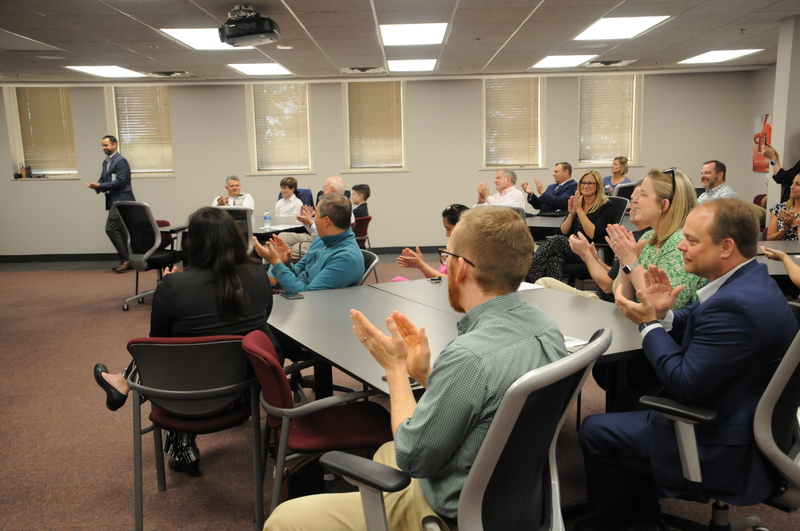 The students worked in three groups and shared their ideas through PowerPoints presentations, which included smart sensors, QR codes and an app.
The Warriors of Innovation team consisted of students Henry Hochmeister and Liam Ragan, with Koch mentor Seth Johannemann. The Industry 4.1 team consisted of students Paige Amaya, Liam Hoar and James Gilberg, with Koch mentor Tom Lydon. The Todd Squad team consisted of students Jack Flatt, Kellan Carter and Ben Hochmeister, with Koch mentor Todd Turnock.
After each group presented, there was time for questions from those in the audience. When asked what his favorite part of the project was, Henry Hochmeister said, "Probably just seeing myself and Liam (Ragan) grow and learn so much. It was a really great experience overall."
Another group said they were surprised to learn how complicated the IOT and the information about it can be.
Robert L. Koch II, chairman of Koch Enterprises, Inc., told one group, "I really like your idea. I thought it was a really good idea; well thought out."
Gilberg commended students for their hard work and ideas, and he recognized Koch mentors for leading the students.
"I think we have some future business leaders and entrepreneurs here in the room who are in the making in the next few decades," he said.
Gilberg then announced that each student would receive a book titled, "The Way Things Work," and a screwdriver set.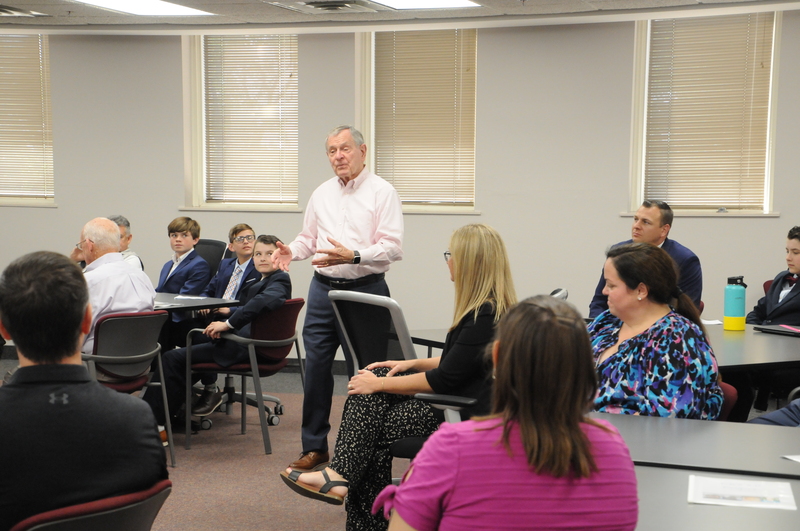 At the conclusion of the presentations, James Muehlbauer, vice chairman of Koch Enterprises, Inc., thanked St. John the Baptist Principal Elizabeth Flatt, Humm and other St. John teachers for the "great" partnership.  
To the students, Muehlbauer said, "I hope this helps you understand, when you think, 'Why am I studying this math? This is the most boring thing I've ever done.' Hopefully, this helps you see how you can use math and other things to solve problems, to do things, to make contributions to society."
Muehlbauer offered a closing prayer, "Dear God, we want to pause today and thank you for the wonderful opportunities you've given our students and the opportunities you've provided them. And for the team members at Koch, who have been a part of this, we thank you for guiding our children."
Humm said the partnership with Koch and Junior Achievement is "very special."
"We are very fortunate to partner with Koch and create these awesome opportunities for our students," she said.