By Tim Lilley
The Message editor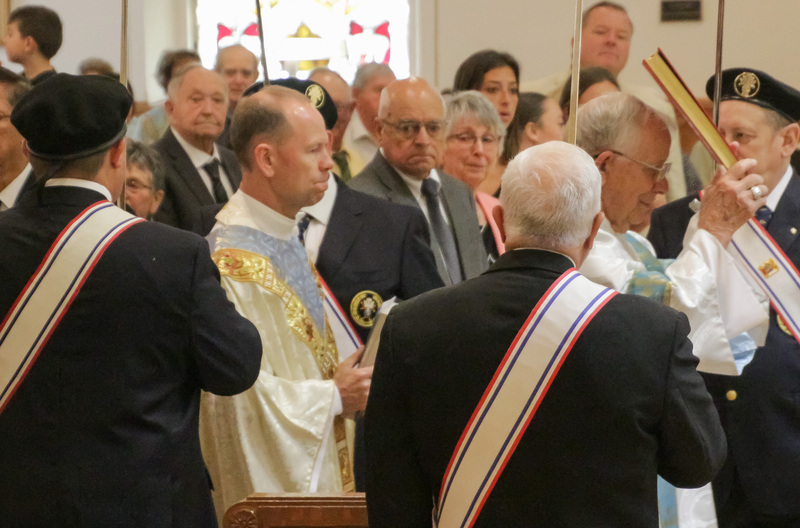 Father Tyler Tenbarge talked about Father Tony Ernst's 25 years of priestly ministry during his homily for the May 13 Mass in Vincennes celebrating Father Tony's 25th anniversary of ordination. Father Tyler said, "The priesthood is so alive in his heart."
Father Tony, Pastor of St. Francis Xavier Parish in Vincennes and St. Philip Neri Parish in Bicknell, celebrated the 25th anniversary of his priestly ordination with Mass at St. John the Evangelist Church in Vincennes. A reception and dinner followed at the Highland Woods Community Center in Vincennes.
Bishop Joseph M. Siegel joined more than 20 priests of the Diocese of Evansville to concelebrate. Father Ted Dudzinski, Vicar General of the Diocese of Lafayette-in-Indiana, also concelebrated. He and Father Tony were classmates at Mundelein Seminary in Illinois.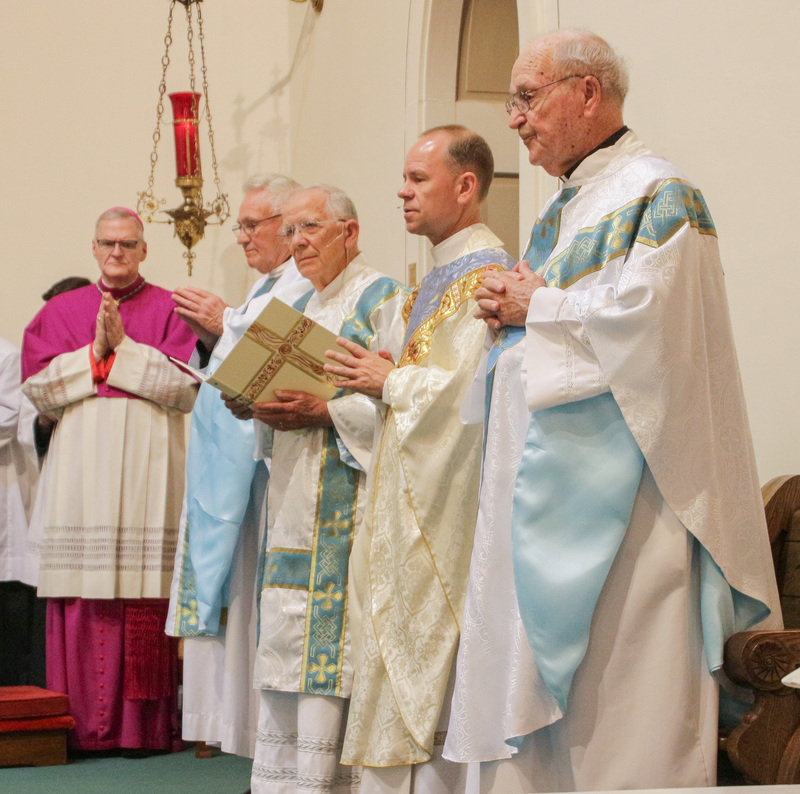 Seven deacons, many of them serving St. Francis Xavier and St. Philip Neri parishes, attended and vested. Father Tony earned a rousing response at the end of Mass when he said that he decided to ask "the archdeacon" – retired Deacon Earl Ruppel – to serve as Deacon of the Mass. Father Chris Forler, Pastor of St. John the Evangelist Parish in Daylight and St. Bernard Parish in Snake Run, served as Master of Ceremonies. Seminarians of the Diocese of Evansville served as acolytes.
Father Tony's Sister, Angie Schuch, served as lector. And his nieces – Chloe, Jade and Lexie Rohlman – served as gift bearers.
Father Tyler Tenbarge, a son of Sts. Peter and Paul Parish in Haubstadt, where Father Tony served as Pastor, served as homilist. Father Tyler serves as Diocesan Director of Vocations, director and Chaplain of the Father Deydier House of Discernment in Evansville, and Priest Moderator and Sacramental Minister at Evansville's Corpus Christi Parish.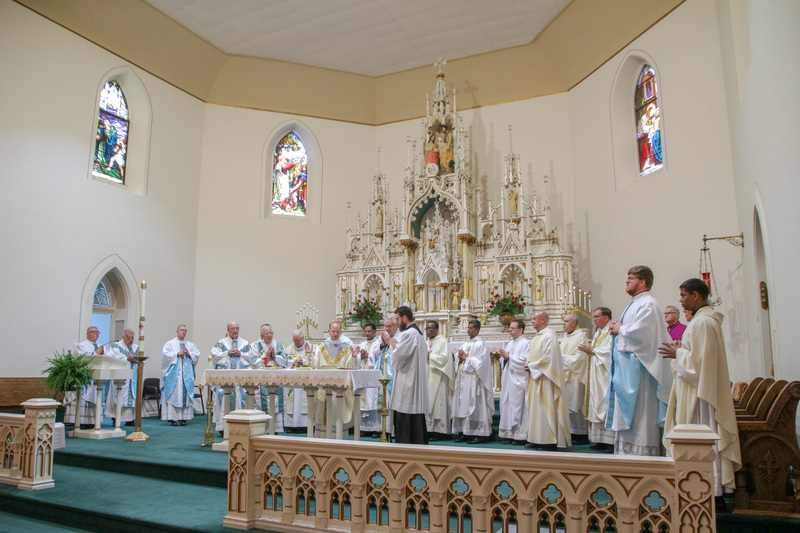 Father Tyler joked that people across the diocese sometimes mistake him and Father Tony for each other. "It happens all the time," he said, to laughs from those who filled St. John Church to capacity for the Mass. Father Tyler said those who know Father Tony best realize that he avoids the spotlight whenever possible. He added, "Father Tony helped plan today, so this must be a big deal! It's an honor for me to be a part of it."
Turning to the Gospel reading Father Tony chose for the Mass, from John 15, he noted that the word love appears nine times in a reading comprising only 13 sentences. Father Tyler said, "After 25 years of priestly ministry, he chose this Gospel. What does (Father Tony) want us to know?
"Father Tony loves what we're all supposed to love," he continued. "He loves family; he knows that, if you get family right, everything else falls into place."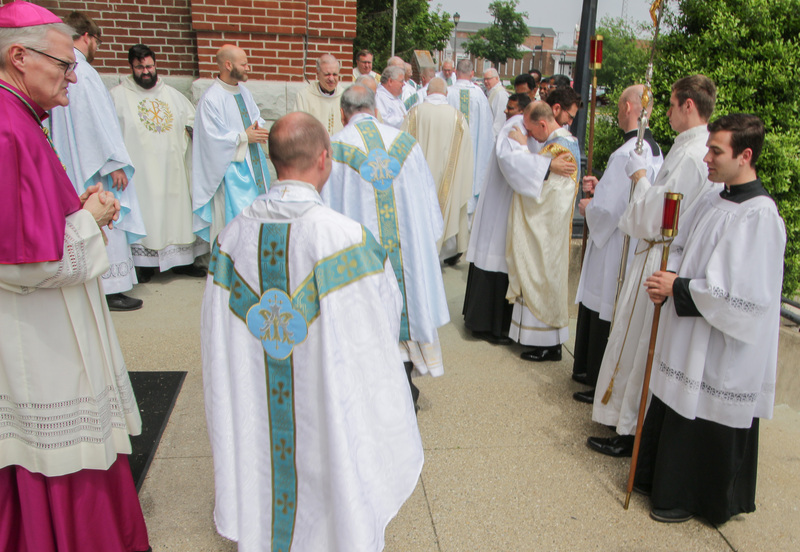 Father Tony loves the Eucharist. Father Tyler said, "Father Tony doesn't give talks much, but he has given talks on the Eucharist across the diocese because he has tremendous love for the Blessed Sacrament." Father Tyler also discussed Father Tony's great love for the Blessed Mother, noting that he chose May 13 – the anniversary of her first appearance to the children of Fatima in 1917 – as the date for his anniversary Mass. He was ordained May 9, 1998, at St. Joseph Parish in Jasper. "Father Tony knows how important she is for us to find her son," Father Tyler said. 
As noted at the beginning of this story, Father Tyler also talked about how much Father Tony loves the priesthood. "We all hope this reminds you of our love for you," he said in conclusion.
Before the final blessing and dismissal, Father Tony spent a few minutes thanking his family, Bishop Siegel, his fellow priests, the deacons and Diocese of Evansville seminarians. "They have become like sons to me," he said. Father Tony assists Father Tyler as Associate Director of Vocations for the diocese.
He made special mention of several priests in attendance who have played significant roles in his life and ministry, including Father John Boeglin, who was his pastor during his high school and college years; Father Don Ackerman and Father Ken Betz, whom he called wonderful mentors; Father Gary Kaiser, calling him a dear friend and great supporter; Father Ted, who traveled from Lafayette for the Mass and celebration that followed; and he called Father Tyler one of the great blessings of his life. Father Tyler discerned his priestly vocation during Father Tony's time as Pastor in Haubstadt.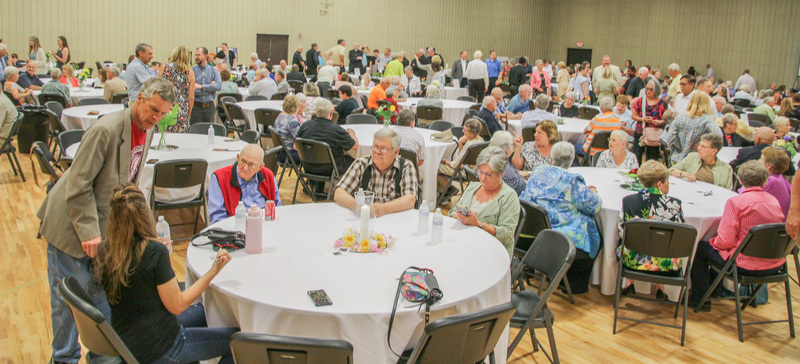 He recognized Father Garrett Braun, who was off completing preparation for his service as a military chaplain. "He did a lot of secret things in planning for all of this," Father Tony laughed. 
Father Tony concluded saying, "There really are too many people to thank. Please know that I am really grateful for all of you, and I love being a priest."
Father Tony is a son of St. Isidore the Farmer Parish in Celestine. His pastoral ministry has included service in several parishes across the Diocese of Evansville, including (listed by town) St. Philip Neri, Bicknell; St. John the Evangelist, Daylight; Holy Cross, Fort Branch; Sts. Peter and Paul, Haubstadt; St. Joseph, Jasper; St. Joseph, Princeton; St. Bernard, Snake Run; and St. Francis Xavier, Vincennes. 
He also has served the diocese as Dean of the West Deanery, Associate Director of Vocations, Diocesan Director of Newly Ordained Priests and Diocesan Coordinator of Missionary Priests.