The Message assistant editor
Two teachers from St. John the Baptist School in Newburgh, Leah Harbour and Maria Janney, recently received grants totaling nearly $9,000 from the Evansville-based Mother Bear Charitable Foundation to enhance their classrooms with new resources.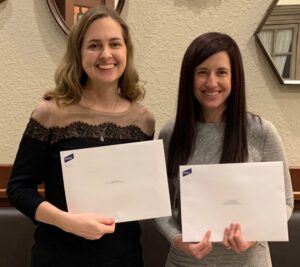 Mother Bear Charitable Foundation's mission is to "enrich the lives of exceptional children in Vanderburgh and Warrick counties." Grants are awarded to individuals and 501(c) 3 organizations serving children in both inclusive and specialized environments in Vanderburgh and Warrick counties. The first grant was awarded in 2013, according to the foundation's website, and amounts range from $500 to $50,000.
As a preschool teacher, Harbour plans to use the $4,000 grant for hands-on science experiments; new tables and alternate seating; and iPad apps. She said it will provide a variety of ways for students to learn, as well as allow teachers to meet students at their learning levels.
"This year's grant is wonderful because it allows us the ability to purchase tools to help all of our students," Harbour said. "The (grants) are important because a lot of teachers or programs have very little to no funds and a lot of us have to use our own money and still aren't able to give these students the experience we want. … Watching a student have a 'light bulb moment' is what we work so hard for."
Janney is the high ability language arts teacher for kindergarten through eighth grades and serves as the high ability program coordinator. The $4,988 grant she received will go toward different items for her high ability language arts classroom. She said it can be divided into three categories: materials, environment and programming.
New materials will include adding a variety of books to the classroom library including picture books, high-school level literature and new 2019 novels; props and costumes for the annual in-class Shakespeare play productions; and student-publishing kits so students can develop their book and have it published in hardbound form. To enhance her classroom environment, Janney will buy rugs, ball chairs and other alternative seating to create a comfortable environment. For programming, she will use funds to cover materials and contest fees for students participating in the National Mythology and National Etymology Exam.
Janney said St. John feels "honored" to be selected for the funding to support "innovative ideas and projects."
Both teachers have received Mother Bear Charitable Foundation grants in the past. Last year, Harbour was awarded about $12,000 to purchase technology for her classroom. Janney used last year's nearly $14,000 grant for the high ability program, which she said focuses on "unique learners with specialized instruction from a high ability language arts teacher and high ability math teacher.
"Mother Bear grants allow me to think creatively and strategically throughout the school year on how I can best meet the needs of these exceptional students and not let the reality of finances stand in the way of best practices," Janney said. "Instead of thinking 'Well, we could never afford that,' I think, 'What would enrich my curriculum and instruction, and how can I make that happen?'"