Special to The Message
Michael Shumway has been named director of planned giving and foundation relations for the Development Office of Saint Meinrad Archabbey and its Seminary and School of Theology in St. Meinrad. He began his work on Nov. 18.
In this position, Shumway will administer a comprehensive program of planned giving. He will identify, cultivate and solicit major gifts, and be responsible for helping to build foundation relations to support Saint Meinrad's various programs.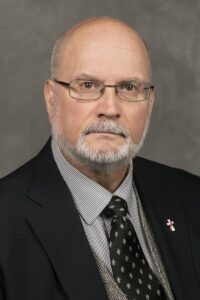 Shumway holds a bachelor's degree in finance and accounting from Spaulding University. He earned his Certified Fund Raising Executive credential in 1996 and has defended recertification every three years since then.
He graduated from Saint Meinrad's Permanent Deacon program in 2016 and was ordained on Aug. 20 of that year. He currently serves as deacon at St. Joseph Parish in Louisville, Kentucky. He is also an auditor/advocate for the Metropolitan Tribunal for the Archdiocese of Louisville.
Shumway previously worked at Saint Meinrad from 1995 to 2002, serving as director of annual giving and then director of annual support programs (2000-2002).
Since 2017, he has been the director of major gifts and planned giving for the Archdiocese of Louisville. In 2014, he formed The Shumway Group to help clients improve their mission advancement operations through direct counsel, coaching and direct service.
He served as senior executive consultant for RSI Catholic Services Group from 2006 to 2008 and its successor (O'Meara, Ferguson, Whelan, and Conway) from 2008 to 2014. He has also worked as director of development for the Public Radio Partnership and as director of resource development at the Home of the Innocents.
He and his wife, Charlotte, live in Crestwood, Kentucky.