By Victoria Arthur
Statehouse Correspondent for Indiana's Catholic Newspapers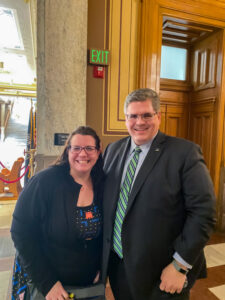 Advocates for the poor in Indiana witnessed the culmination of 10 years of tireless efforts as a bill bolstering a key program for the neediest Hoosiers cleared the House of Representatives for the first time.  
Senate Bill 265, the latest attempt to update the Temporary Assistance for Needy Families program in Indiana, was awaiting the governor's signature at press time and promising the first meaningful change in more than three decades to this lifeline for the poorest of the poor. 
"This legislation has passed some major hurdles, and it's closer than it has ever been in getting over the finish line," said Angela Espada, executive director of the Indiana Catholic Conference, the public policy voice of the Catholic Church in Indiana. "We welcome this long-overdue expansion of the TANF program in our state – a program that has benefited only a fraction of the most vulnerable people in Indiana through the years because of various barriers that this bill is designed to overcome." 
TANF is a federal government program that provides block grants to the states to administer temporary-cash-assistance payments, along with job training and other services for families in deepest poverty. But too many Hoosier families have faced obstacles in receiving that help because of outdated state guidelines. 
Senate Bill 265, which expands TANF eligibility guidelines and increases the amount of the monthly cash payout that qualifying families receive, passed the House of Representatives April 4 on a resounding 93-4 vote. This marked the first time ever that legislation aimed at modernizing TANF in Indiana had reached the House floor. 
Among those anxiously observing from the gallery that day was Jessica Fraser, who has spent the last decade advocating for TANF reform. Although she had recently left her role as director of the Indiana Community Action Poverty Institute, nothing could keep her from the Statehouse for this pivotal event. 
Fraser described sitting near another longtime advocate, Emily Weikert Bryant, executive director of Feeding Indiana's Hungry, and reacting to the close-to-unanimous vote. 
"She held my hand, and I cried," said Fraser, a member of St. Thomas Aquinas Parish in Indianapolis. "It was a great moment. Even though I'd left my previous role, I knew I had to be there because so many of us worked so hard, for so long, for this moment. This is going to be a life-changing development for so many of our most vulnerable families." 
Indiana's current eligibility level for TANF is the fourth-lowest in the United States, behind Louisiana, Arkansas and Alabama. Indiana set its income requirements to qualify for TANF in the mid-1990s, when welfare reform was signed into law by then-President Bill Clinton. Those eligibility guidelines have not been adjusted for inflation since then. 
Today in Indiana, to be eligible for TANF a family can earn no more than 16 percent of the federal poverty rate, which stands at just over $23,000 for a family of three. That means that a family currently earning $400 a month would not qualify for the program. 
Under Senate Bill 265, authored by Sen. Jon Ford (R-Terre Haute), the eligibility level for TANF would jump from 16 percent of the federal poverty rate to 50 percent by the end of 2027. 
"This bill will expand the eligibility for thousands of Hoosier families in need and offer a way out of poverty," said Ford, who has brought forth legislation to modernize TANF since 2019. "Along with financial assistance, TANF provides job training, child care and transportation so that many of the hurdles folks face when looking for higher-paying jobs are eliminated." 
The second major component of Senate Bill 265 is a long-sought-after increase to the monthly cash payout that families receive, which has not been updated since 1988. For a family of three, that would mean a jump from the $288 set 35 years ago to $513 a month. 
Through the years, as Fraser called on lawmakers to discuss the need for TANF reform, she illustrated her point by sharing a photo of herself from 1988 – when she was seven years old. For her return to the Statehouse on the day of the House vote, she offered another nod to the 1980s by wearing a Pac-Man-themed dress.  
Fraser, who said "the stars just aligned" this year for TANF reform, praised longtime legislative champions – including Ford and Rep. Ed Clere (R-New Albany), the sponsor of Senate Bill 265 in the House. 
This year, as in prior legislative sessions, the TANF bill sailed through the Senate and unanimously passed its starting point in the House – the Family, Children and Human Affairs Committee. 
The next stop was the House Ways and Means committee, where TANF-reform legislation had never received a hearing – until this year. On March 30, under new chairman, Rep. Jeff Thompson (R-Lizton), the committee heard Ford's bill and passed it on a 20-1 vote, sending it to the House floor five days later.
"I'm grateful to Chairman Thompson for his willingness to take a fresh look at the issue and consider this legislation, and ultimately to allow the bill to move out of committee," said Clere, himself a member of the House Ways and Means committee and a longtime collaborator with Ford on TANF-related legislation. 
"This legislation is all about helping vulnerable people," Clere continued. "We are talking about Hoosiers for whom a sudden hardship can be devastating and lead to a cascade of other events that not only impact their participation in the workforce, but also the stability of their families and the well-being of their children."
Clere, who attends Holy Family Parish in New Albany, offered an amendment to the bill to automatically extend TANF eligibility to women who are pregnant with their first child. Under current law, only pregnant women who have at least one other child qualify for TANF. 
The lawmaker praised Fraser for her tireless advocacy, and both thanked ICC leaders past and present for their role in bringing TANF reform efforts to this pivotal point.
"The Indiana Catholic Conference has always been a huge supporter of this legislation and helped shepherd it, along with the entire team of advocates who have worked on this issue for so many years," Fraser said. "I offer my sincerest thanks to (former ICC executive director) Glenn Tebbe, Angela Espada and (associate director) Alexander Mingus for everything they've done to bring us to this moment."
To follow priority legislation of the ICC, visit www.indianacc.org. This website includes access to ICAN, the Indiana Catholic Action Network, which offers the Church's position on key issues. Those who sign up for ICAN receive alerts on legislation moving forward and ways to contact their elected representatives.