Special to The Message
"Sure, I was instrumental in bringing TEC to the Evansville Diocese, but so was every other person who was involved in those first few TECs." That was Rick Etienne's response when asked about his part in this pivotal event in the Diocese of Evansville. Having previously experienced Teens Encounter Christ in the Owensboro Diocese, Rick knew the life-changing effects TEC could have on youth.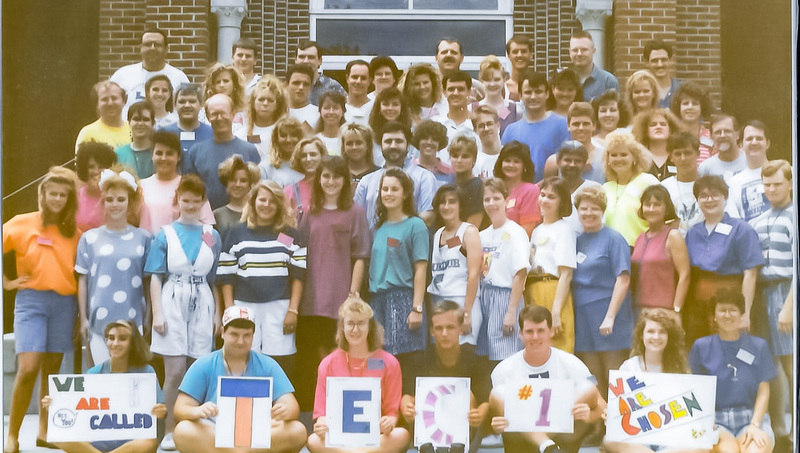 When he became director of youth ministry for the Evansville diocese in 1988, and met Jane and Paul Leingang, who had moved to the area after experiencing TEC in the Quad Cities area, plans for starting a TEC movement within our diocese began to come together. 
Teens and adults from our diocese traveled to Owensboro and Bellville, Illinois, to experience TEC for themselves; they came back on fire for Christ and committed to bringing this incredible experience to our diocese. 
St. Mary Parish in Ireland agreed to host TEC #1 and installed extra shower stalls in parish buildings. Volunteers from Owensboro agreed to be part of the first TEC teams. Many people from different parts of our diocese worked to form the team and figure out the logistics. There would be no way to even begin to name all the people who helped start TEC in the Evansville diocese because everyone – even the teens and young adults who simply signed up and participated in the first TEC weekend –who had any part in those first TECs was instrumental in starting TEC in this diocese, according to Etienne. "When people use their gifts, great things happen," he said. 
TEC flourished. High school and college-aged youth are integral parts of each TEC team. They lead and facilitate many of the activities and discussions. Rick believes that this is a key component in TEC's success. "People of similar ages can relate. They want to hear what their peers have to say."
All this remains true today. "I didn't expect to grow so close to the people there!" says Jaeden Wagner, at the end of the November 2021TEC weekend. Madalyn Spindler said, "I feel like a completely different person, and I hope I can continue this retreat high!" Evaluations at the end of TEC weekends reveal that the youth are impacted in a variety of ways depending on where they are in their lives and what they are needing most; but most of their feedback can really be summed up with the words of Catherine Shockley, a team member on November 2021 TEC: "The weekend met and overcame any expectations I had!" 
These sentiments have been echoed for the past 30 years. After 108 weekend retreats in the diocese, TEC continues to transform lives. Participants and team members continue to leave TEC weekends on fire and excited to share the experience with others; and countless people of all ages continue to be instrumental in TEC. 
What about you? How can you help transform lives through TEC? Could you apply to make or work a TEC? Invite a friend or relative to get involved? Pray for the TEC weekend? Donate food or money? Babysit for relatives so that young parents can work/attend TEC?
The next TEC weekend is Feb.19-21 at St. Mary Parish in Ireland. Youth and adults who are juniors in high school or older are welcome to attend. Applications can be found at https://www.switec.org. 
Organizers also invite those who are not able to be a part of the weekend to commit to praying for the team and participants during one hour of the weekend. This can be done in your home, local church or wherever is most convenient for you. Sign-ups to pray for TECs can be found at https://www.switec.org/ For more information, contact Julie Lagree at [email protected] or 812-630-0174.