Special to the Message
"God will provide!"  
Megan Knies said that over and over as she prepared to lead Teens Encounter Christ Retreat Weekend #108 last November.  The hiatus in TEC weekends caused by COVID-19 and the surging COVID cases brought so many new challenges and uncertainties, but Megan never seemed stressed.  She just prayed more earnestly and left it in God's hands.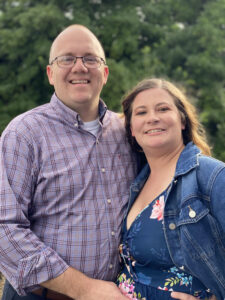 This attitude of faith and trust in God is something that Megan and her husband, Alex, have in common. They are tremendous role models for the many communities that they are involved in, including Teens Encounter Christ, Good Shepherd Parish and School, Little League, etc.  
One of their greatest passions is for TEC. a community/retreat organization within our diocese. Alex and Megan made their first TEC weekends while they were in college, and TEC has continued to be an important part of their lives ever since then.  
On July 17, Alex and Megan were presented with the 2022 Spirit of TEC award. This award is given annually to an individual or pair of individuals who live out the Paschal Mystery in their lives; are committed to serving the Church and its youth and young adults; generously share their love, faith, and enthusiasm with others; and have contributed to TEC in a significant way. There are so many incredible youth and adults involved in TEC and the diocese who are great candidates for this award; this year, we are so proud to be able to honor Alex and Megan for all that they do for TEC and the Church!
Megan says, "What motivates me about TEC is seeing old friends change and develop stronger relationships with Christ, as well as with each other. I also get to meet new friends, and help them create or develop a relationship with Christ; but the biggest thing for me is the learning, changing and encountering Christ with every TEC weekend, follow-up or other event that I am involved in.  I see the face of Christ and feel the love of Christ every weekend."   
The TEC community is forever grateful for all that Megan has done and continues to do for TEC, and that gratitude also extends to her husband.  Alex, a professional chef, has cooked many delicious meals and brought so much fun and creativity to the kitchen as well as other areas of many TEC weekends. Perhaps even more importantly, however, he empowers Megan to do all the amazing things she does for TEC by single handedly taking on the parental role for their four beautiful children during Megan's many meetings and gatherings for TEC. Furthermore, he is the silent prayer warrior who is much-needed for our movement. He is also an amazing model of one who lives the paschal mystery as he dies to self to give so much for his family, his parish and the TEC community.
For Alex and Megan, it has been crucial for their children to "witness a loving marriage, and we want our children to see us hold hands, kiss, dance in the kitchen and go on dates with each other.  We want them to see us grow in our faith together as a married couple, but we also want them to see us separately explore our faith.  Whether we are on retreats separately or together, our children see the importance of retreats in our lives. As our children get older, they are asking questions, participating in the sacraments, and have wonder and joy.  We want them to see the Catholic Faith as something that is lived out more than just Sundays during church but in praying the rosary together, before meals and nightly prayers, as well as in attending retreats together." As they reflect on the impact TEC has had on their adult lives, they add, "We highly encourage any adult to make a TEC or to get back involved if TEC is something they did as a teen."
The next TEC weekend is November 5-7, 2022.  For more information about TEC, go to www.switec.org or email [email protected].
Alex and Megan are members of Evansville's Good Shepherd Parish, and their children attend Good Shepherd School.